PropStat Exclusive: sneak peek at condo-market in Cha-Am, Hua Hin and Pranburi after the Q1/2019
We can not deny that everyone would like to have a vacation home in a tourist city and it would be great if it is near the sea, because the living place near the beach really affect the quality of vacation for people from Bangkok as well. When you want to escape the chaos and pollution problem in Bangkok, it only takes 2-3 hours by car to reach the fresh air from the ocean and mountain so you can recharge your energy after your work as well. The ocean in the south is very beautiful, it feels like paradise for foreigner tourists who loves the beauty of the pure sea-water and beautiful beaches and it is also a favorite of Thai people too, like Phuket and Krabi are always full of tourists no matter if it is High season or Low season.
While the ocean on the east of Thailand are also beautiful but not in the same way as the ocean in the south. Like Chonburi, Bangsaen and Pattaya. It used to be crowded with people here during holidays because it is much closer to Bangkok than the seas in the south and only takes 3-4 hours by cars to be there, but you will need to offer one day to travel to the south. So, this is why the seas on the east is more popular. There are a lot of Russian and Chinese tourists in Pattaya while Pranburi, Hua Hin used to have more tourists from Europe who really come to live there after their retirements because it is more peaceful.
For those who want to change the experience, please try visiting the seas around Prachuab to see how much the differences from Pattaya, Bangsaen and Rayong are. Because the area around Cha-Am, Hua Hin and Pranburi have got a lot of development. They have various types of accommodations, no matter if you come as a couple, group of friends or family, you will easily find the place that is suitable for you. There are also 5 stars hotel, Shopping Mall, Community Mall, Outlet mall, restaurants, local tourist attractions like temples, train station, local market. And there are also modern attractions like Theme Parks that have newly been opened to fulfill the needs to city people like Vana Nava, Hua Hin's famous water park located in the middle of Hua Hin city with area around 20 Rai. It has 20 rides including accommodations, restaurants and other services inside the water park too.
Pictures from : https://www.vananavahuahin.com/th/
Santorini Park Cha-Am, amusement park and shopping places on the area of almost 60 Rai which were inspired by the Santorini island in Greece.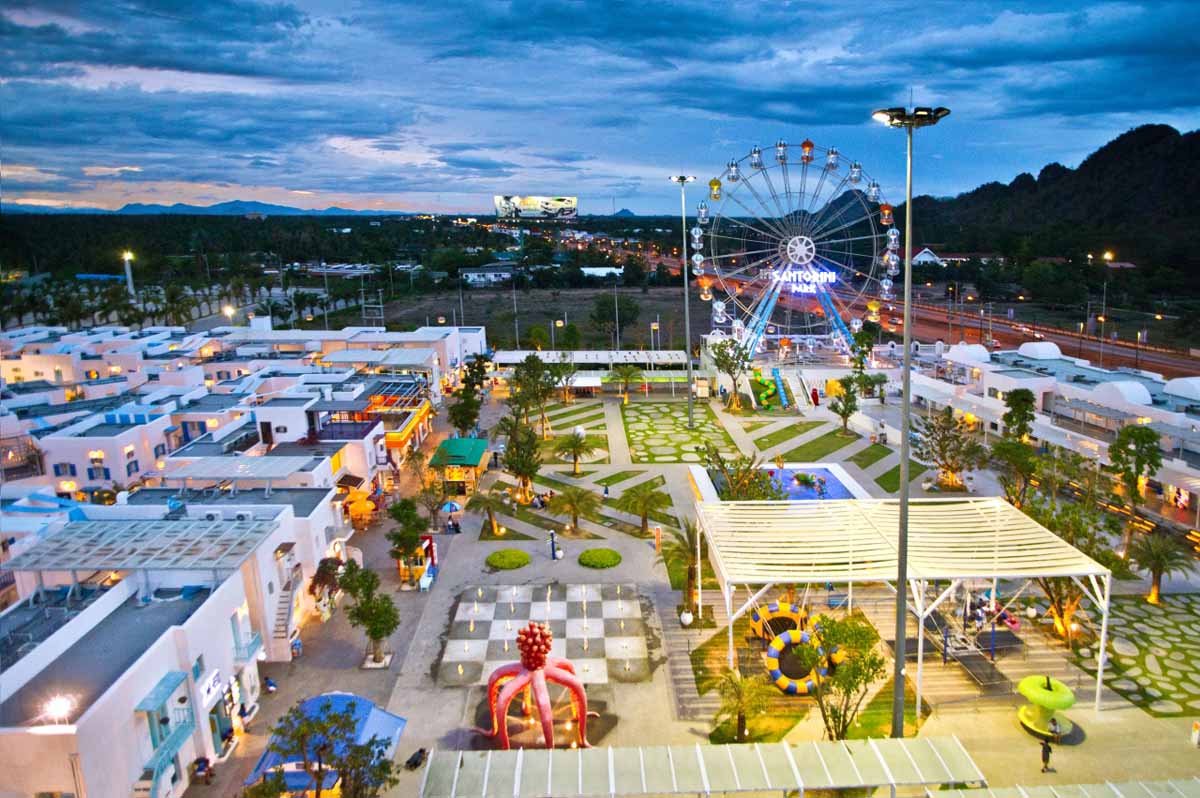 Air Space Hua Hin, café and restaurant located at Khao Takiab with inspiration from a Hanger and decorated everything with staffs about airplanes too. There are a lot of foods and desserts to choose and they have both indoor-zone and outdoor-zone for every types of requirements.
Pictures from : https://huahin.town/eat-drink/air-space-hua-hin/
Bluport Hua Hin, the first resort mall of Thailand which opened in 2016. There are many restaurants and clothes shops. So, if you are tired of seafood, this is also a good choice for you.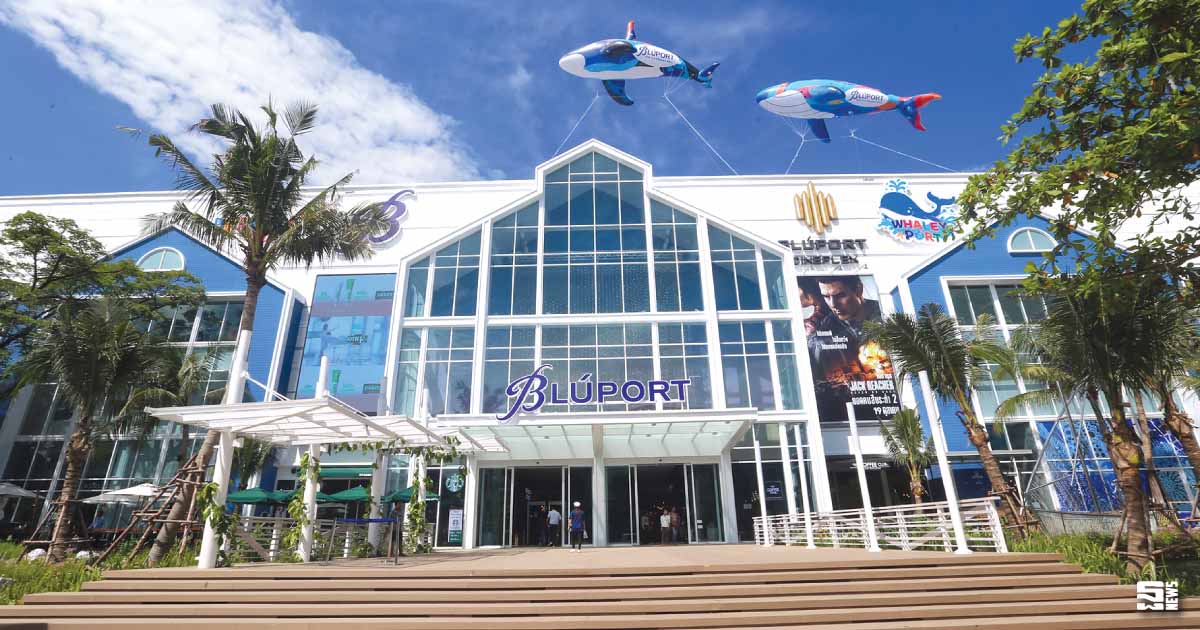 Pictures from : http://www.thansettakij.com/content/104333
And there are also Maruek Kathayawan Palace, floating market, animal farms, which are waiting for you to visit, taking pictures and also check-in to show your friends that you are there. More than that, Prachuab have always developed the real estates in Cha-Am, Hua Hin. Development area begins from inside the city and also all the way out to Khao Takiab. Because it was one of the first places that have been developed and therefore out to Cha-Am beach and all the way to Pranburi with the development of houses, condominiums, hotels and also shopping malls. However, the mostly Prime Area is still around Cha-Am and Hua Hin beaches because they are super long beaches. But if we look clearly, those areas are located along the main road and most of the areas have already been developed. The lands which is near the beach or the main attraction areas have already been taken. We can truly say that those areas are highly required by developers because they can be used to develop into many types of projects and they are located in tourist city and means that people always used to visit as well. There are also another project ongoing like high speed train between Bangkok-Hua Hin and Motorway Nakhon Pathom – Cha-Am (Tayang) which probably would be ready for the usage in 2022, and that will make it easier for the travel.
If talking about condominium market in Cha-Am, Hua Hin and Pranburi that have been clearly expanded since 2012 or since the big flood in Bangkok and other provinces in central region in the middle of 2011. Because of that, a lot of people got affected and have to find other places to live for a while for children, elders and also patients. Some of people from Bangkok came to Cha-Am and Hua Hin to find their temporary accommodation. There are many developers that start selling condominiums in those two districts and many projects have got a lot of attentions by people from Bangkok which is a main buyer-group of this area. Except the convenient travel from Bangkok which only around 2 hours by car. That's why Cha-Am and Hua Hin has since many years ago been popular among people from Bangkok, especially people who are looking for a place to rest during holidays. People who want to rest and chill together with their family used to choose Cha-Am or Hua Hin as well.