Lang Suan area is one of the high-end residential area with the potential of being a few minutes away from a huge park, near a lot of world class shopping centers, easy connected to CBD-area by many ways and the most important is that you can't find freehold land to develop some big high rise condo anymore in this area. And if we count the condos of the brand of world class with extremely high price that are know be foreigner, they are all located in Lang Suan – Witthayu – Chidlom.
You can easy connect Lang Suan Road to witthayu Road, Ploenchit Road and also Chidlom Road by walking and by car. And in Witthayu – Chidlom area are very clean and fresh, most of the land in this area belongs to various big embassy, and also connected to the CBD-area like Sathon, Ploenchit. There is also Central Embassy which is a flagship store of a lot of products from famous brand around the world with luxury 5 star hotel like Park Hyatt Bangkok, Renaissance and Grand Hyatt Erawan.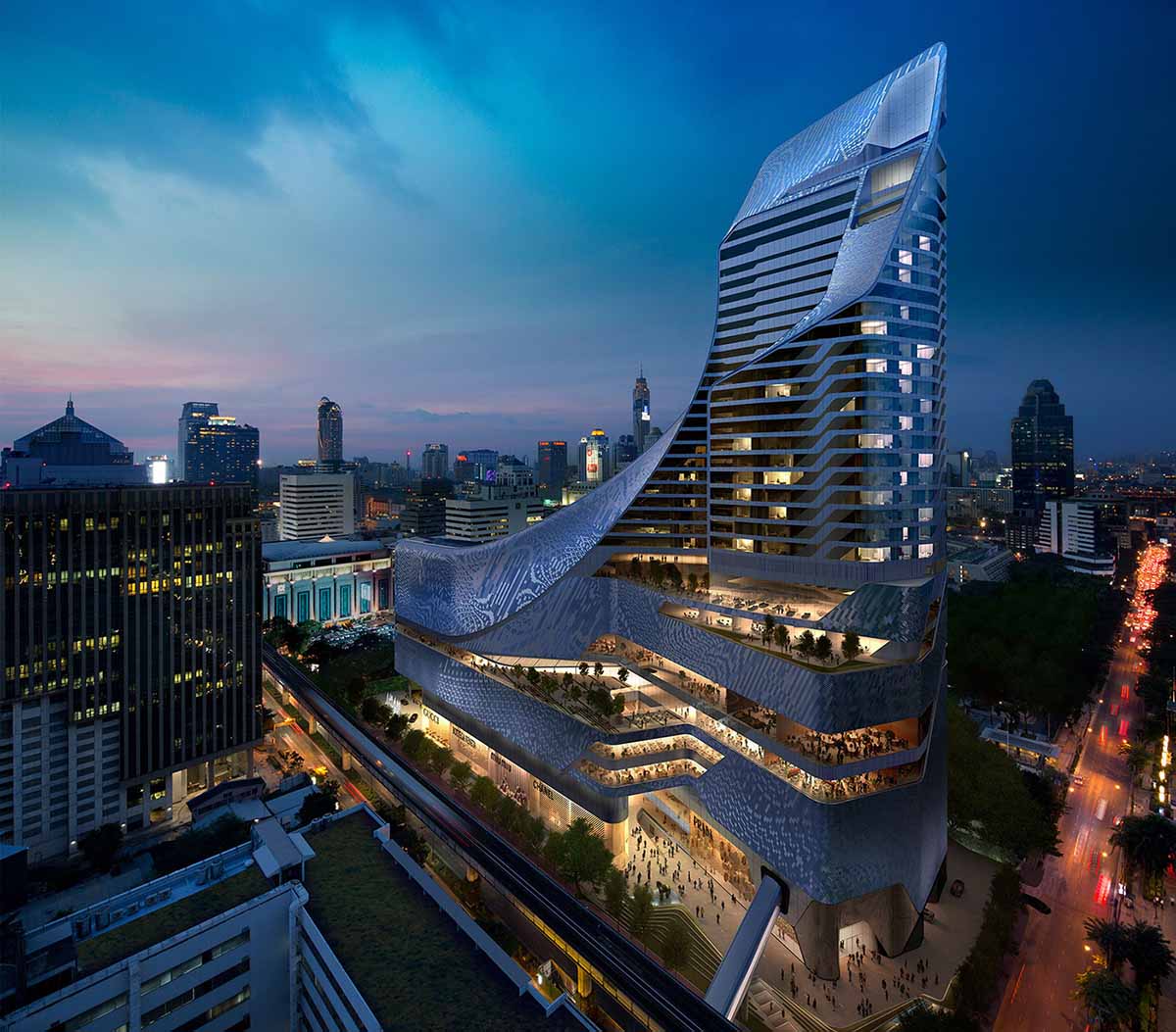 Photo credit: http://www.centralembassy.com/park-hyatt/
While the parallel road like Ratchadamri is also one of the ultimate Residential Area in Bangkok by having absolutely tip-top element of easy communication, luxury lifestyle near many branded name shopping centers which are very popular among foreigner especially Asian tourists and the A-list business men in Thailand. And it's also near to business area like Chidlom, Ploenchit and Lang Suan with the view of green park from both side like Royal Bangkok Sports Club and Lumpini Park.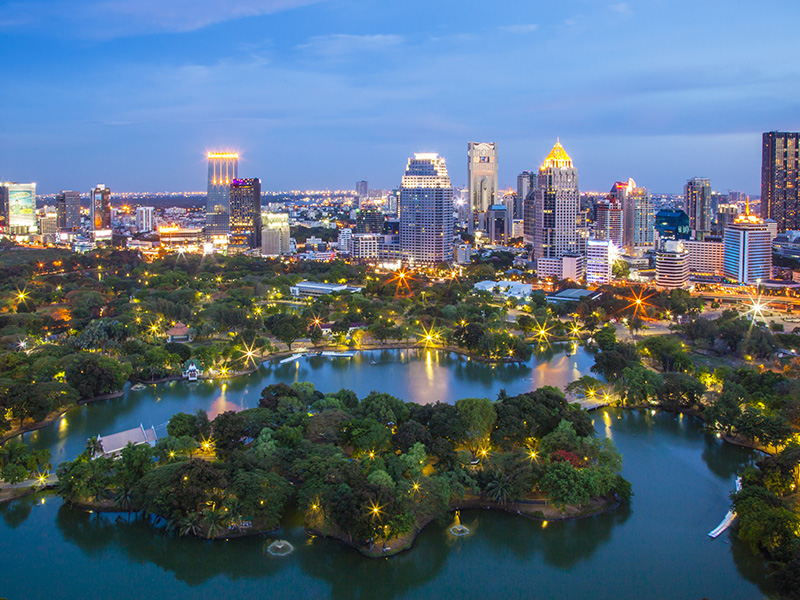 Photo Credit: http://www.raimonland.com/en/Ourbusiness/Residential/185_Rajadamri
Lang Suan : High – End street that most of the land are Leasehold.
Lang Suan area is the area with a lot of living residential in from of condominiums and apartments and most of the projects are selling with 30 years leasehold contract. Most of those projects do not have so much time left because they have been in the market in almost 30 years now. Most of the land in this area property that belongs to the Kingdom of Thailand, and means it can't be sold to anyone and every property projects in this area must have a selling from which do not break this rule.
Most of the condos in this area used to sell their condo with 30 years contract (Leasehold). Otherwise, there are many more property projects in this area like hotels and service apartments. And we can truly say that this area is the area with most of 5 stars hotel in Bangkok, because there are 12 hotels of the class of 5 stars with almost 3,400 rooms and more than 3,468 units from 26 various service apartments and all of them are in the grade of A and B.
This area is one of the area in Bangkok with the most foreigner residents since a few ten years back in the time when Bangkok doesn´t have so much high rise buildings especially foreigner from the west. It might be because of there are many various embassies in this area like Embassy of United States, Embassy of United Kingdom, Embassy of Japan and Embassy of Australia. Those condos in this area that sells with freehold contract can truly be sold-out very fast because there are not many projects that sells with freehold contract here, especially the area along Witthayu Road, Ratchadamri Road or Lang Suan Road. But many projects in the area nearby do get a very good respond too like the area in Soi Ruamrudee, Soi Nai Lert and also Ploenchit Road.
The very colorful apartment building like Ambassador´s Court in Soi Lang Suan is one of the first high rise building for around 50 years ago. The Duplex Penthouse of this building belongs to Khun Sumanee Guna-Kasem and she calls this Sky Villa for "Manee Moncha"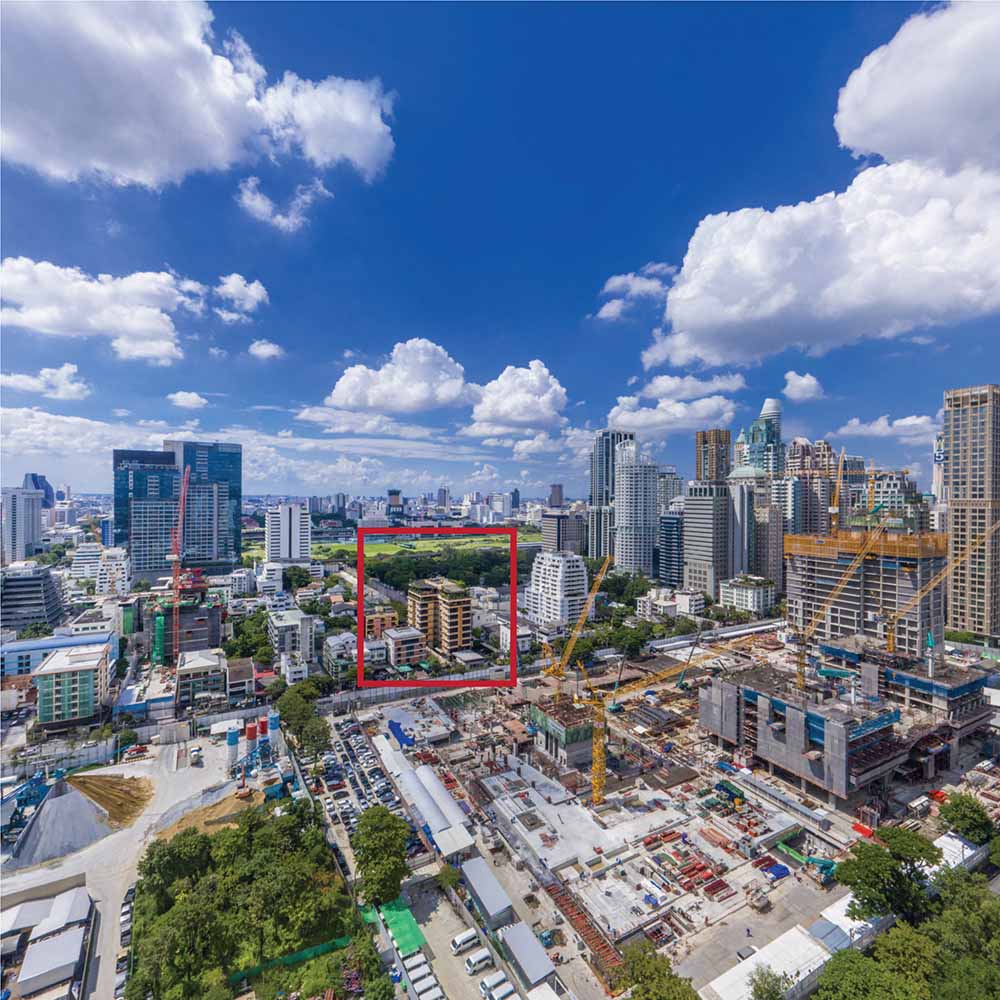 Sindhorn Village, new aesthetics of living among a huge park in Lang Suan area.
In this era, most of the land in Lang Suan area are gonna get Re-Development to be more convenient to live to serve the demand of the group of millionaire who still looking for the thing for their life and also young millionaires of Millennials era which have complicated lifestyle, digital intended and used to have some passion which is difficult to separate if it is their lifestyle or if they are working. Leading by Siam Sindhorn Co., Ltd. that have developed the project under the name of  "Sindhorn Village" (originally named LangSuan Village), a biggest Mixed Use project in the area of Lang Suan-Chidlom-Tonson with the value of 26,000 millions Baht that Siam Sindhorn, company that belongs to Crown Property Bureau, being both the owner of the land and also the developer of the whole project. They have a passion to develop this area of almost 89,600 square meters to a better society which include various projects of condominiums with 30 years leasehold contract like Sindhorn Tonson, Sindhorn Lumpini and Sindhorn L. There are also big 5 stars hotel, Museums, Walking Street and Commercial & Retail Space along both side of the road.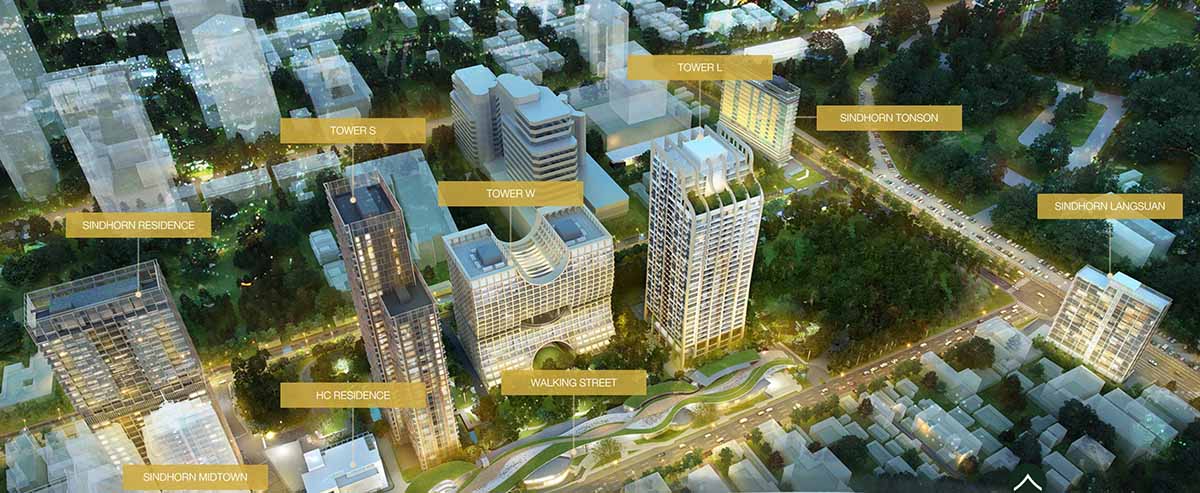 They have choose and consider both the layout plan and the configuration by emphasize the importance of the living for all their own residents and also people around the area. They are thinking about city´s scenery so that people around the area can get the maximum benefit of using this area and do not make any trouble for the traffic. They do also have the best of the design and construction, using high quality of materials to save the environment and the energy as much as possible after the standard of LEED (Leadership in Environmental and Energy Design) by creating a green garden of almost 22,400 square meters (Super Green) in the middle of the project so all the residents can get some fresh air and can chill in the park (Living in the Park). The project is expected to be finished in 2019.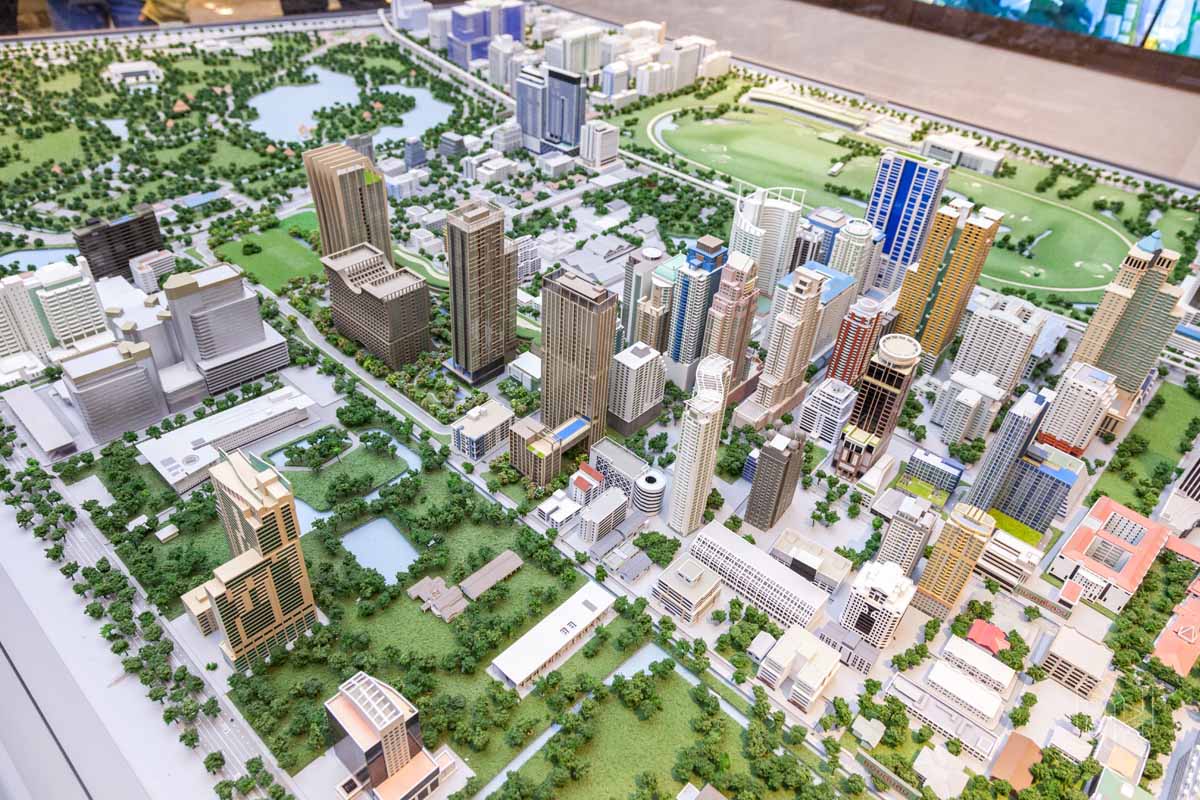 Otherwise, one thing that change the standard of the area around Lang Suan is not only the development of the Sindhorn Village project, but it´s also that they´ve got back the area of the end of Tonson Road at the same side as Sarasin Road by Bangkok Office to create some communication diversity to be more convenient by  changing the road and the scenery along Tonson Road and also adding more connection from Ploenchit Road and Sarasin Road because it only have one entrance from Ploenchit Road before. The roads will also be 2 times wider than before by the cooperation of Sindhorn Village development. So we can easy say that the upgrade of Tonson Road will give opportunity to other projects in Lang Suan area to easily connecting to each other by using Lang Suan Road, Sarasin Road, Chidlom Road and Tonson Road.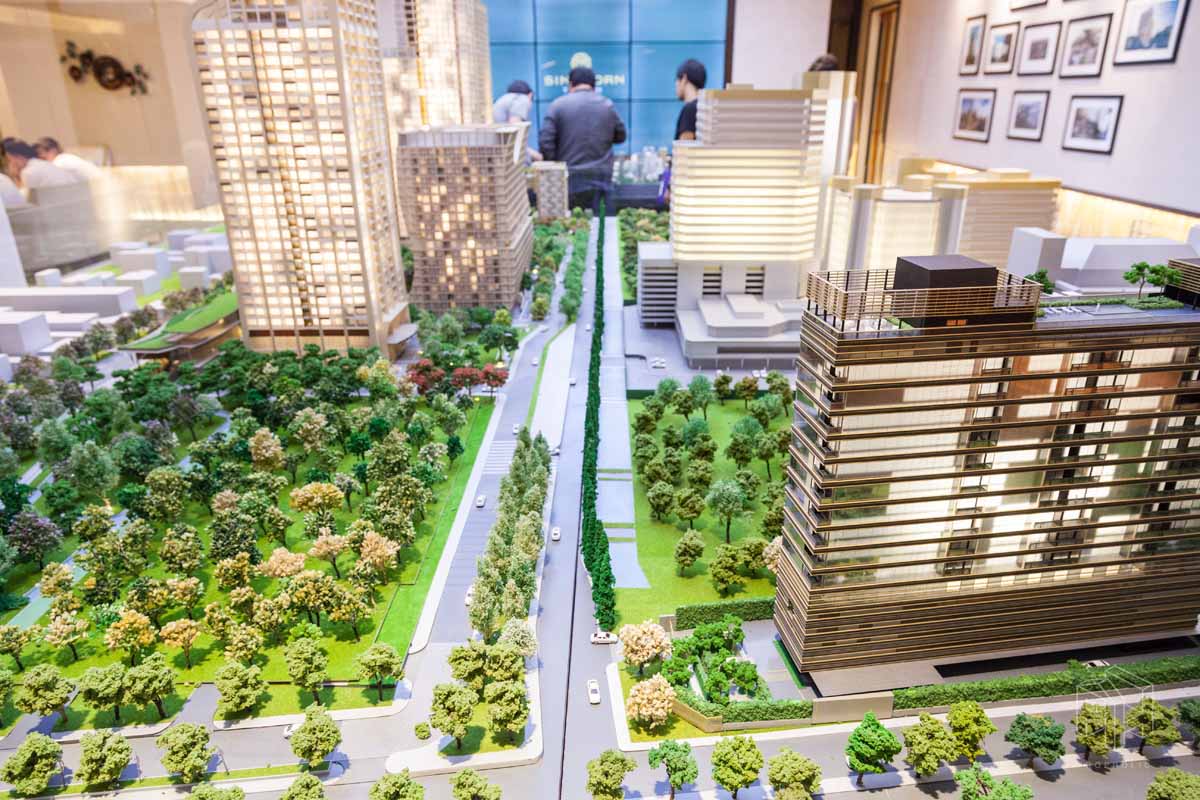 140 Wireless Road Building which have been developed on the land that belongs to Kian Gwan Building on the same side as Witthayu Road. This building is going to be a new building with the Mixed Use concept with the highlight of their Concert Hall.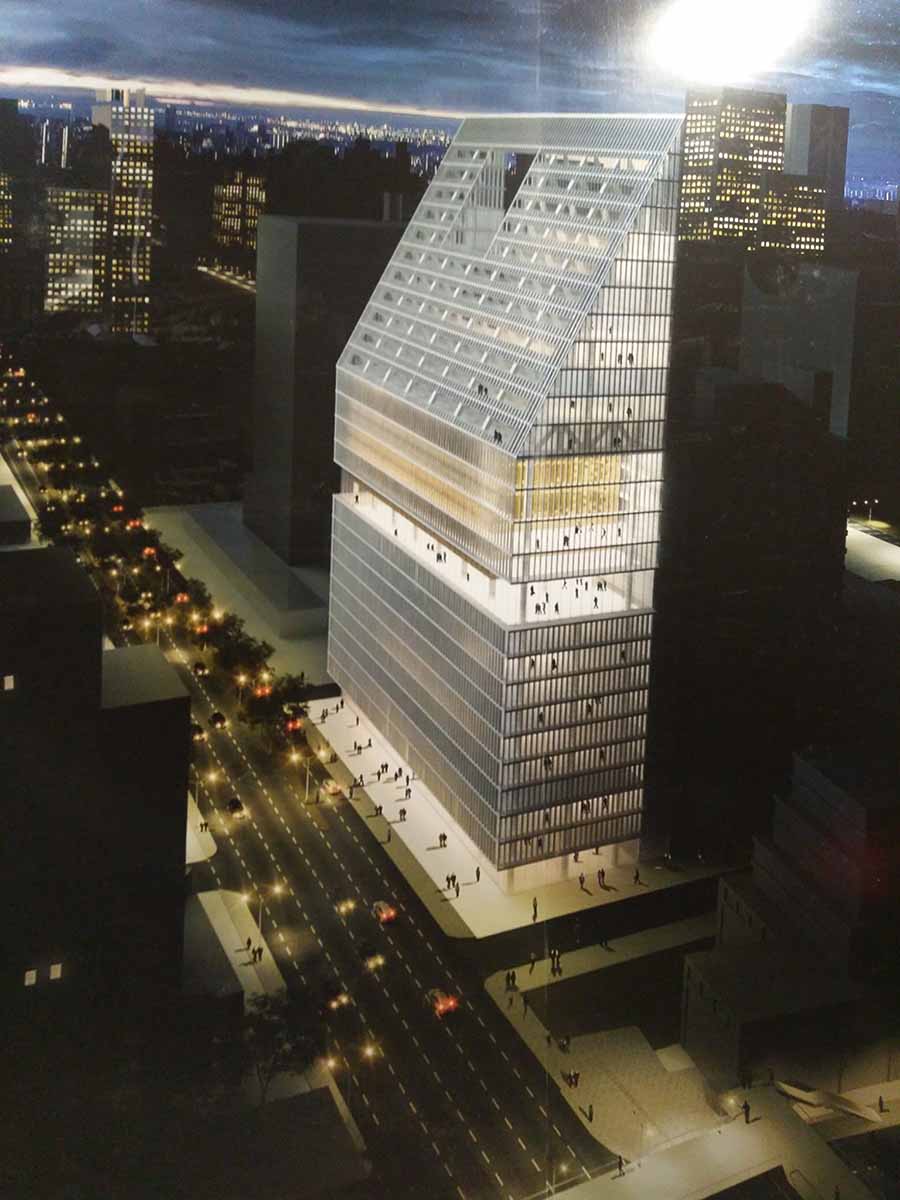 There is also a biggest Mixed Use project of Thailand in the area nearby which was developed by T.C.C. Technology Co., Ltd and Frasers Centre point Limited (FCL) that also belongs to T.C.C under the name of "One Bangkok" on the land of almost 166,400 square meters with the value of more than 120,000 millions baht. This will be the first biggest property project of Thailand that develop by private sector, the total area of the building will be on around 1.83 millions square meters and will also be a new world class landmark when the first part of the project finish and be ready to use in 2021.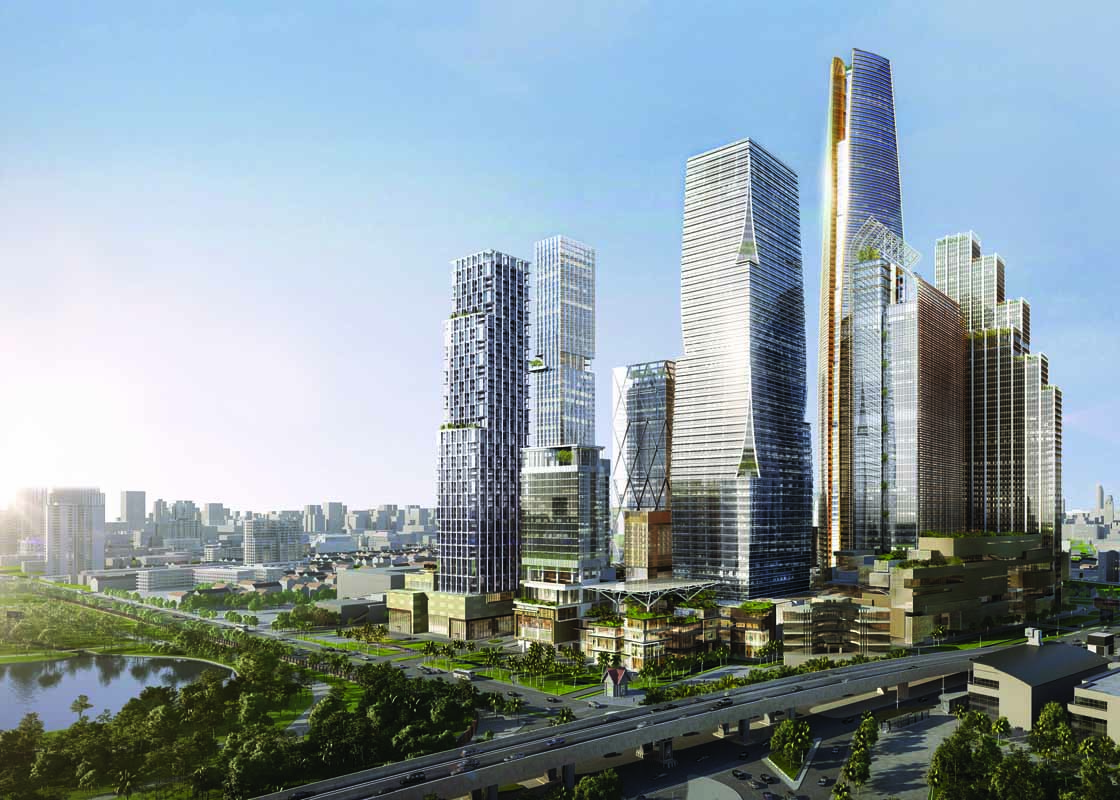 This project will include.
1. Office Building of A graded which will be in the same standard of LEED and WELL
2. 5 Hotels of 4-5 stars
3. 3 Living Residence Buildings in the same level of Ultra Luxury
4. Retailer and area of various activities
5. Area for activity of arts and culture of almost 10,000 square meters
6.Walking street of almost 40 meters among the beautiful green area around the project on the side of Witthayu Road and Rama 4 Road.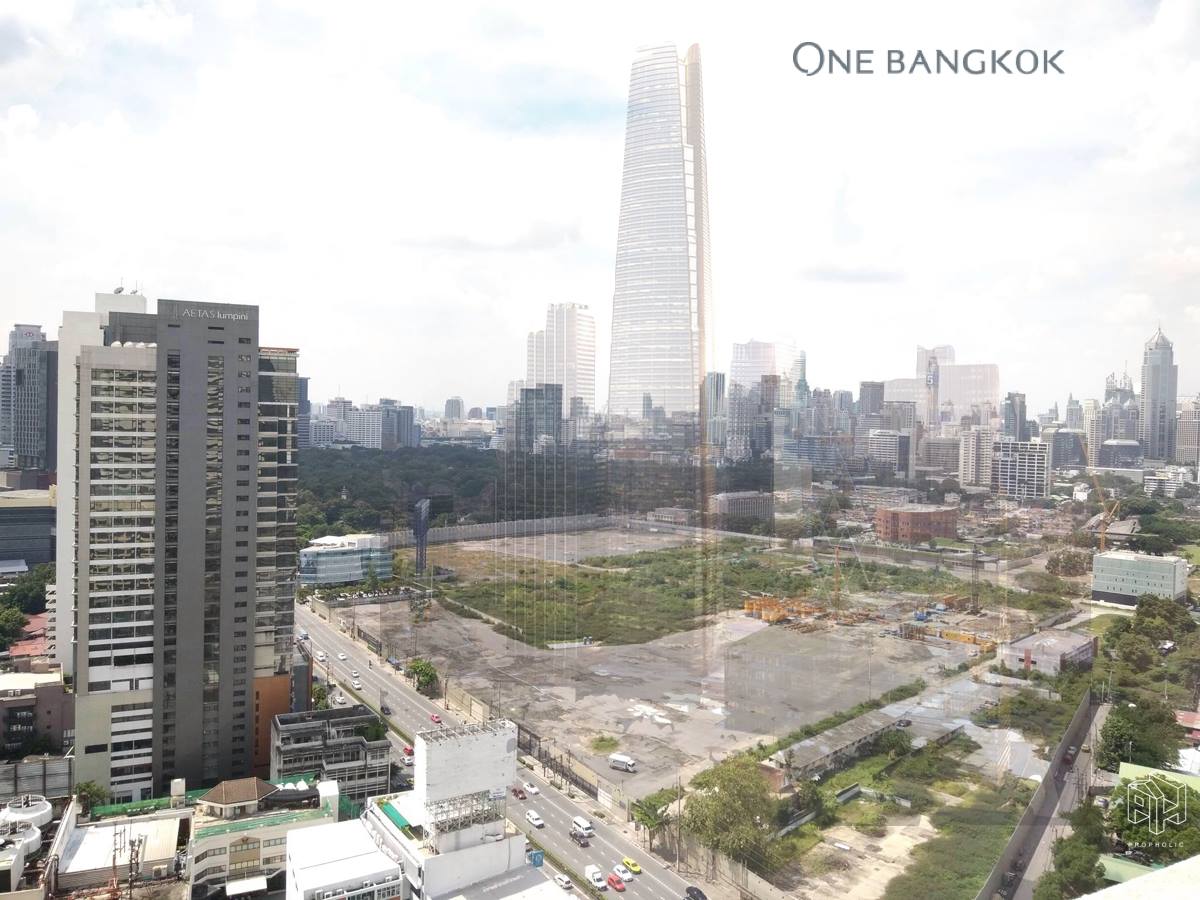 Today, there is no official information for each zone of the project but the project is expected to be finish in 2025 and the first phase of the project will be finished in 2020. There are also many other big interesting project in the area of Rama 4 Road like Samyan Midtown and the PARQ that belongs to T.C.C Group on the area of Samyan crossing and KlongToey. And there are also Mixed Use projects that belongs to Dusit Thani and Central at SalaDaeng-crossing which include Hotels, Retailer area and Office Buildings.  Otherwise, there is a big land on the north of this area that belonged to Embassy of United Kingdom which have been out for selling and The Central Group and Hong Kong land who won the bidding of the value of 18,900 millions baht and the project of Wellness Center that belongs to BDMS-Group which is under the construction right now. So we can truly say that this area have the best potential in Bangkok right now.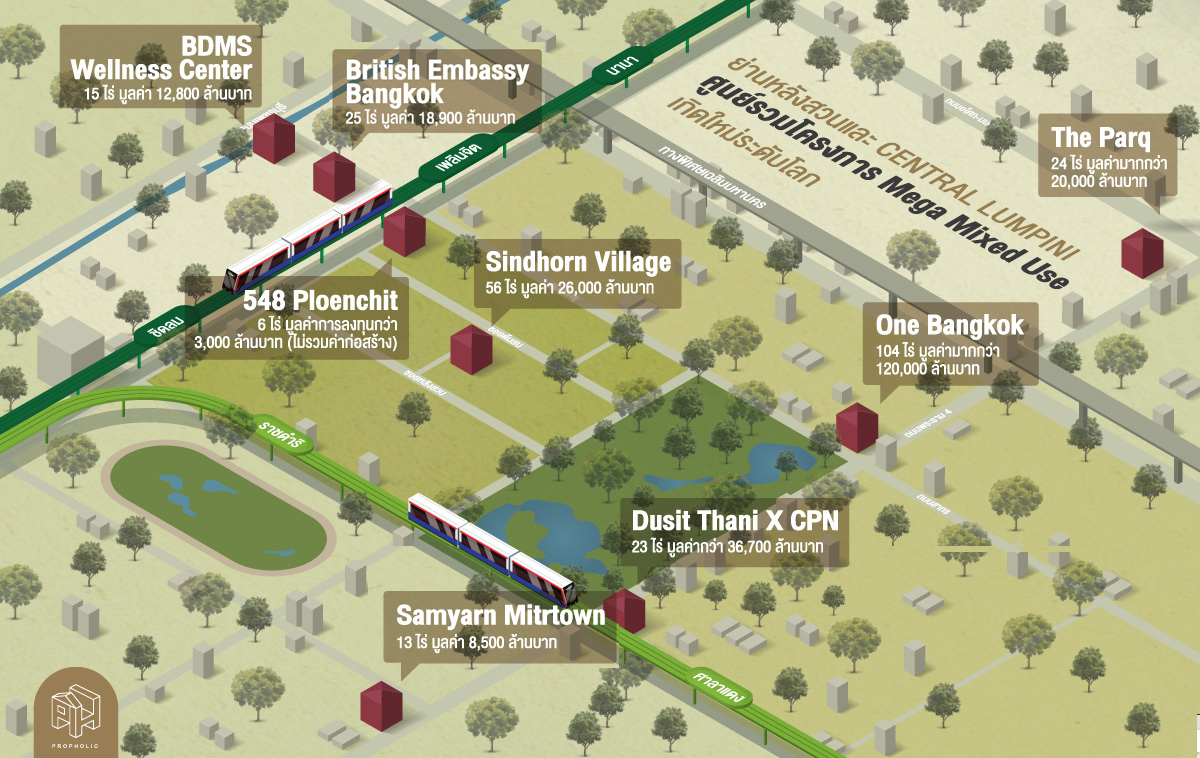 There are both private and official hospitals around this area and also various education centers from beginning and higher like Mater Dei Institute, Chulalongkorn University  and also office buildings with the total area of almost 750,000 square meters. And there are also a lot of big retailer stores and various restaurants. The main factors that push the price of Super Luxury condos in this area is that the land is selling will a leasehold. So today's potential of this area is very high already and if we are talking about the future when big projects in this area gets ready, we can then truly say that the potential of the area is going to be much higher.
All the condominiums in this area from the past until today can be separate into 3 areas, they are Lang Suan, Chidlom and Witthayu.
From the past, there are almost 9,080 units of various condominiums in this area and most of them are in Lang Suan area with 4,215 units, 46% and most of them are selling with 30 years leasehold contract which have been in this area for more than 10 years already. The selling price of many units for are not so high today and used to have a price under the original price because there are not much renting time left for those units.
The analysis of the market in this area, I would like to analyze by using information from various project that have been selling from 2009 to get the as fresh information as possible, especially the selling price. By researching all the condominiums in this area, we've found that there are around 5,194 units of various condo that have been selling from 2009  and we can separate all of them in various zone like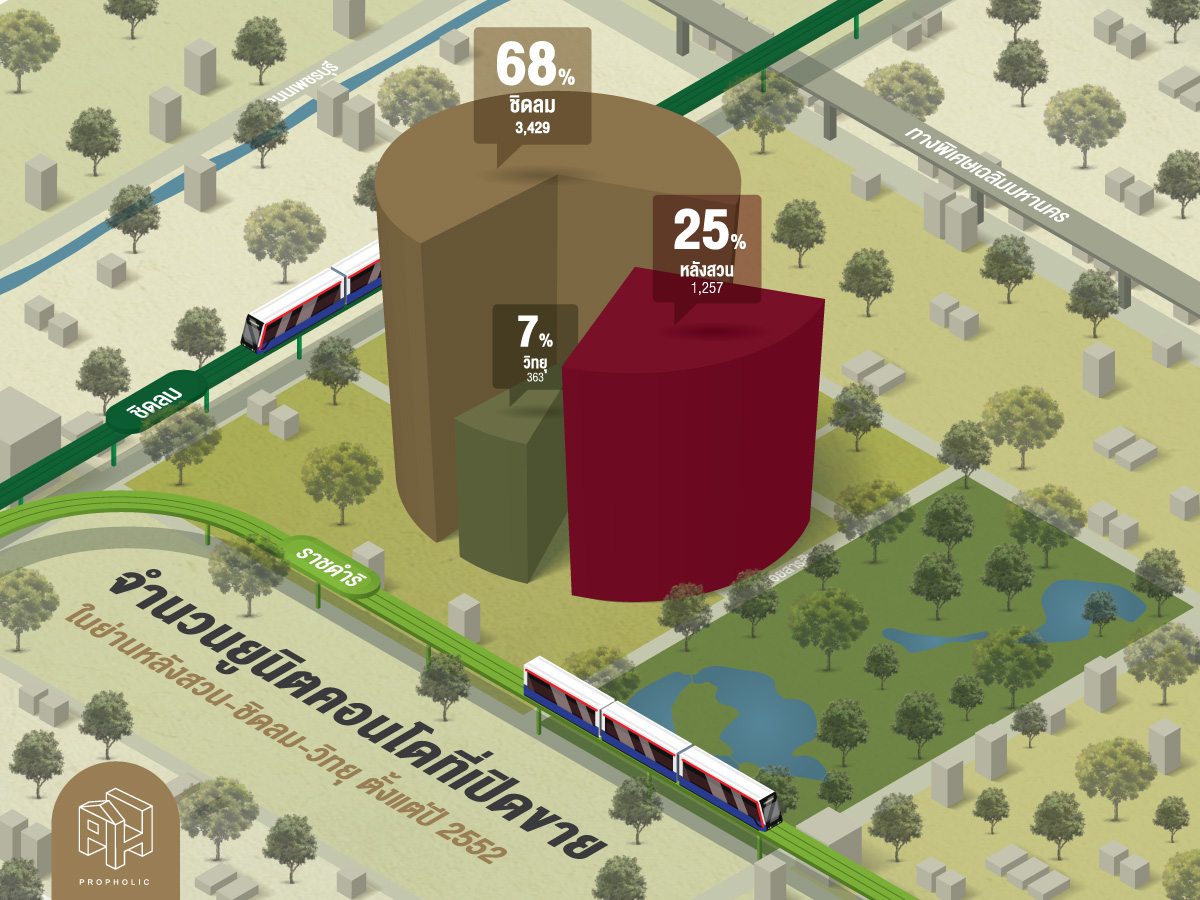 Chidlom zone, there are 2 big projects with almost 1,000 units in this area. So we can say that this area have the most unit numbers with the proportionate of 68%. There are 5 projects that have 30 years leasehold contract with total 639 units or 12% which is much lower than the past. Because if the condo that have been in the market for more than 10 years should have more than 90% of all the units that sell with 30 years. But there are not many units in each project in this area because few of them are located next to the main road while the rest are located in the middle of the Soi or other road.
If we count selling price of all areas that sales with freehold contract since 2009 until today, they do have the range of around 228,250 THB per square meter. That might not sound so high because there are various level of projects in this area. But if we discuss about the growth of the selling price, we will see that the price have increased quite powerful since 2014 as you can see in the paragraph below.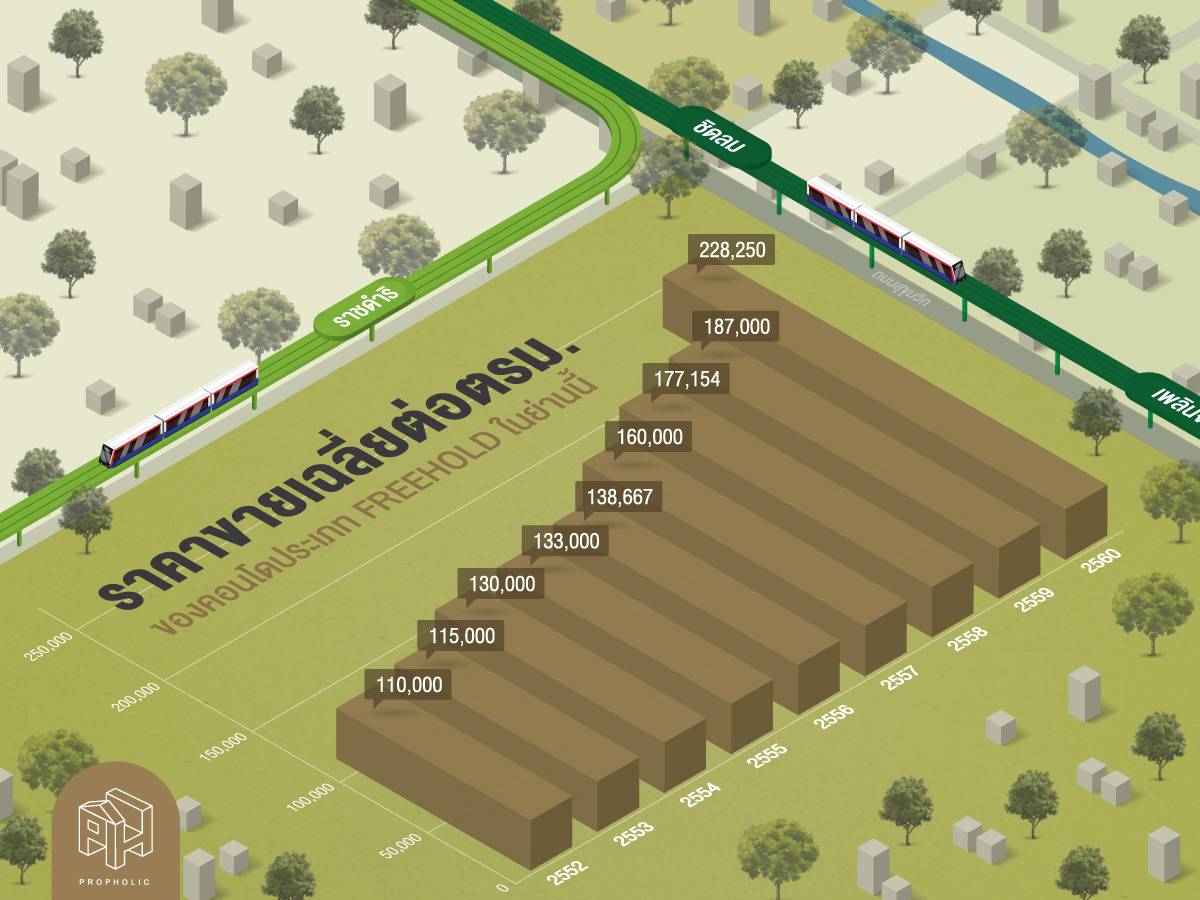 The selling price used to be around 7-15% higher in every years between 2014-2016 because many projects that sells in this time used to have a selling price more than 200,000 THB per square meter. But in the beginning of 2017, the price have been increase by 20% because there are many project started their selling with the price of almost 550,000 THB per square meter and the price of other project in the same area are also getting higher by the time so we can clearly see the price range of this area is today much higher than the past. But if we separate them into 3 zones, we can then see that the price range in each zone are quite different like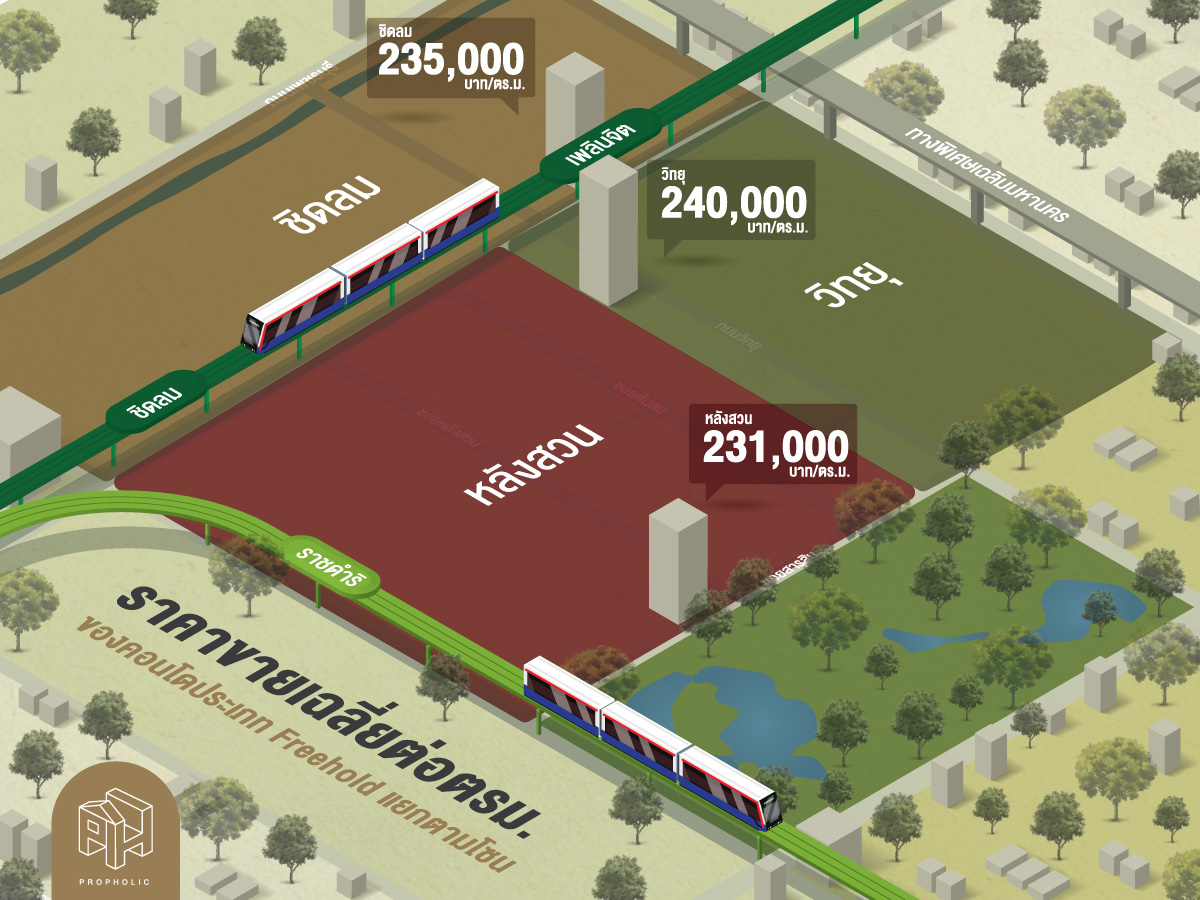 Even if there are many projects with high selling price in Witthayu zone, there are also many projects that located in other small alley in the same area with selling price of less than 200,000 THB per square meter. That makes the price range of this area being quite similar to other zones  as well and by the same reason makes price range of the zones of Chidlom's and Lang Suan's  not being as high as people are thinking. But the price range of those 3 zone are gonna be much higher in the future because the land price in this area is still getting higher and if the price range per 4 square meter is around 3 millions baht like the news that released in the end of 2017, the price of the land in this area will surely getting much higher and projects that will be open for the selling in this area are gonna have higher selling price too. Even if the price range of those 3 zones are around 200,000 THB per square meter, they are still getting very much attention because the selling range of those 3 zones is around 88% and there not many units left. And if we separate the selling range in to various zones, the number will still be very high anyway.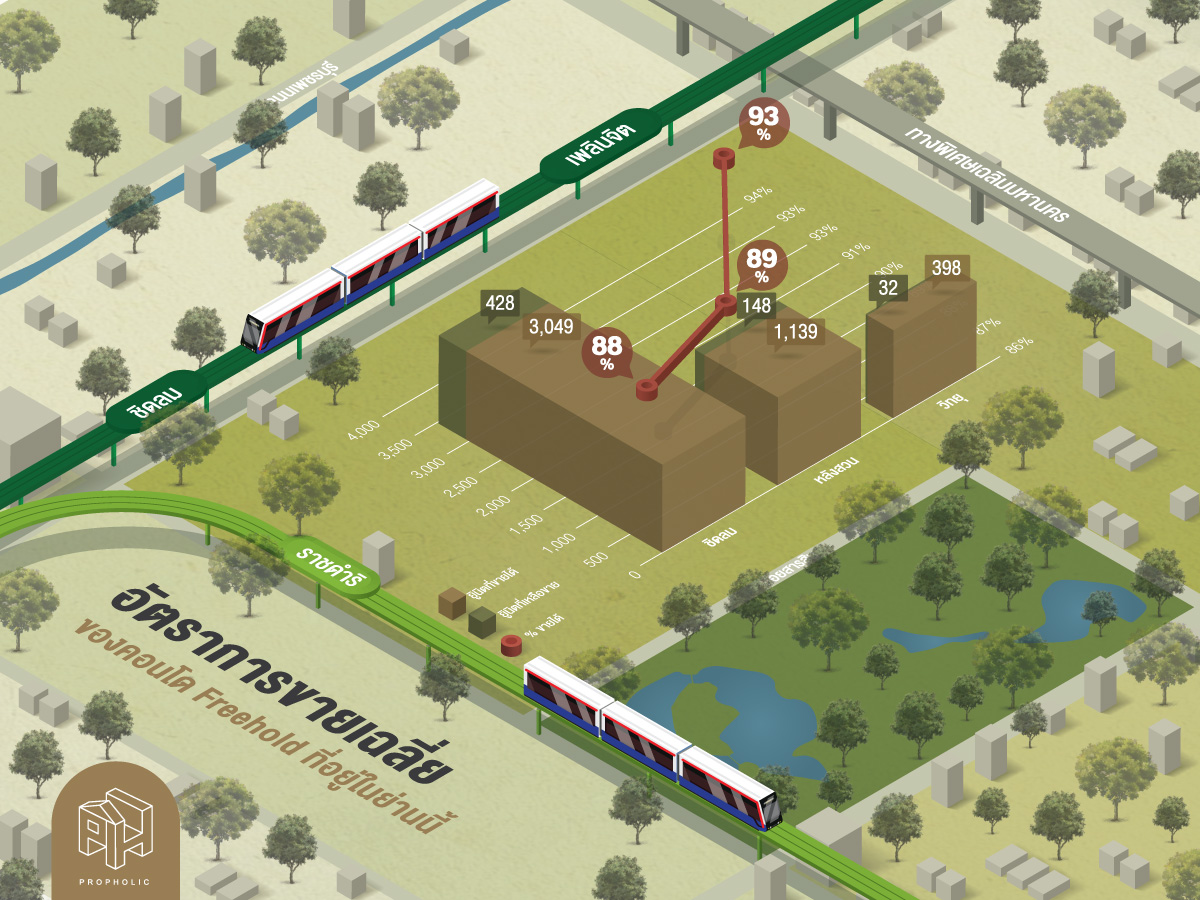 There are almost 88% selling range in each zone, especially in Witthayu zone which cover Witthayu Road and Soi Ruamrudee that have the most selling range of almost 93%  because there are no new project in this area for many years now. Project that opened in 2018 is not so big but did have very high selling range. For the zone of Chidlom with many big projects do also get a very good attention with high selling range while other projects that located in small alleys in this area do not get so much attention and make the selling range of the area getting lower than other zone. They have also most units left but still less than hundred unit which is much lower than other area and there is gonna be less new projects in each year.
The area of Lang Suan and the area around is a location that have a very good potential and if the Mixed Use-projects in this area getting finished or even just open some part, the potential of this area is gonna be very much higher than today. And we can now truly say that this area is the one with the best potential of Bangkok, this is the most interesting, outstanding area and do also have it own entity of Bangkok. This is the area with the highest price, not only the fact that they have less freehold area but even the selling price is very high,  they can still selling the most of them makes the the land price of this area much higher than other area in Bangkok. All the condo projects in this area have always been interesting, and if they are selling with the freehold contract in the zone of Lang Suan, they will get much more attention because the land with that sells with this contract form is rarely to see these days. The land price is still getting higher today and projects that will open in the future are going to have a higher price too.
MUNIQ LANGSUAN: Super High Rise project with freehold contract in the middle of Lang Suan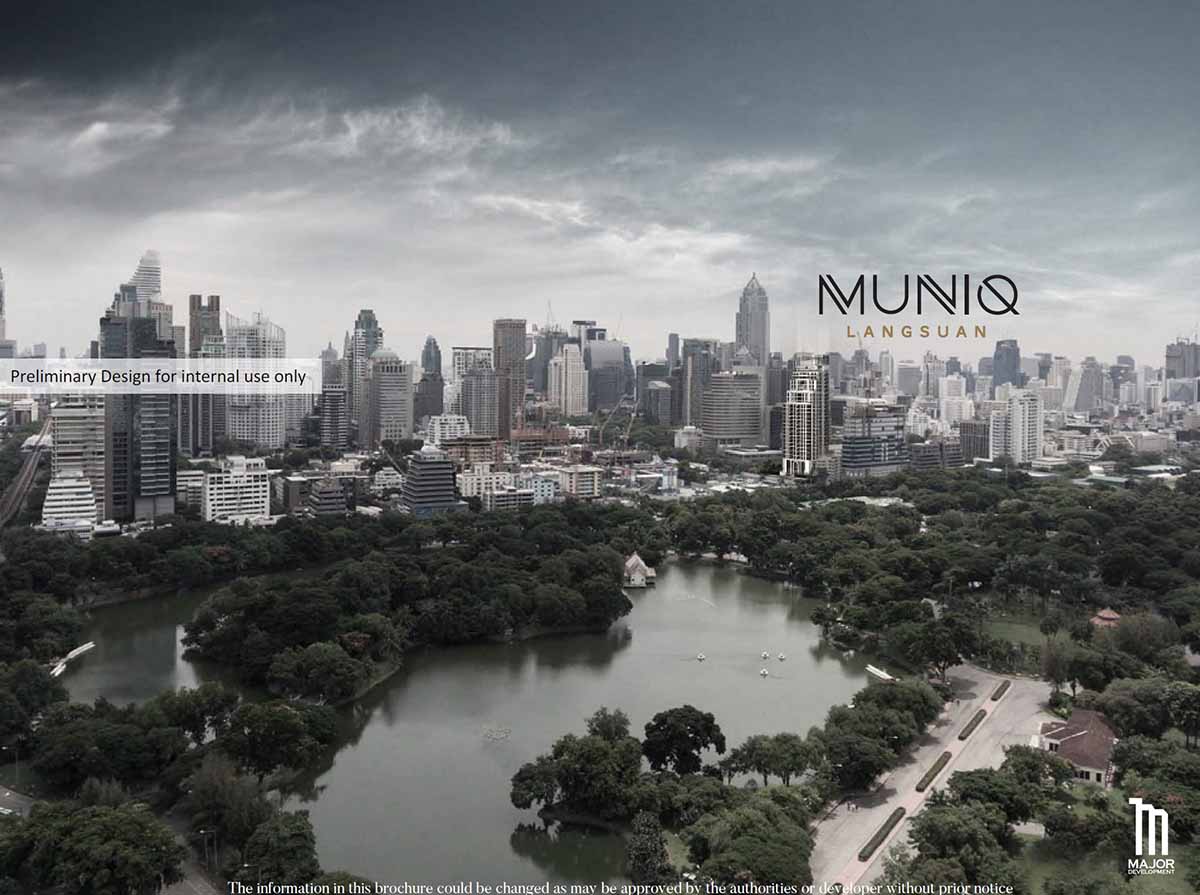 As we already known that Lang Suan area are going to get Re-Development to have a diversity of more Upscale lifestyle. And when all projects that we talked about before are getting ready to use, it will surely draw a lot of people around the world who have a lifestyle of luxury to live in this area. But the most supply in this area used to sell their condo with a leasehold contract and that might not answer the demand of the millionaire in Thailand who are looking for owning some property. And if they are looking for some condo with a freehold contract, they do have to looking for some Re-Sale condo of other project in other area. MUNIQ LANGSUAN, a freehold condo of 28 floors with only 166 units on the area of 1-1-66.5 acre on Tonson Road crossing Saracen Road. This is truly the one and only freehold condo among all the leasehold condos and they also have much more competitive selling package here.
The fact that MUNIQ LANGSUAN project was finished after the opening of the new Tonson Road (Opened February 2018) makes the owner easier connect to the roads like Ploenchit Road – Chidlom Road- LangSuan Road and Saracen Road. The project is also very close to Lumpini Park with only 100 meters walking distance and some rooms do have the view of the green and the beautiful lake of the Lumpini Park too. This might be one of few Luxury condo that have the view like this.
The Distinctive point of the MUNIQ LANGSUAN is that they begins with 1 bedroom between 50-78 square meters which is quite difficult to find for a freehold condo in this area. There also 197 Automatic Parking and very big Sky Facility area on various floor from the 1st floor up to 28th floor.
MUNIQ LANGSUAN is now open for the Pre-Sale on 10-11 Feb. 2018 at MA MAISON NAI LERT PARK HERITAGE HOME 10.00-17.00 HRS.
Registering for the discount at https://goo.gl/UC95xM
For more information, please contact MJD Call Center 1266