1. High Speed Rail Project Bangkok – Rayong (Don Mueang – Suvarnabhumi – Pattaya – U Tapao – Rayong)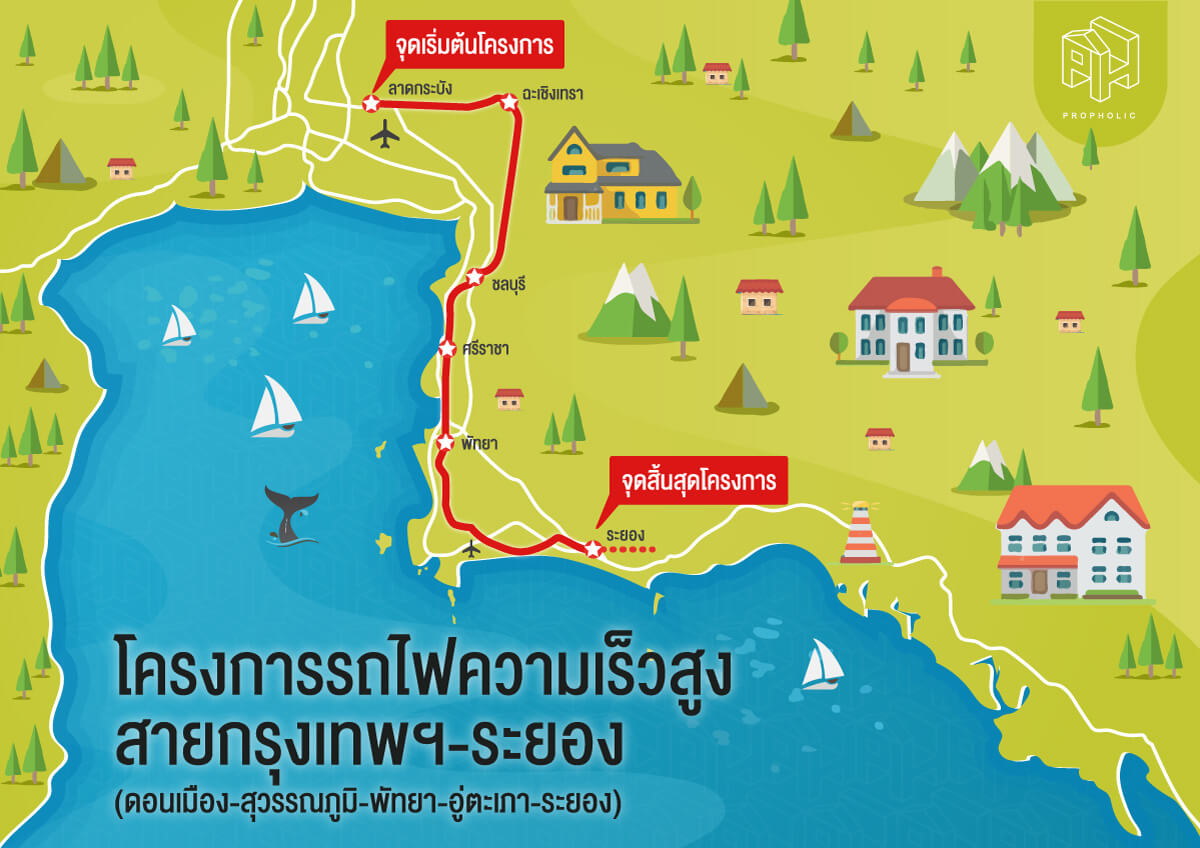 The high speed rail project, according to the study, has a total distance of 193.5 kilometers, along the route of Bangkok, Chachoengsao, Chonburi and Rayong, along the current railway line, with a budget of at least 150,000 million baht. The format will be a double track tram with a standard gauge width of 1.435 meters, currently there is no official action for this project.
2. The Motorway Project Pattaya – Map Ta Phut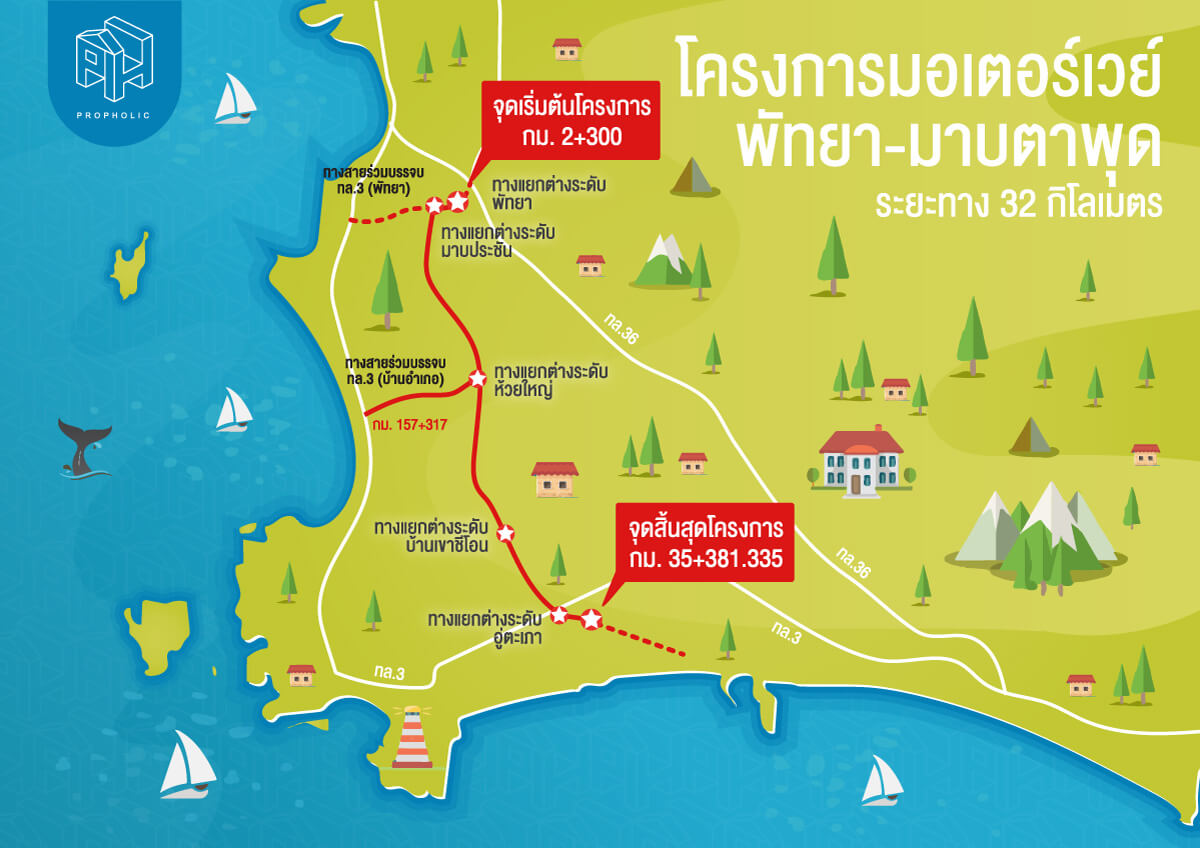 The motorway section of the Highway Department is 32 km long, starting from Pattaya, to the Map Ta Phut deep water port in Rayong, to facilitate travel and transportation, through a closed system, with a charge of 1 baht per kilometer and no entry fee, the user will be charged a total of 51 baht, the Department of Highways is expected to be open by the year 2017 or maybe faster
3. The twin railway project on the Eastern Seaboard of Chachoengsao-Sriracha-Laem Chabang route with signal and telecommunication systems installed.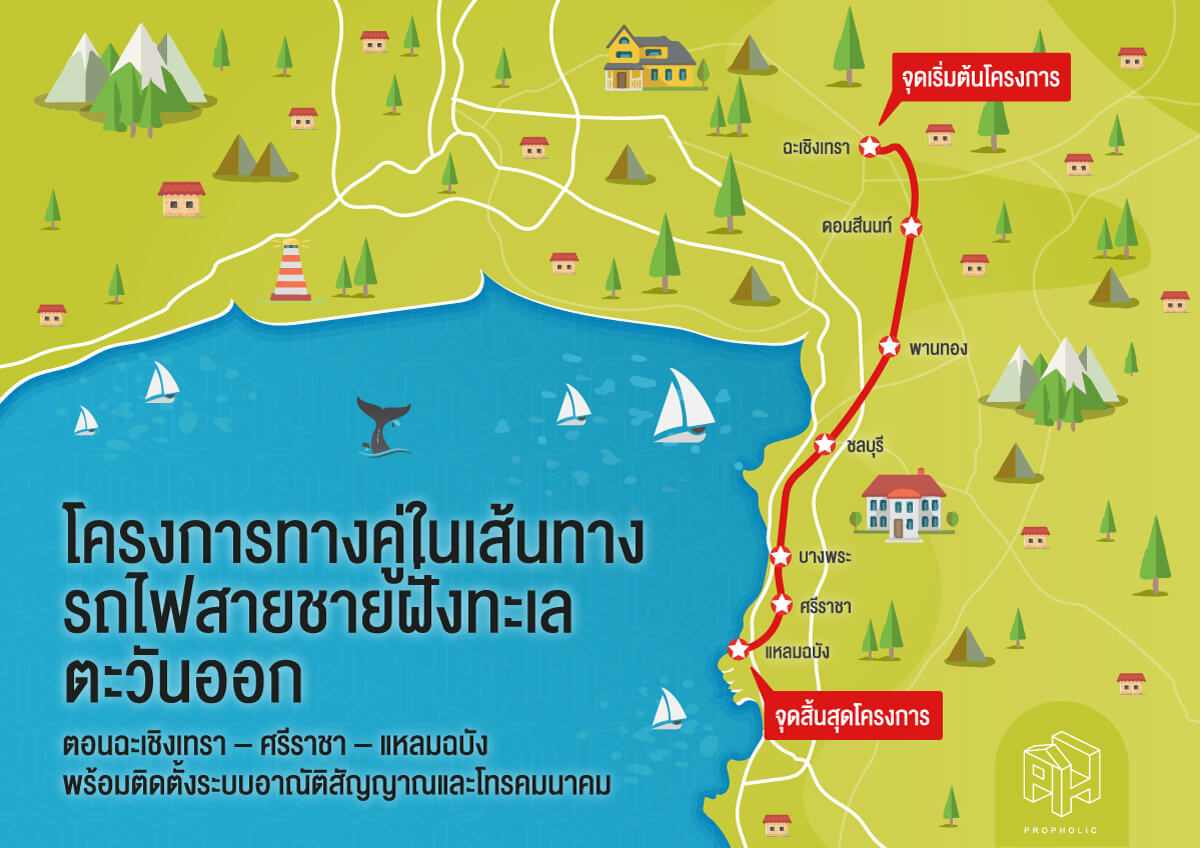 Commenced operations since 2007, by almost the entire route can be improved, by the route has already been expanded to accommodate the dual carriageway to accommodate cargo transportation between ports in the East and various industrial estates, in the central region to support industrial expansion.
4. Development of Laem Chabang Deep Sea Port, Phase 3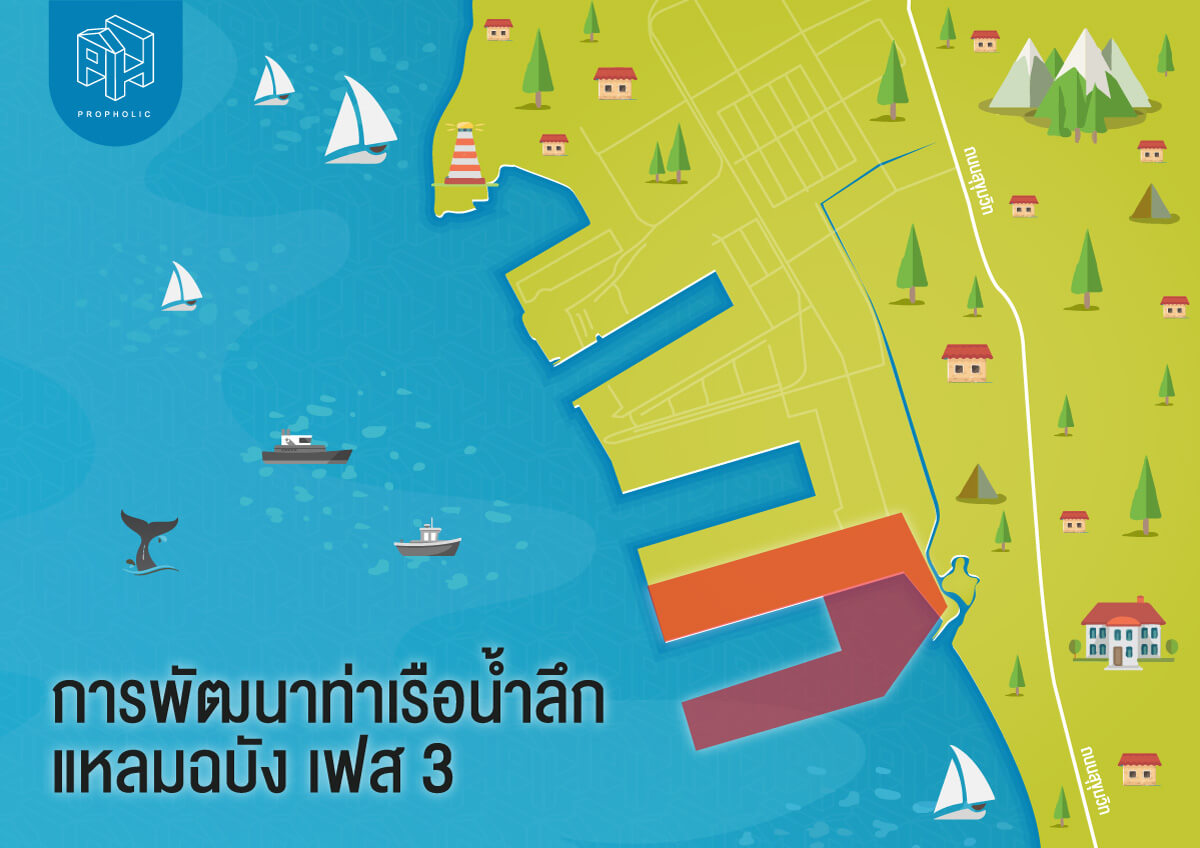 Laem Chabang Port Expansion Project will provide greater cargo capacity from Laem Chabang Ports 1 and 2, capable of transporting 11 million TEUs per year, and the addition of Laem Chabang Port Phase 3, it can accommodate 8 to 10 million TEUs per year, with an estimated budget of 35 billion Baht, which is expected to increase the port capacity of the region. The government also plan to link the railway line between Laem Chabang and the Dawin deep sea port in Myanmar to reduce travel through the Malacca Strait, saving several days of time and benefiting both ports and to be more effective, but currently there is no progress as it should, because it has to wait for development in Myanmar.
5. Opening to U-Tapao Airport Provides full commercial services
Since Chonburi is a popular tourist destination of the Chinese people, changing the destination of Suvarnabhumi Airport to U-Tapao will help facilitate the development of U-Tapao into a commercial airport. The third will be divided into 3 phases, Phase 1 (2015-2017) accommodates 3 million passengers per year, phase 2 (2018-2020) the capacity to accommodate 5 million passengers per year, by Navy will be the same management, Phase 3 (2020 onwards), the Landside and Airside infrastructure development and capacity development facilities are being studied and will support future growth. (Refer to www.manager.co.th)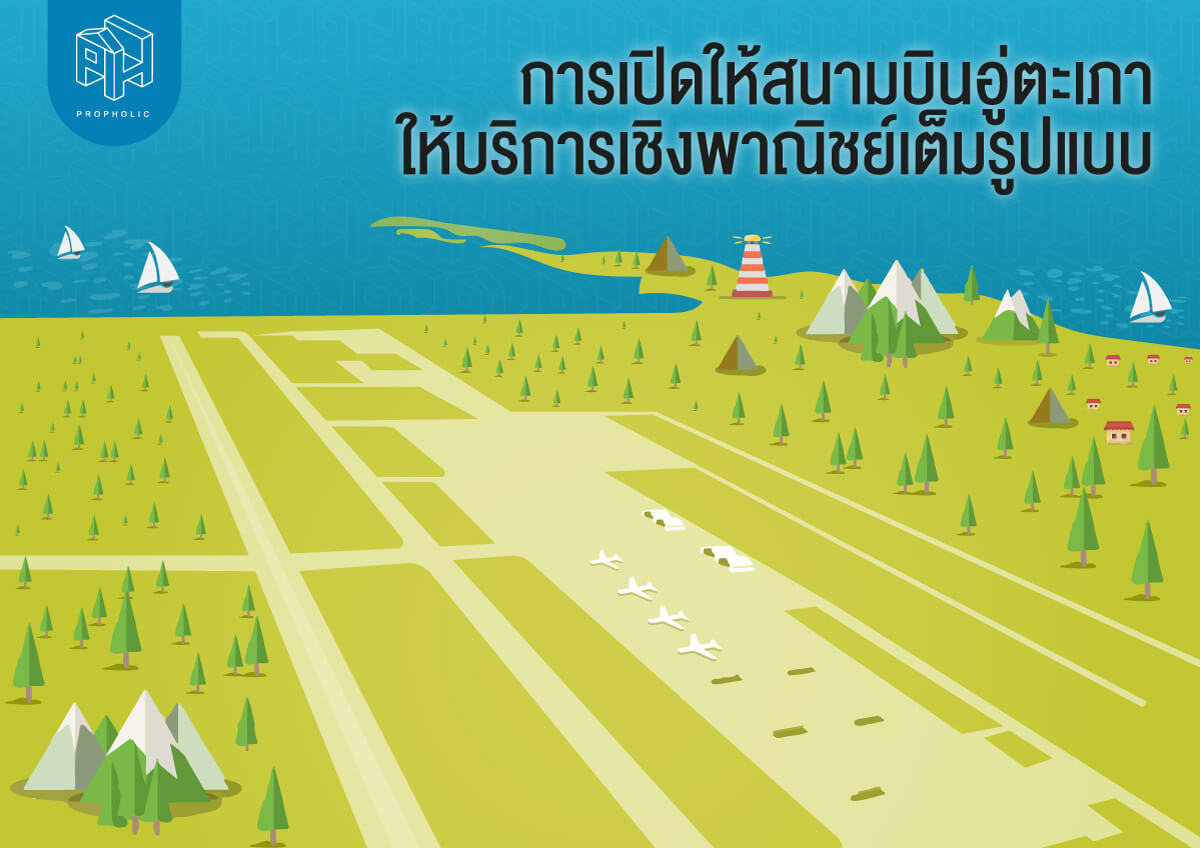 All of the projects mentioned above show that Sriracha's industry is likely to continue to grow in the future, as the government and private sectors in Thailand and abroad are trying to push forward various projects, to foster many future expansion.
Sriracha: Eastern Industrial District is the largest.
With the perfect transport route, both land, water and air, Sriracha is the most popular destination for large scale Thai and foreign industries in Sriracha, followed by Laem Chabang, There are large private estates in the private sector.
Both Pinthong Industrial Estate, Saha Group, Hemaraj Industrial Estate, Amata Nakorn Industrial Estate and Laem Chabang Industrial Estate, have hundreds of industrial plants, including industrial workers, middle to high level executives, there are foreigners who come to work in many areas.
Especially the Japanese, it is said that in Sriracha, there are over 10,000 Japanese residents, so much that it is known as "Little Japan" ever, a rapidly increasing number of a few thousand people a few years ago. (In fact, the Japanese in Sriracha may be more, as there are a few Japanese who come to work temporarily.) Japanese residents in Sriracha, most of them working in factories, distributed in various industrial estates in Chonburi and Rayong. In the past 2-3 years, both industrial estates and factories are growing, and some of them are relocating from China, Sriracha is a residential area not far from the site, though the Japanese are not the main customers of the housing market in Sriracha, as they almost always choose to live in serviced apartments or apartments, Homes in Bakersfield, are more energetic.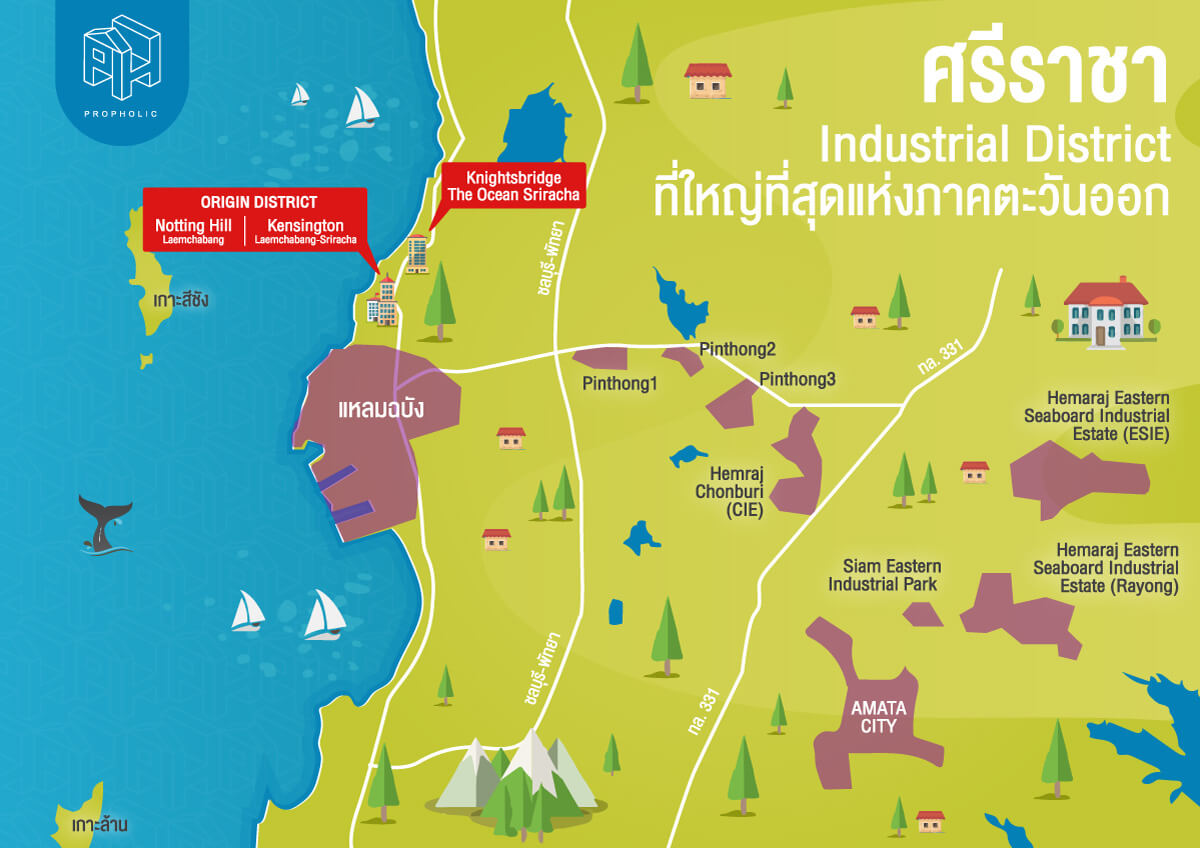 Is Sriracha Condo very good?
Over the years, because of the Japanese presence, the industry has expanded, resulting in more and more people working in the area each year, the demand for housing has been expanding, and many residential projects have been open for sale in both housing estates and condominiums over the past several years.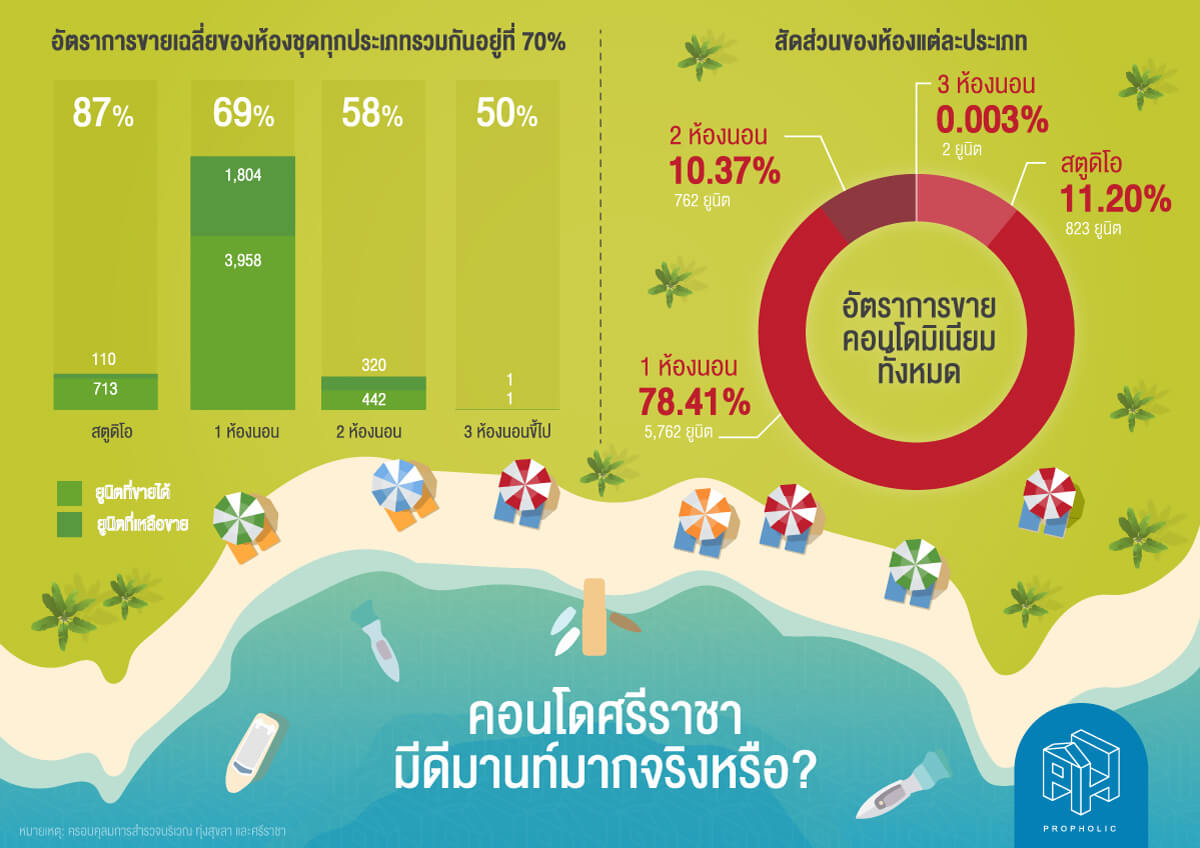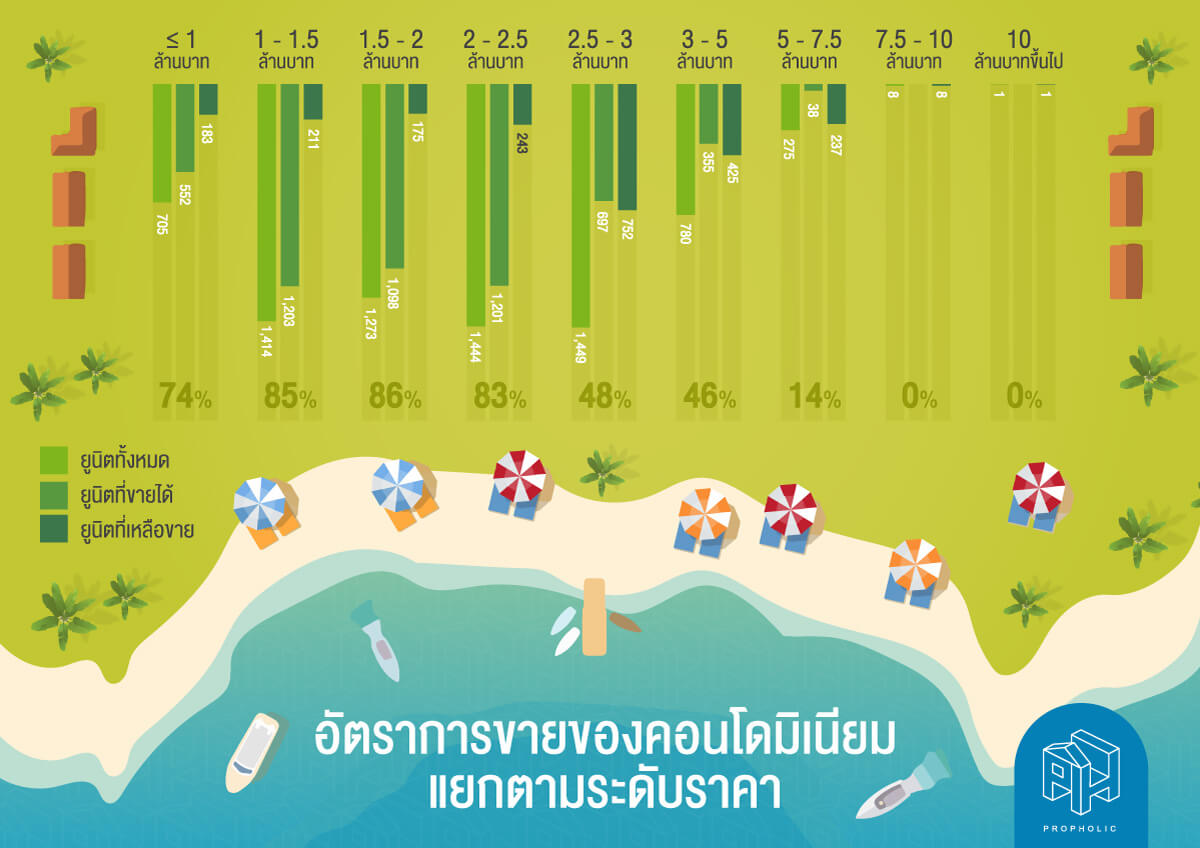 Currently, there are 7,349 units available from 16 projects, of which approximately 48% are open for sale in the year 2015, indicating that the condominium market has expanded significantly over the years.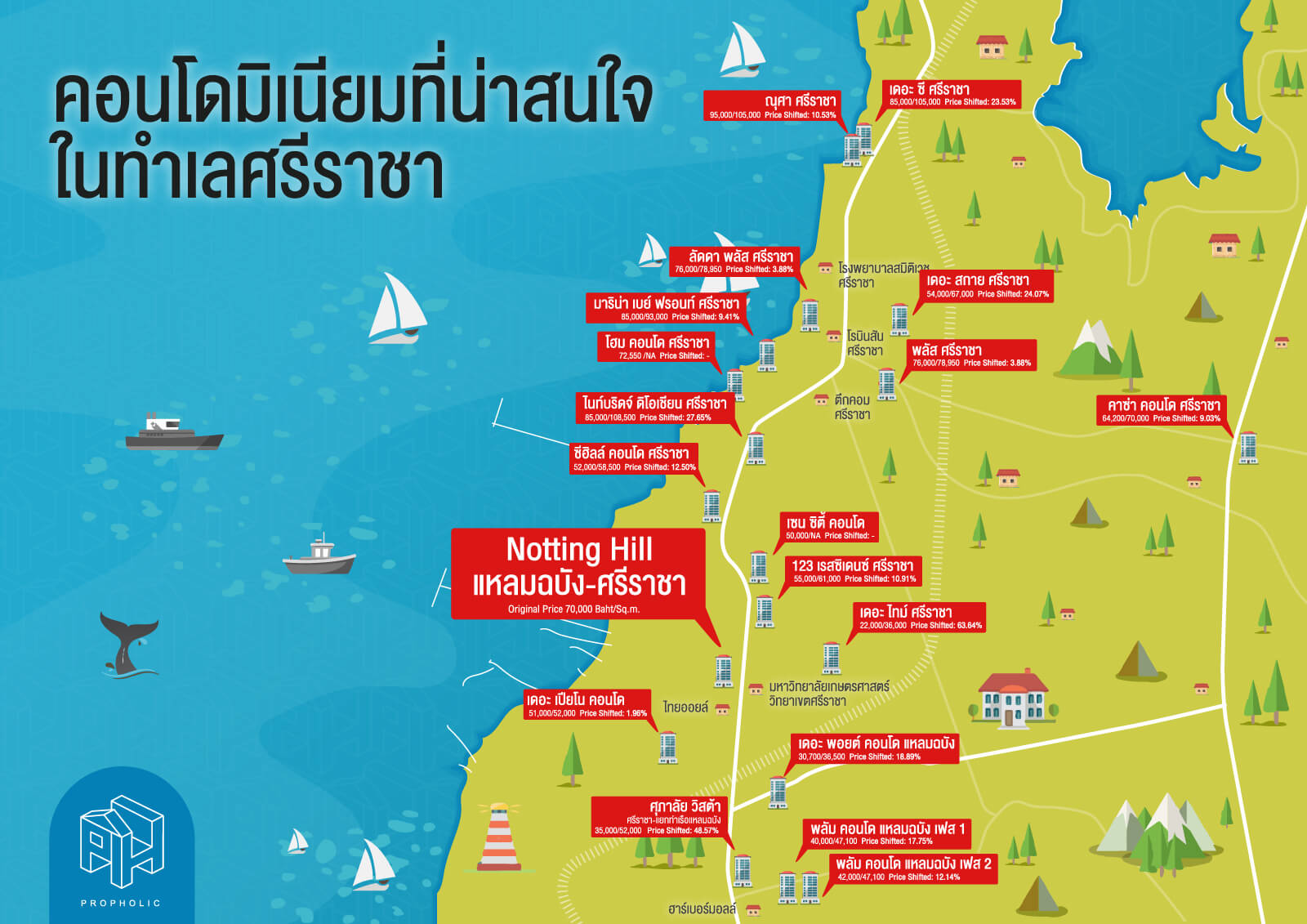 Flat price below 3 million is still selling well
Not only condominiums are attracted by the people who come to work in Sriracha, as there are both large and small operators in the area who are selling residential projects in the same proportion as condominiums. According to a recent survey, there are 5,469 housing projects on sale, about 75% are sold, has a higher sales rate than condoms, It may be because people who come to work in this area choose housing rather than condominiums, because the price is not much difference, the price of housing in this area is as follows.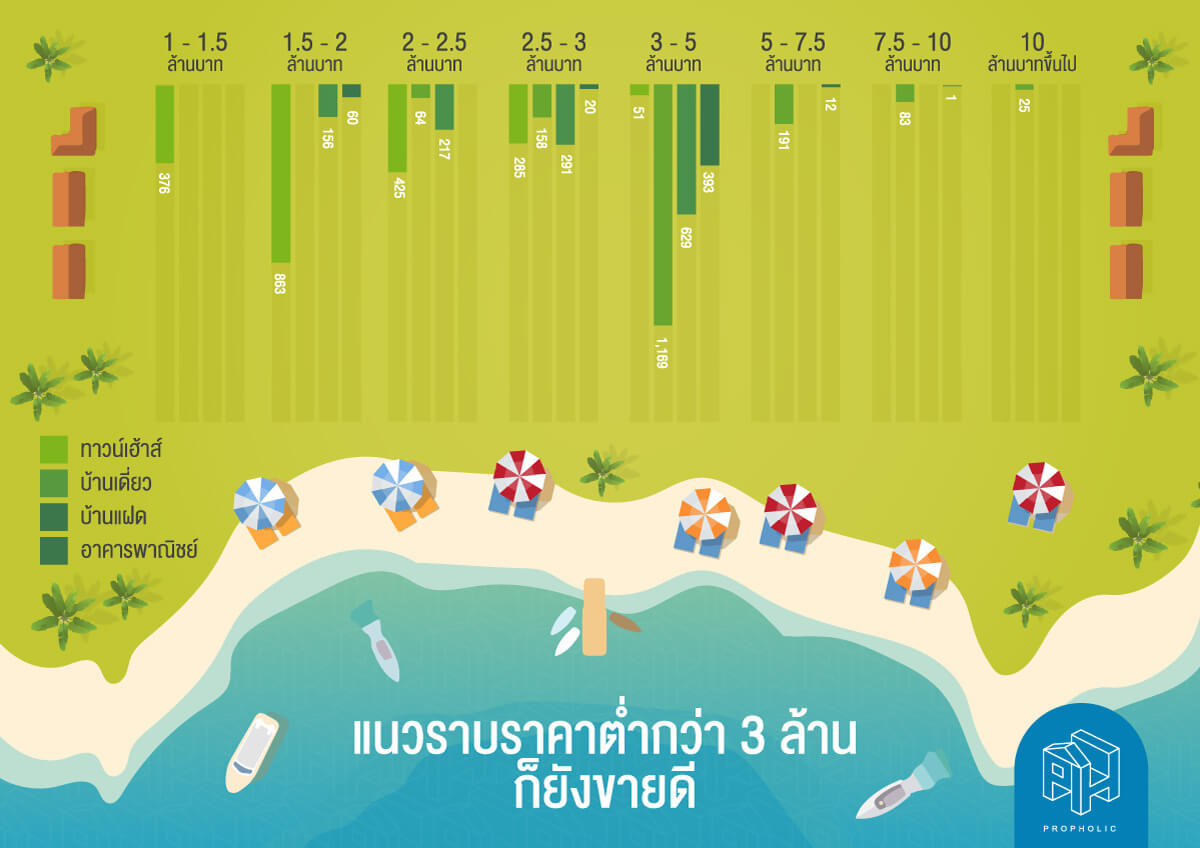 From the infographic above, it is found that townhouses with a selling price of no more than 3 million baht, there are nearly 2,000 units, which are the same group of condominiums in this area, making this townhouse is quite popular. Up to 80%, while most detached houses and semi-detached houses are priced at over 3 million baht. However, they are also quite popular because single houses cost between Bt3-5mn per unit and sell around 74%. Semi-detached houses at Bt3-5mn are sold at around 65%. Housing is another option, interesting for Thai people or companies that want to stay in Sriracha.
The high price rented from Kasetsart University Sriracha
In Sriracha, a condominium project was launched in 2013, then it has continued to grow. The average sales rate of condominiums in this area is also quite high. Approximately 70%, indicating that the condominium market has attracted a good deal of buyers, not only because of the purchasing power of people in the industrial sector, but also by the students. Significant into undergraduate study – doctorate at the University of Agricultural Sciences, Sriracha Campus.
The number of students at the end of the academic year 2015, there are about 12,380 people and there are thousands of teachers, staff and staff working in universities.
In addition, the rental rate of the tower also has a relatively high price to 30,000 Baht per room, divided with 4 people to rent per room.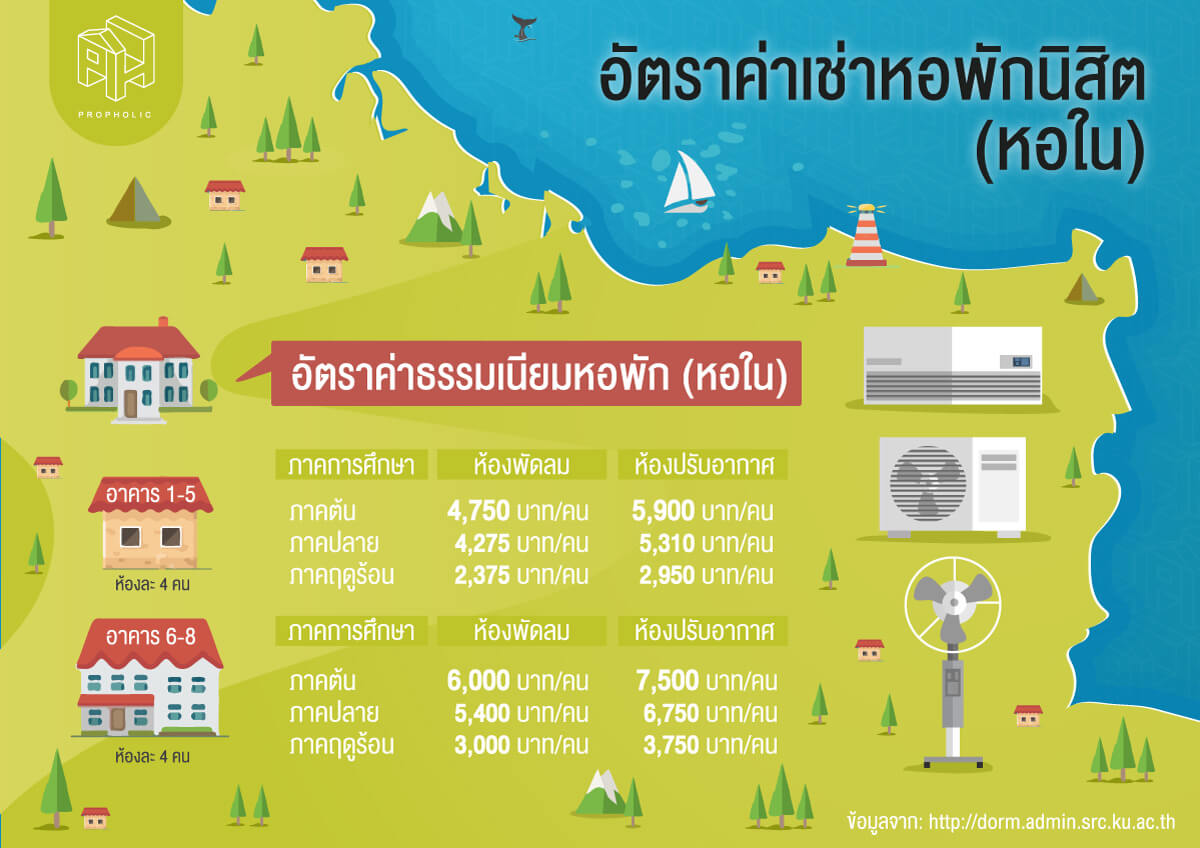 So, purchasing from this group is equally interesting, because the parents of many students choose to buy condominiums for their children to stay at school, it is an alternative. At least a little interest, as in Bang Saen, because in addition to having a safe place to study, it is also a long term investment, one Is it possible to sell or continue to rent monthly from next generation students.
As a result, many condominium developers started looking for land not far from the university to develop condominium projects, to support their purchasing power from the university, and also to sell more. In the industrial sector, the average selling price of condominiums in this area is approximately Baht 61,800 per square meter, manual between 1-3 million baht with the highest number is about 76%.
NOTTING HILL LAEMCHABANG – SRIRACHA
In response to the tremendous demand from industrial estates in Laem Chabang – Si Racha and students, as well as the staff of the University of Agriculture, Sriracha, Developed "Origin District", a large mixed use project, opposite to Kasetsart University Sriracha, which includes the Community Mall, Porto Bello, Holiday Inn and two large condominium projects, Kensington Laemchabang – Sriracha and The latest project, a 36-storey High Rise branded Notting Hill Laemchabang – Sriracha.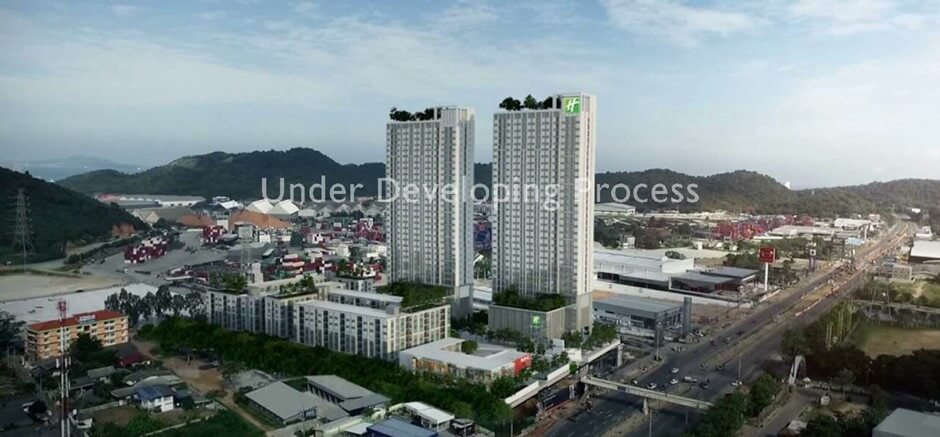 Notting Hill Laemchabang – Sriracha is designed under the modern concept of luxury, blending modernity with luxury, with its vintage, Notting Hill signature vintage lines.
Interior design, including the selection of furniture, is available in brown, black, and tinted colors.
Open today for a starting price of 1.59 million, register for more information. nottinghill.origin.co.th/laemchabang or call : 061-3983000