AP Thailand – Mitsubishi Estate Co., Ltd., mark 10 years of partnership Going FROM STRENGTH TO STRENGTH ahead With huge Bht 1.26 billion capital to upgrade Thai condos' standards and value
ประกาศที่เกี่ยวข้องกับเนื้อหา
---
– AP Thailand & Mitsubishi Estate Co. Ltd., (Mitsubishi Estate), leading corporations of Thailand & Japan respectively mark a decade of successful partnership on a mission to add value to Thai condominium industry and deliver Cheevit Dee Dee Tee Lueak Eng Dai
– First and only partnership of its kind to last a decade with sustainable success attributed more to wholehearted sincerity than financial return
– Thai-Japanese teams work together as one under Premium Residence Co., Ltd., 10-year-old JV company founded in Thailand to undertake 24 masterpiece JV projects worth over Bht 100 billion while developing dynamic design innovations offering best housing choice for urbanites
– Set to go FROM STRENGTH TO STRENGTH on a roadmap to build synergy for endless growth from dual strength – stronger than all other joint ventures in real estate backed by JV company's registered capital of Bht 12,619,408,010 to keep portfolio growing continually
– Ready to showcase 2 super masterpieces: THE ADDRESS Siam-Ratchathewi and RHYTHM Charoennakhon Iconic, the year's proudest achievement
– THE ADDRESS Siam-Ratchathewi, 8,600-million-baht-prestige-luxe condominium slated to flaunt flawless beauty on 26 – 27 August
– RHYTHM Charoennakhon Iconic, newest 4,500-million-baht-flagship JV scheduled to exemplify super condominium this November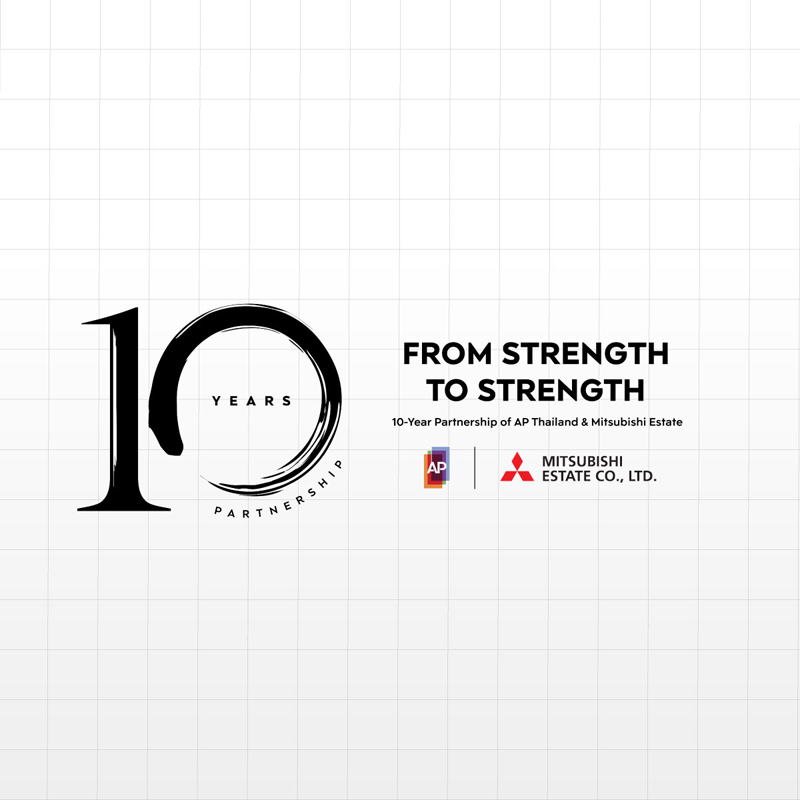 AP Thailand – Mitsubishi Estate Co., Ltd., mark 10 years of partnership Going FROM STRENGTH TO STRENGTH ahead
AP Thailand and Mitsubishi Estate are joining closer together to reinforce one of the strongest and longest partnership between two leading property developers, one is Thailand's real estate elite and the other is at the forefront of Japan's property development industry for approximately 130 years. Marking 10th anniversary of their solid collaboration, both companies are looking to plough ahead on FROM STRENGTH TO STRENGTH roadmap to drive their joint venture further to infinite growth. They are fully geared up to expand their condominium development investments in Thailand backed by a richly-funded JV company with a registered capital of Bht 12,619,408,010 – all in anticipation of a recovery in the growing market for city-centre condominiums along the mass rapid transit lines as both of them work to share their industry know-how and expertise to lift up the quality of condominium development in Thailand's middle to high end of the market to ensure all home-owners can have Cheevit Dee Dee Tee Lueak Eng Dai.
Mr. Anuphong Assavabhokhin, CEO, AP Thailand Public Co., Ltd., said that the 10th anniversary of the partnership between Mitsubishi Estate and AP Thailand is a very proud occasion for AP Thailand and it also marks an important milestone that reflects the strength of the joint venture in terms of competiveness and the growth potential of Thailand's property development sector in comparison to elsewhere in the world.
The partnership between AP Thailand and Mitsubishi Estate is the first and only of its kind in the industry to have a business model where the partners formed a 51:49 joint venture company in Thailand named Premium Residence Company Limited to be the main company to invest in residential development projects in the long term. The company currently has a registered capital of Bht 12,619,408,010.
Above all else, the partnership has contributed enormously to Thailand's property sector in terms of the amount of investment funds involved in driving the industry creating employment at over 100 companies in the Thai industrial ecosystem, the exchange of knowhow between the partners as well as the sharing of business visions and corporate social responsibility. It is extremely difficult for a short-term joint venture to make such a contribution to society.
"Mitsubishi Estate is unique not just in terms of size and global experience, their executives also have a long-term vision and are ready to work with us for the advancement of Thailand's property development sector. Also, they immensely inspire AP Thailand's team to do better with residential developments so our products and services can be part of a good life home-owners lead on their own terms," added Mr. Anuphong. 
Mr. Atsushi Nakajima, President & Chief Executive Officer, Mitsubishi Estate Co., Ltd., said Mitsubishi Estate's overseas business started about 40 years ago with real estate development in Europe and the United States. Today we have real estate business in many countries and regions in Europe, the United States and Asia which we are currently focusing our investment in. Out of the Asian countries, Thailand is an extremely important base for our overseas business, blessed with an attractive market environment and business opportunities with our excellent partner company, AP Thailand.
Throughout 10 years of JV business, we have deepened our mutual understanding of corporate culture and philosophy and enabled to share know-how and ways of managing business from a long-term perspective. This is something that we could not achieve through project to project basis partnership.
Over the past 10 years, as our understanding of AP has deepened, our respect has become bigger towards AP's depth of knowledge in condominium development and its spirit towards product planning. Thanks to AP Thailand, as a same property developer company, we have learned a lot.
We have also been aiming to contribute to the JV business as well as to Thai society by sharing with AP Thailand our knowhow concerning our development projects and various initiatives in Japan. As of now, we are strengthening our efforts to implement an inclusive design into the development of the project.
"We are very happy to be able to contribute to Thai society through our JV business with great partner AP Thailand and we will continue to think about how we can provide value as a Japanese company for Thai society from now on,".
Over the past 10 years, AP Thailand and Mitsubishi Estate have worked together on 24 joint venture projects to develop condominiums on the plots of land along the mass rapid transit line in the heart of Bangkok. Valued at a total of Bht 116,300 million, all the projects have been well received by homebuyers as evidenced by the sales and ownership transfers. A total of 13 projects have been sold out. The 11 joint venture projects currently under development and on sale (valued at Bht 55,650 million) have average sales of approximately 60% or Bht 20,375 million worth of sale-ready products.
#APxMEC10YearOfPartnership #APFromStrengthToStrength #APThai #ชีวิตดีๆที่เลือกเองได้ #RHYTHMCharoennakhonIconic #TheAddressSiamRatchathewi #APThaiUpdate2023