'Central Pattana' reinforces its leadership in real estate sector as it moves forward with 'The Ecosystem for All' business model with a 5-year investment budget of Bt135bn to elevate lifestyle in '360 degrees' and to develop Thailand's economy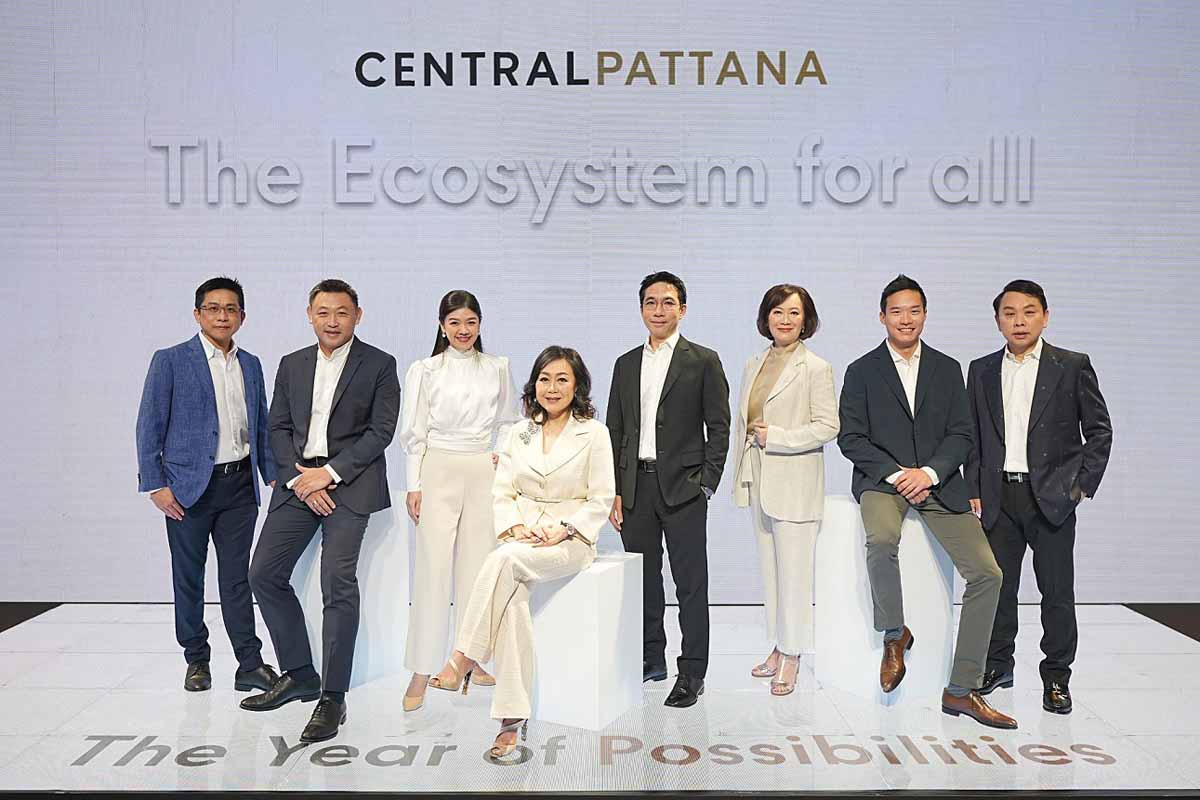 'Central Pattana' aims to create "The Ecosystem for All" with a strong growth for its all businesses with retail as its core pillar while making great contributions to the country under three strategies:
– Developing the 360-Degree Centre of Life via online and offline channels to serve people around the clock and every day of the year.
– Investing over 300-500 million baht a year in technology and data-driven omnichannel.
– Positioning as the place making for sustainable future, by taking care of people and the environment under the goal to reach net zero by 2050.
The company has revealed a five-year business plan for 2023-2027 to invest 135 billion baht, with about 23-35 billion baht each year in more than 200 projects, constituting 25 mixed-use projects cover 30 cities in Thailand and other ASEAN countries.
Within the next five to ten years, the company will invest in five mixed-use development mega projects, each having an area of over 350,000 square meters and an investment budget of over 20 billion baht, to elevate Bangkok to a world-class great city, with 'Dusit Central Park' as the first to be open in 2024-2025.
Some of the projects to be launched in 2023-2024 include:
– Shopping center and community mall businesses: 'Marché Thonglor' (26 Mar 2023) and 'Central Westville' (27 Oct 2023). New projects in 2024 include 'Central Nakhon Sawan', 'Central Nakhon Pathom' and 'Central Krabi'. 
– Residence business: there will be seven new projects with a total value of over nine billion baht. They are 'ESCENT' condominiums in Petchaburi, Buriram and Nakhon Si Thammarat; a 'NIRATI' housing estate in Nakhon Si Thammarat; and projects under the new brand 'NIRADA' in Rama 2, Utthayan and Ekkachai areas in Bangkok
– Office building business: the renovation of centralwOrld offices has been completed with new flexible areas including at wOrk, while spaces at 'Central Park Offices' are up for sale.
– Hotel business: operates under three brands, 'Centara Ubon' (now open), 'Centara Ayutthaya' in October, 'Centara One Rayong' in December, 'Go! Hotel' at Robinson Banchang in April, Go! Hotel at Central Siracha in June, and Go! Hotel at Central Chonburi in June.
Central Pattana plc., Thailand's No.1 sustainable real estate developer, has announced "The Ecosystem for All" business model with a focus on synergy of its main businesses led by retail which is the core pillar that connects with residential projects, office building and hotels, in order to cater to all lifestyles via online and offline channels in "360 degrees" as well as expanding into new assets with an ambition to create a new future for living with social and environmental responsibility and sustainability.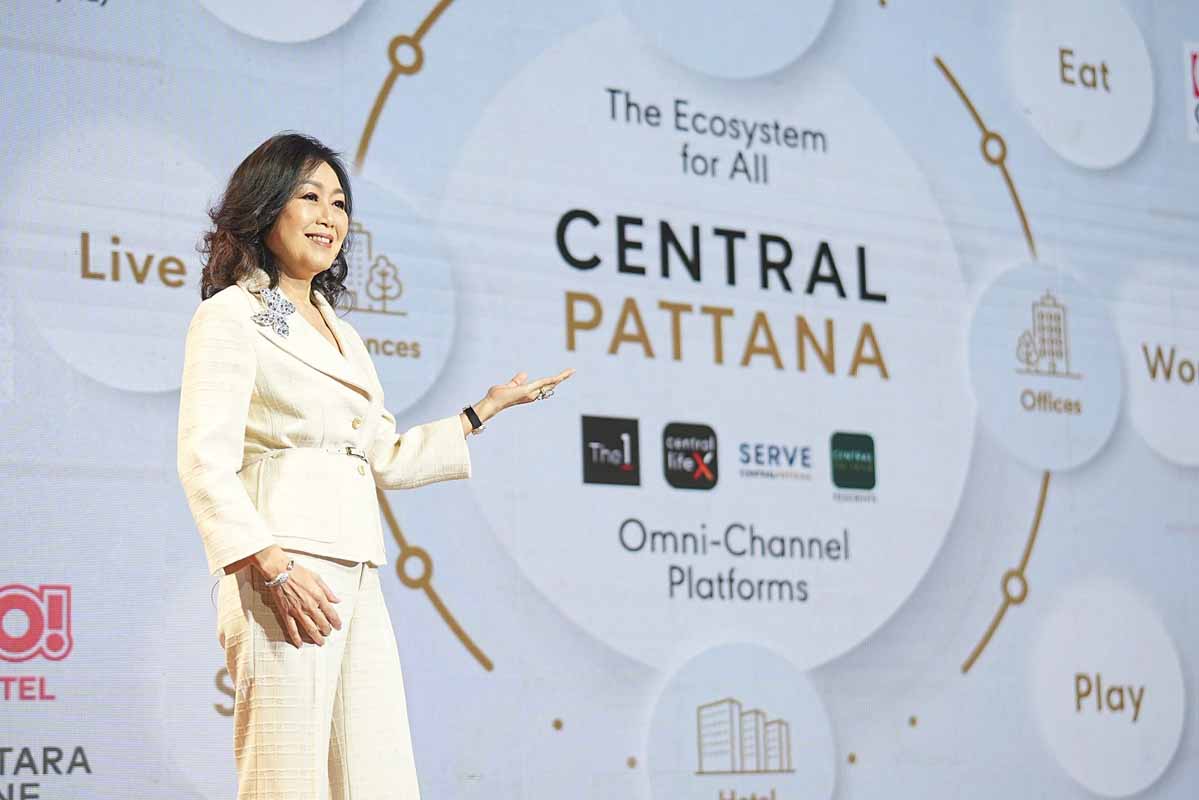 Ms. Wallaya Chirathivat, President and CEO of Central Pattana plc., said, "We see new opportunities under our vision 'Imagining better futures for all.'  Throughout 42 years, we have continuously pushed our development while adhering to the principle of Centre of Life, which we have realized in the form of our various projects across Thailand. We have produced a strong growth not only to our shopping centre business, but also our community malls, residential projects, office buildings and hotels, which are all connected to each other and to business partners, local people and communities, the wider society, and the environment with seamless synergy."
Central Pattana looks to push itself to "evolve" into "The Ecosystem for All" which will be the future of its business with retail as the central focus, according to her.  This will be done by implementing three strategies.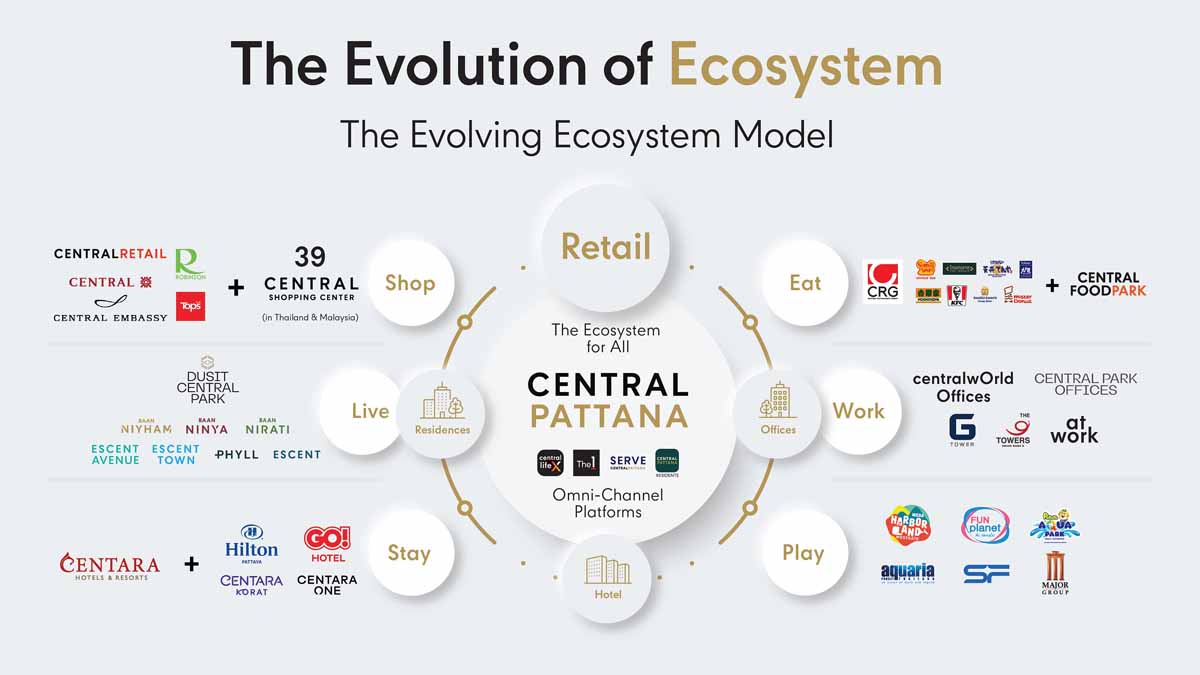 1. The 360-Degree Centre of Life: Central Pattana offers the all-around centre of life both online and offline accessible across the country and around the clock where people can shop, eat, work, play, stay and live. The total traffic volume for Central Pattana projects is expected to increase from the current 1.2 million people per day to 1.8 million or 657 million uses in five years.
In 2023, Central Ubon, Central Ayutthaya and Central Rayong will become the newest additions to the portfolio of mixed-use development projects with a full range of components.
Under the five-year investment plan of 2023-2027, the company will invest over 135 billion baht, or 25-30 billion baht per year, in various businesses consisting of over 200 projects covering 30 cities in Thailand and other ASEAN countries. These include 50 shopping centers, 17 community malls, 90 residential projects, 37 hotels, 13 office buildings, and four flex offices.  In 2023, the company develops a total of 18 mixed-use development projects, and in the next five years, there will be 25 mixed-use development projects in total.
The company has made long-term plans of five to 10 years to develop five mixed-use development mega projects which can elevate Bangkok to one of the world-class great cities on par with New York City, Tokyo and Seoul. The first of these, 'Dusit Central Park', is expected to open in phases in 2024-2025. It unveils that the five projects will each have a total gross floor area (GFA) of over 350,000 sq.m. and an investment budget of over 20 billion baht.
2. Total B2B2C Solutions: The company creates a complete network of business partners and customers by investing over 300-500 million baht per year in digital transformation and technology. It has developed a data-driven omnichannel which will be a useful platform for customers, partners and the overall society.
3. The Place Making for Sustainable Future: The company provides places which connect individuals, communities and the environment, with special attention to the people and support for local wealth. In the next five years, it expects to employ over 6,500 individuals and provide another 100,000 jobs in its ecosystem. Central Pattana has been providing free space worth more than 300 million bath per year to farmers and SMEs nationwide. Providing support for activities of the public sector and corporate social responsibility activities, the company's contribution is worth over 200 billion baht.  As it follows the "Net Zero 2050" roadmap, the company has conserved energy worth 200 million baht, installed solar rooftops and EV charger stations across the country, planted trees and created green areas, and managed waste management facilities and recycling shops in its shopping centers.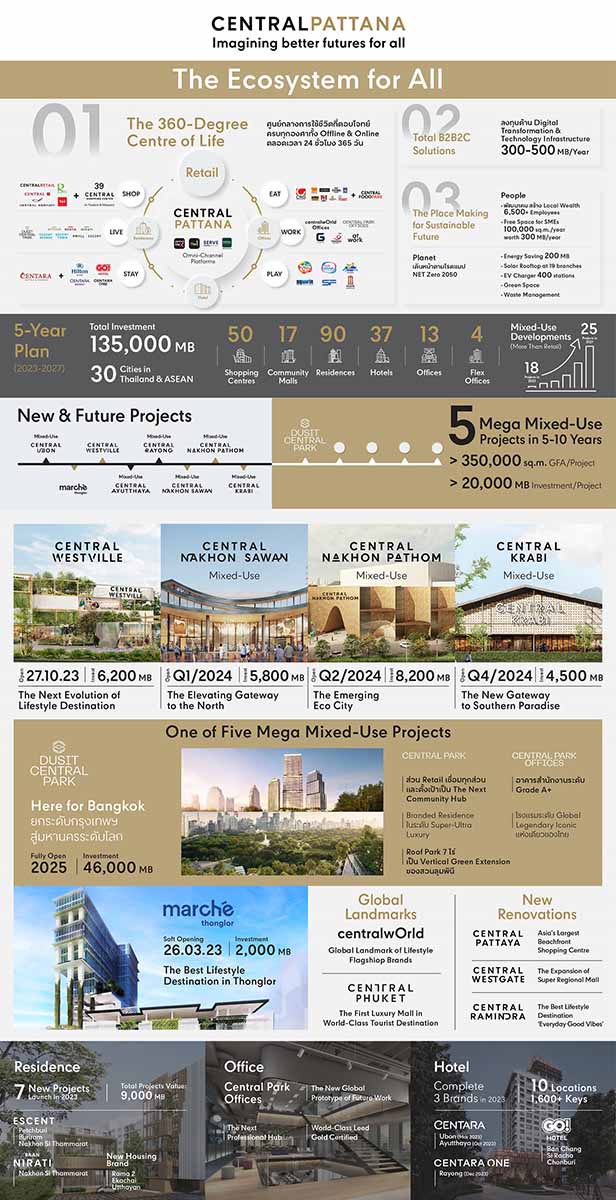 The management team of Central Pattana led by Mr. Chanavat Uahwatanasakul, Chief Development and Commercial Officer, Ms. Naparat Sriwanvit, Senior Executive Vice President and CFO, Mr. Wuttikiat Techamongklapiwat, Head of Community Mall and International Business Development, Kree Dejchai, President, Residential Business, Ms.Surang Jirattigalachote, Head of Hotel Development, and Mr. Phoom Chirathivat, Head of hotels and Alternative Investments, together have also revealed plans for various businesses to help strengthen its mission to create The Ecosystem for All.