IDEO SATHORN-THA PHRA is a project where either Pho Nimit or Talat Phlu Station can be chosen to get off (the fare is the same rate but it is not sure that it will be adjusted in the future).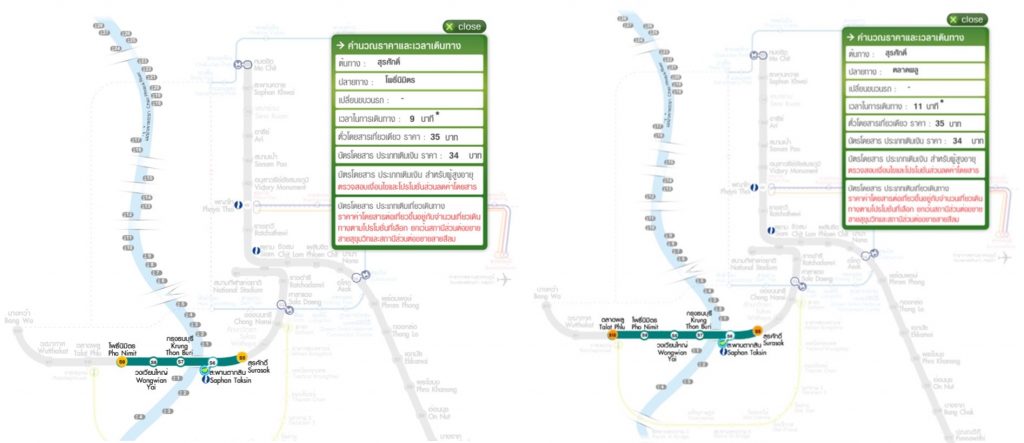 If you choose Pho Nimit Station, a walking distance to the project will be around 320 meters.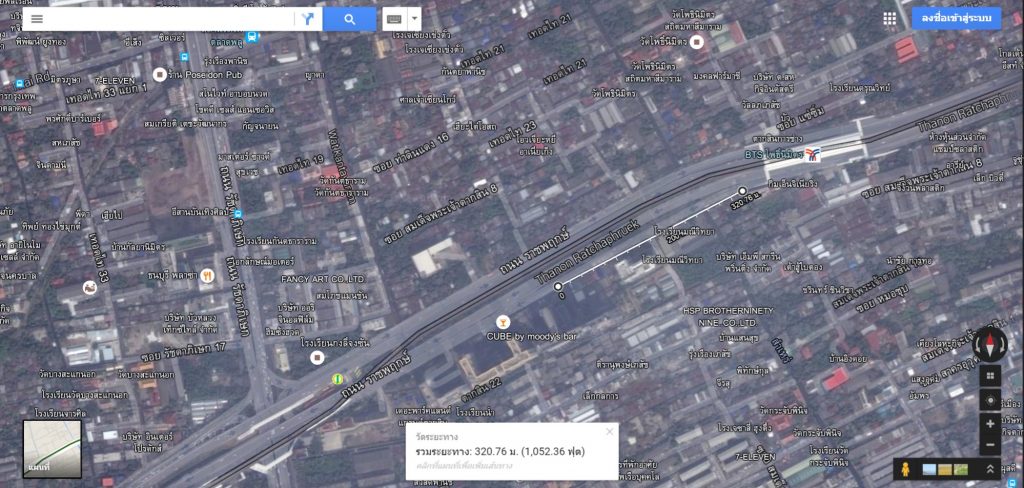 Or if you choose Talat Phlu Station, a walking distance from the Skywalk will be 442 meters.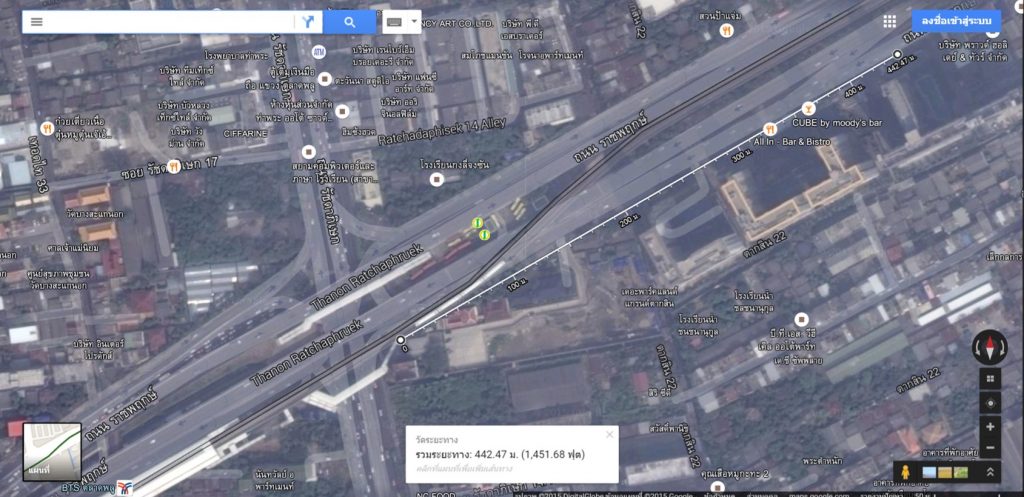 It depends. If you want a shorter walk, get off at Pho Nimit Station. But if you want to shopping along the way, shaded with neighboring condos nearby like Parkland / Parkland Grand or Aspire Sathorn Thapra, a future project, and want to stop by at food stalls or buy something at 7 Eleven before getting the project, choose Talat Phlu. However, the project will have Max Valu and True Coffee in hybrid version to be opened in the future.
Walking from Pho Nimit is better.
Many people think walking from Pho Nimit is dry and quite desolate. Don't believe? Try it. Yes, it is. Ananda, the developer, was aware of this weakness. It solved by adding street light and giving shade to the route from the foot of the stairs of Pho Nimit Station.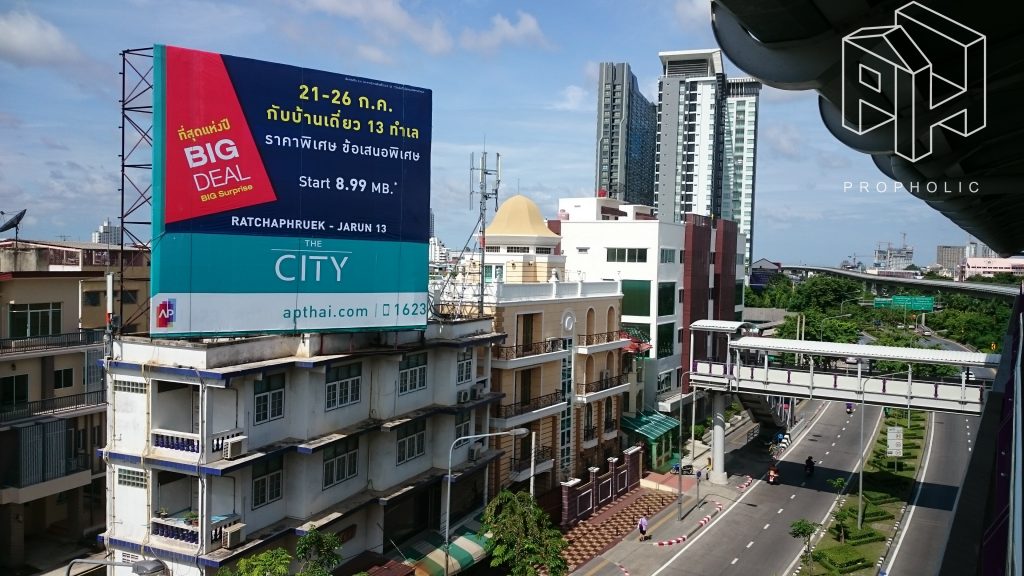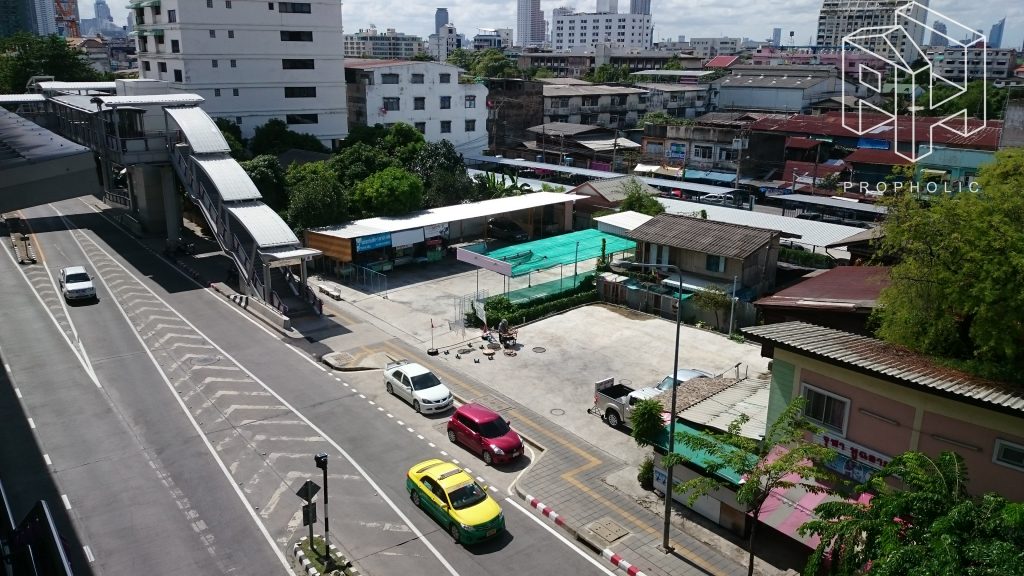 The renovation part of the pavement stretching from the station to the project's entrance (There will be also a flyover to another side of the road.)

The project has another option which is more convenient. It is a shuttle van from Pho Nimit BTS Station – the project – BRT and the Mall Thapra, leaving every 15 minutes free of charge for unit owner (please contact the juristic person for more information).
Photo credit: Facebook Group Ideo Sathorn Thaphra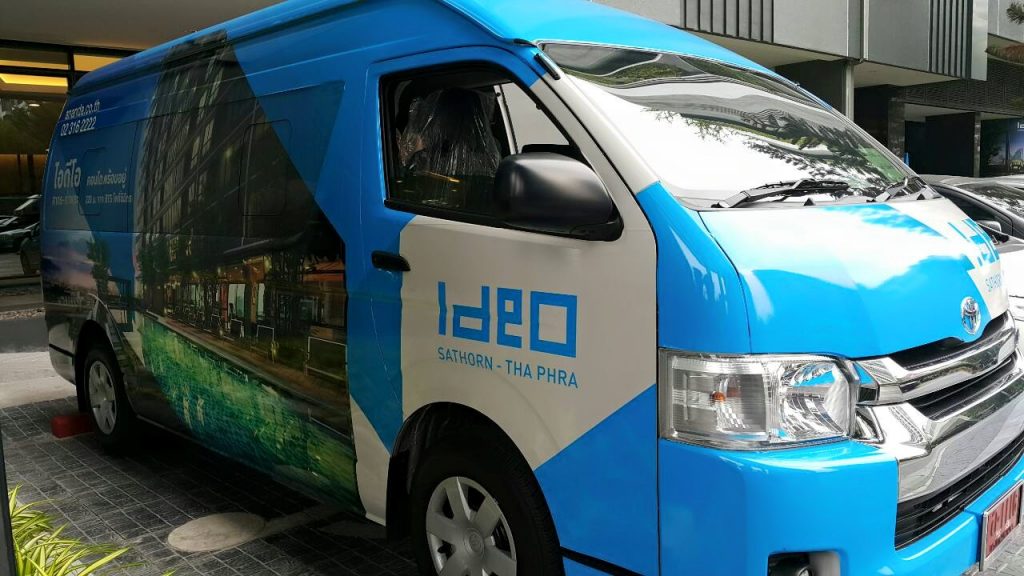 In the project, retail shop area on the ground floor was closed for renovation. This area would be True Coffee which would get larger with function area for work including many more seats and tables. (Previously, True Coffee was in Shop 2 and Sales Gallery was in Shop 1). Max Valu and other shops will be opened soon. Moreover, Ananda is allocating area in the project to be a lifestyle community like small ArtBox to solve the problem of dryness and dullness of the areas surrounding the project.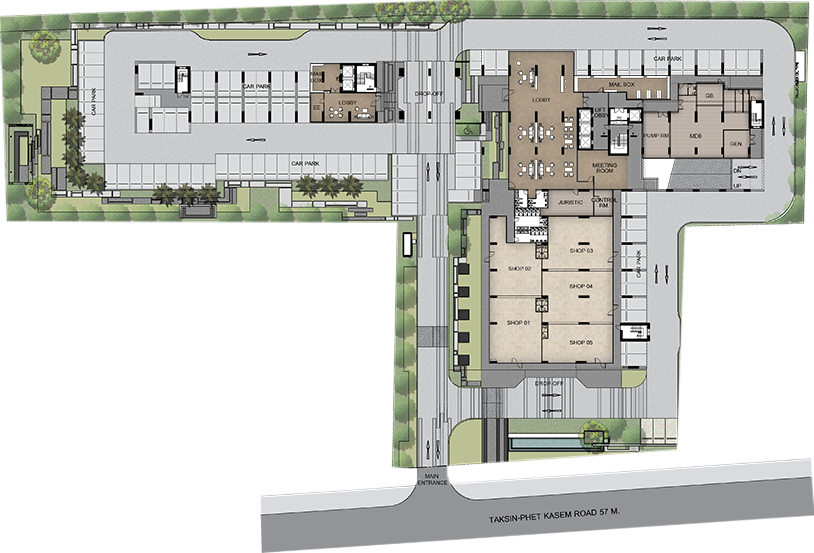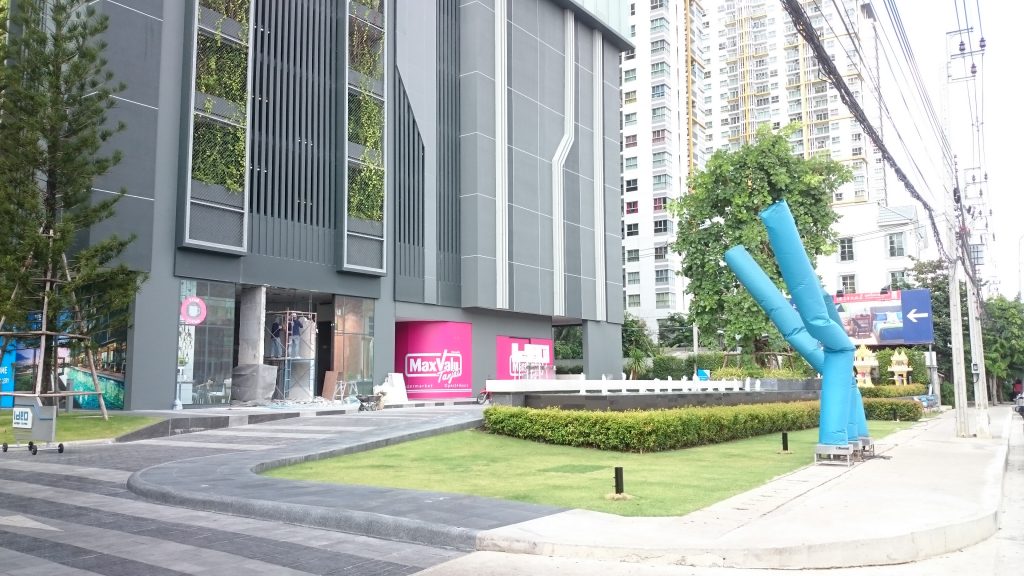 IDEO SATHORN-THA PHRA is a tower with a high exposure, catching the eye from far away as the tower is designed in T-shape with 31 floors at only one tower with a total of 1,339 units (if retail shops are included, it will total 1,344 units) on the land plot sized 5-3-19 rai. If you stand on a deck of any building in Thon Buri area, you will see this dark grey building standing prominently like the Chinese Great Wall definitely. One more thing, this project is Ananda's first completed project constructed with precast technique. Ananda calls it Fulfill Wall. For more information, please click at this link Ananda Fulfill Wall.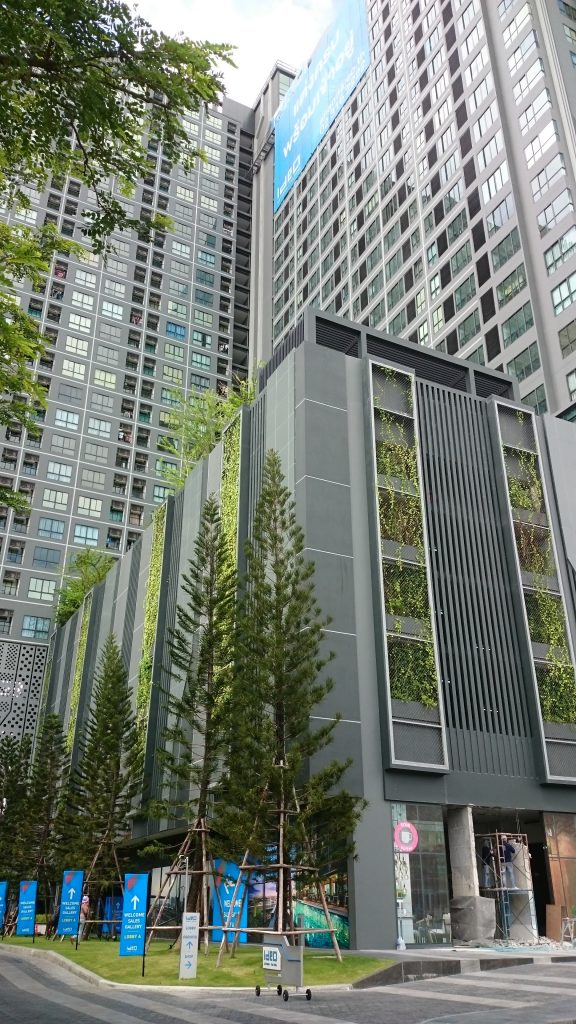 The units on the west side.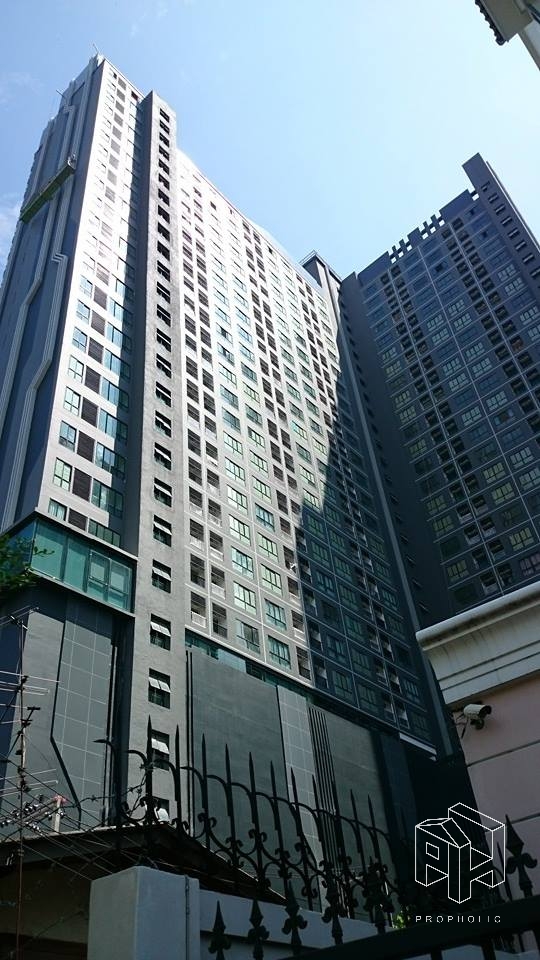 The north.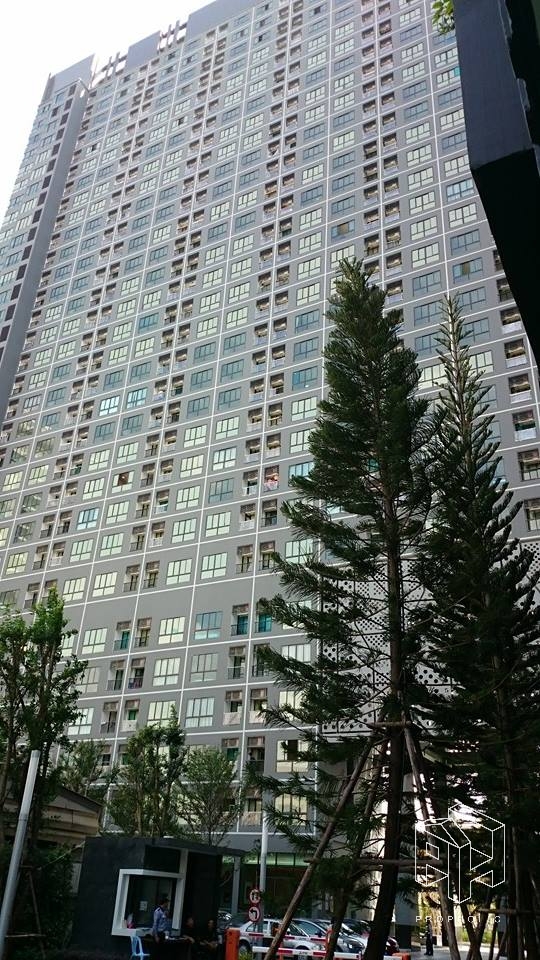 The floor plan is divided into 3 zones: floor 2–6, floor 7 and floor 8–31. There are a total of 4 elevators excluding two service lifts.
The floor 2–6 zone is where the units on the east wing are. Special is that the units in this zone need to take elevators at Lobby B only and a number of unit per floor is only 14 units. Meanwhile, a number of unit on typical floors is 53 per floor.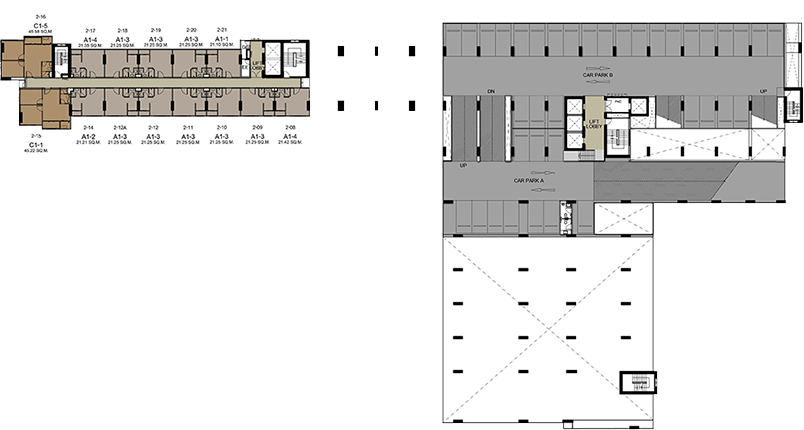 Drop Off area is the same spot for both lobbies.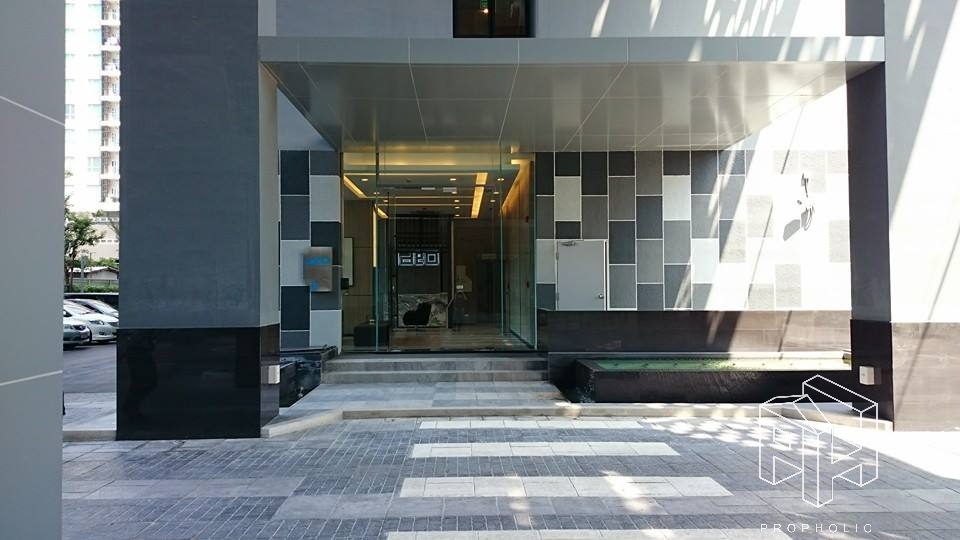 Now, let's go to Lobby B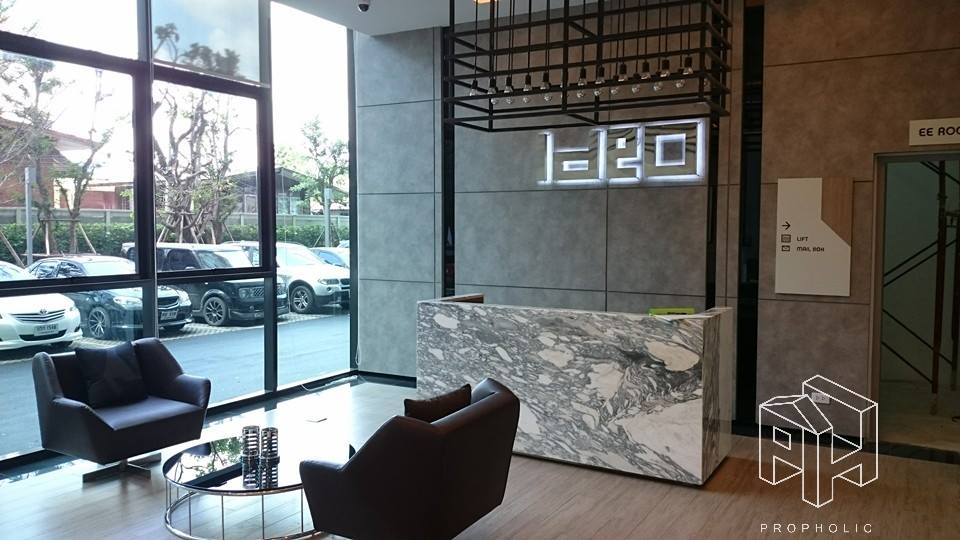 Mailbox is small-sized in line with a number of unit.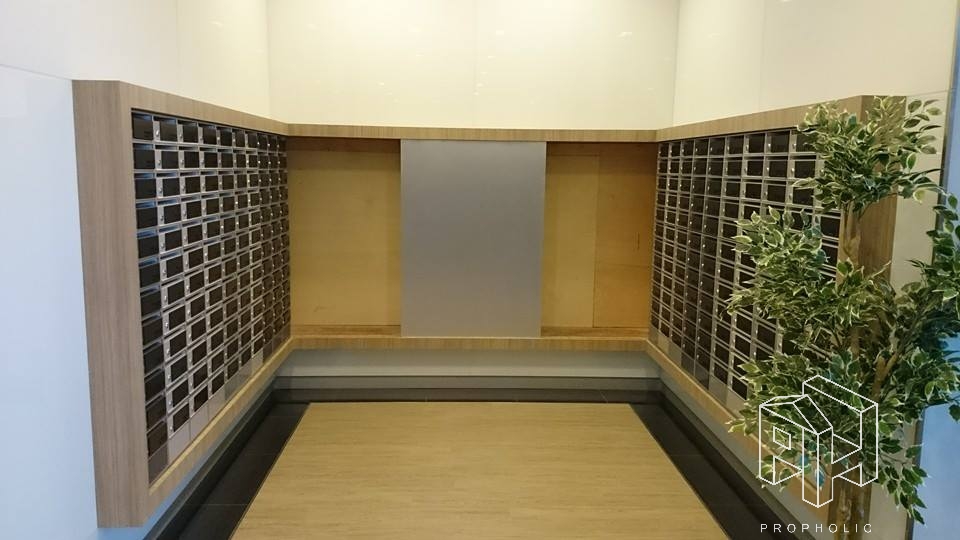 Now move to Lobby A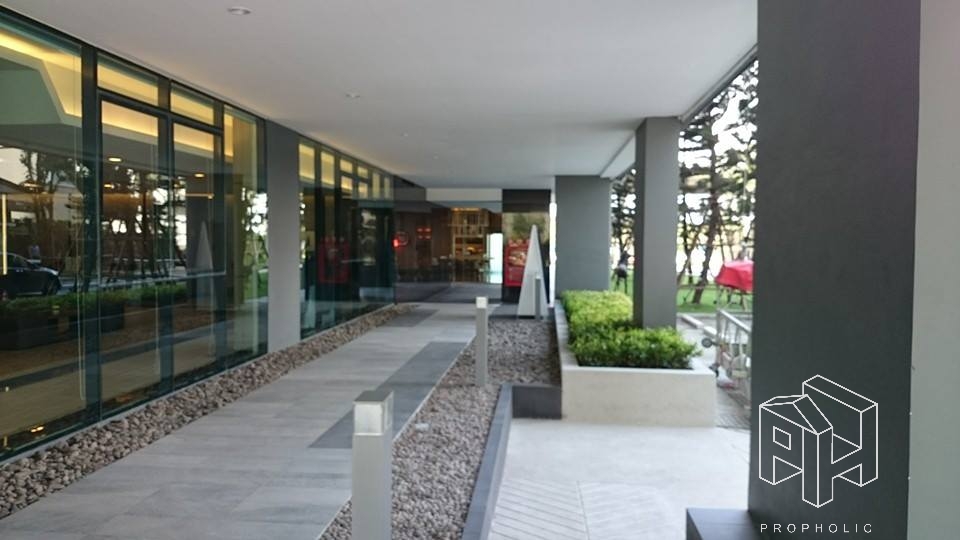 IDEO SATHORN-THA PHRA is a project with a largest lobby, compared with Ananda's other projects. The lobby on the ground floor is open and spacious, not looks tight, in modern minimalist style. This is unlike other projects where interior design is too much with extravagant furniture to create value added and a first impression to those projects. This style Ananda chooses is right to the target as the project's positioning is not planned for premium or high-end grade, yet targets at Baby Gen C – Bachelor Gen C who prefers solitude and privacy and spends a hurried, yet simple life.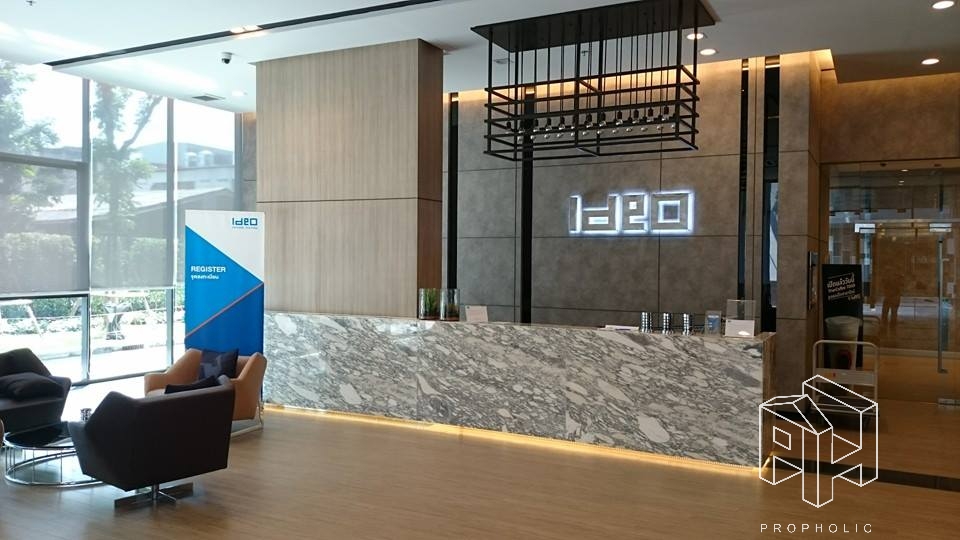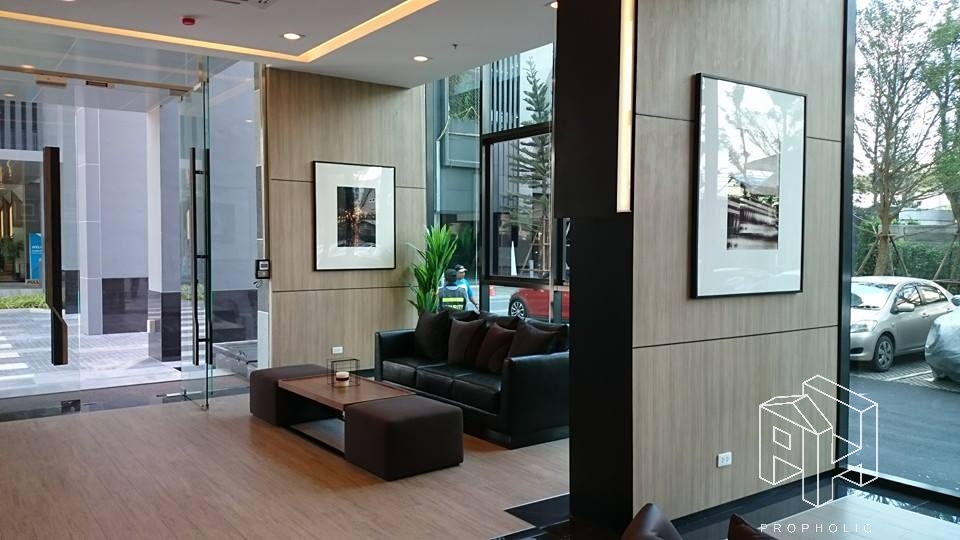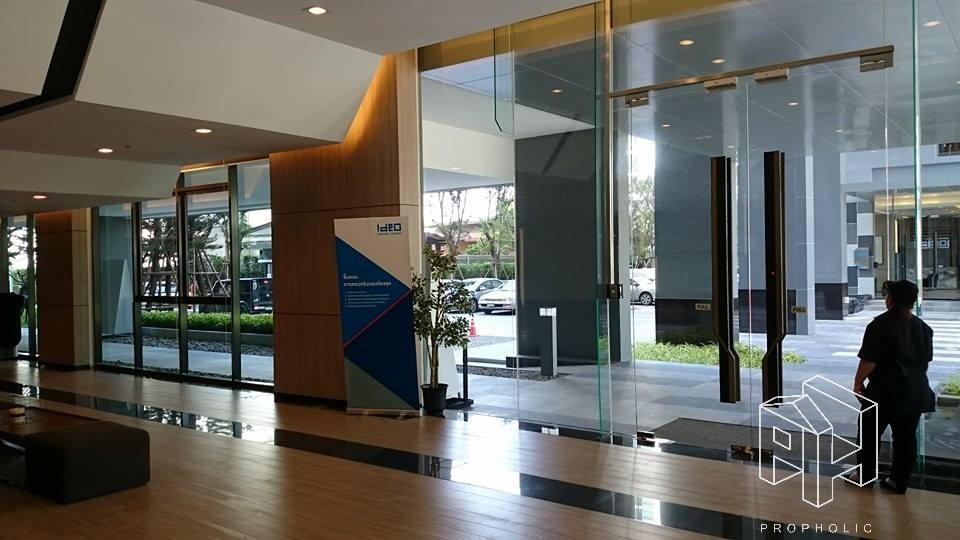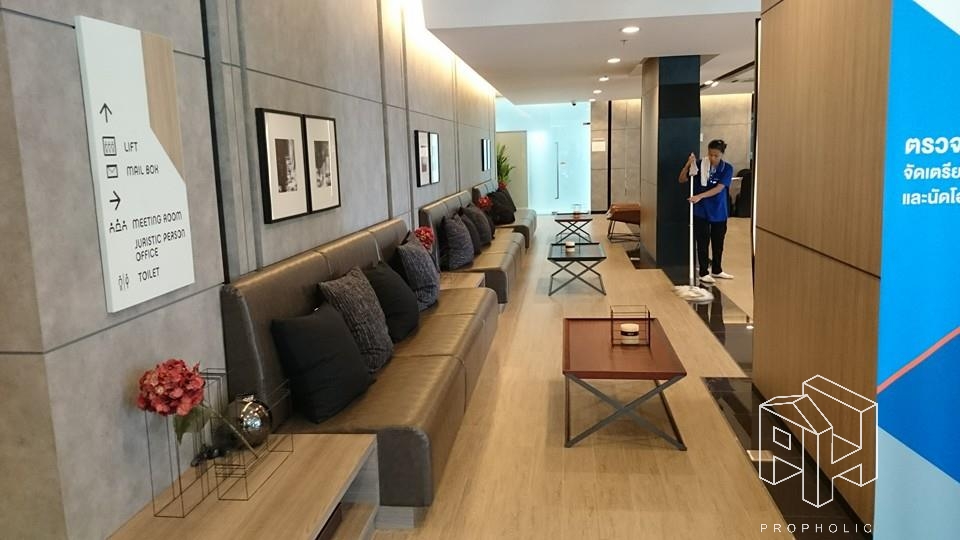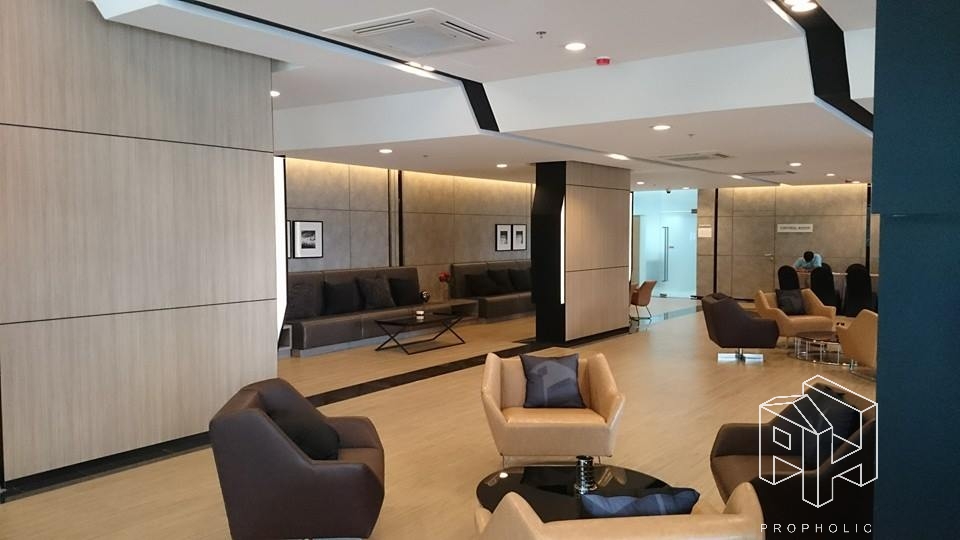 Mail box room like in Thailand Post Office.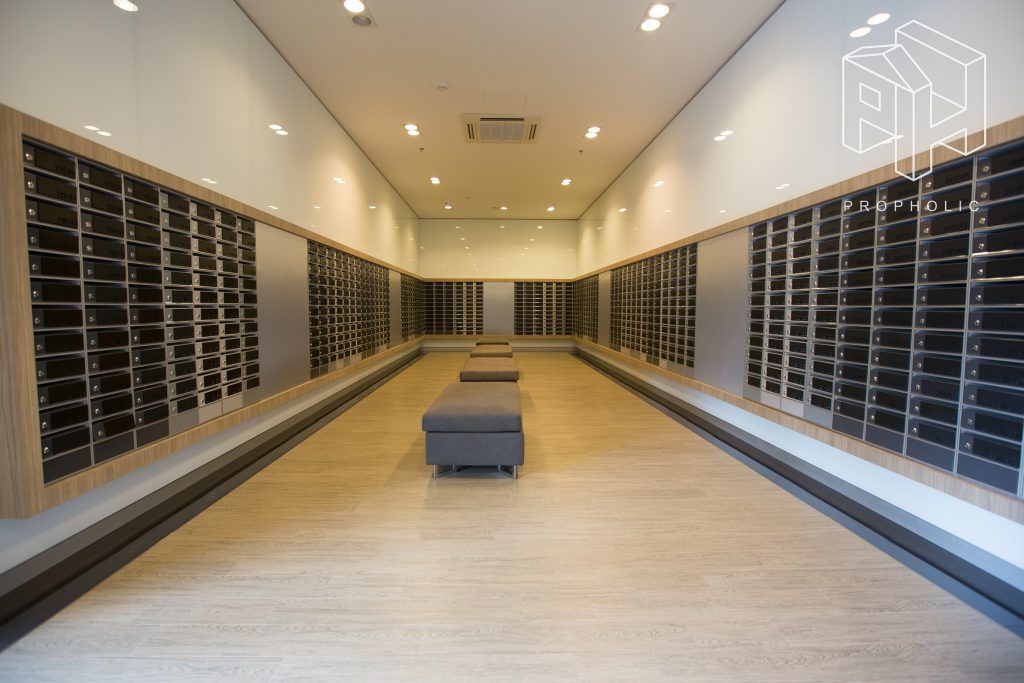 Elevator lobby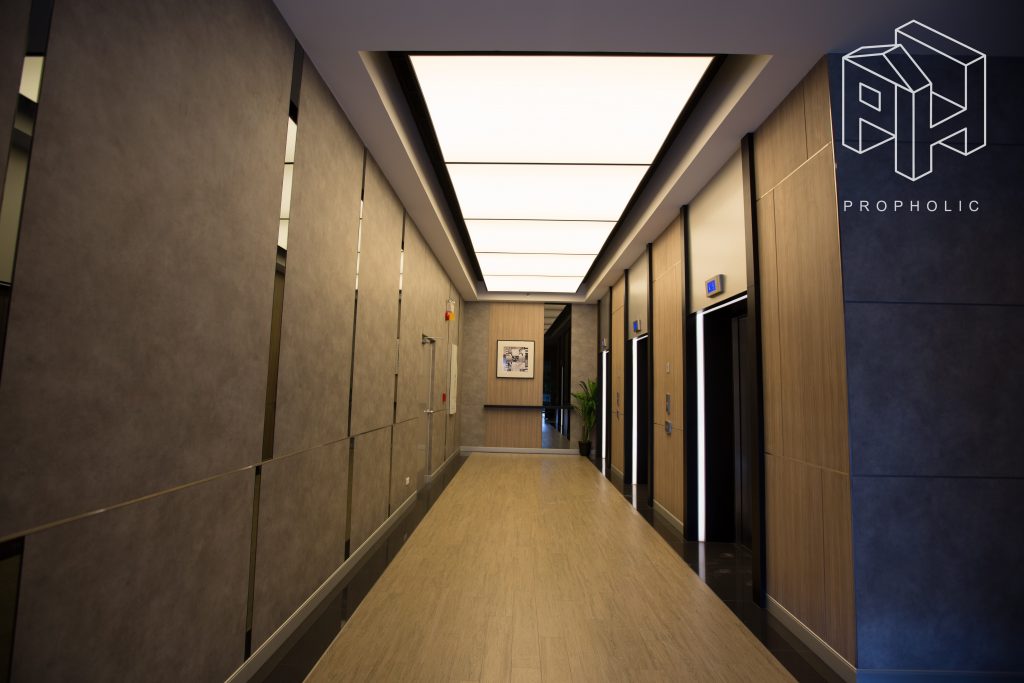 Floor 7 is where the project's facilities are. This is the project's selling point. There are 39 units on this floor. There are stories talking about IDEO SATHORN-THA PHRA's common area which is huge with a bright view. They are true.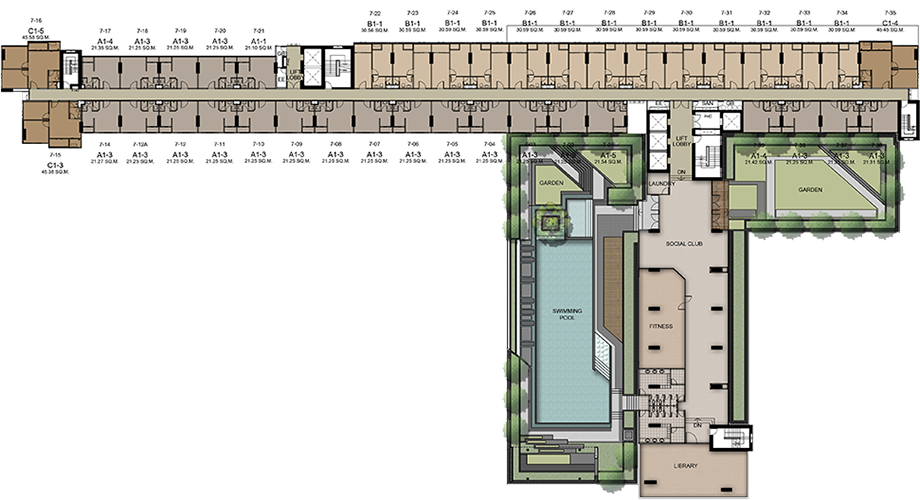 Swimming pool to the north.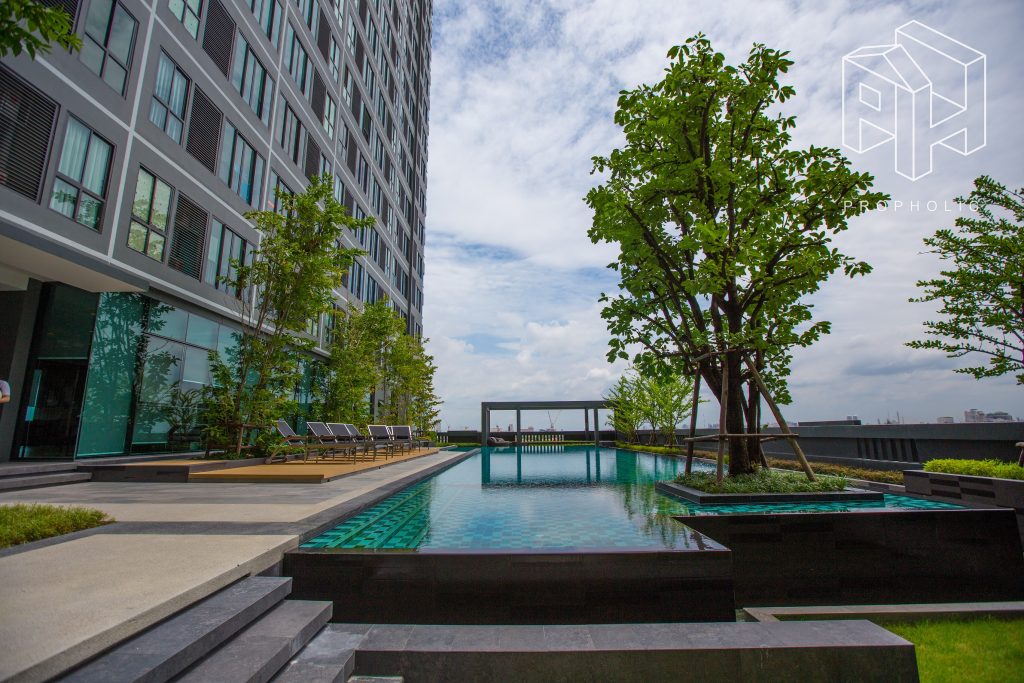 Turn to the opposite side. The units at these wings are bestseller. Seeing from floor 7 to 10 and higher, the pool view is very nice.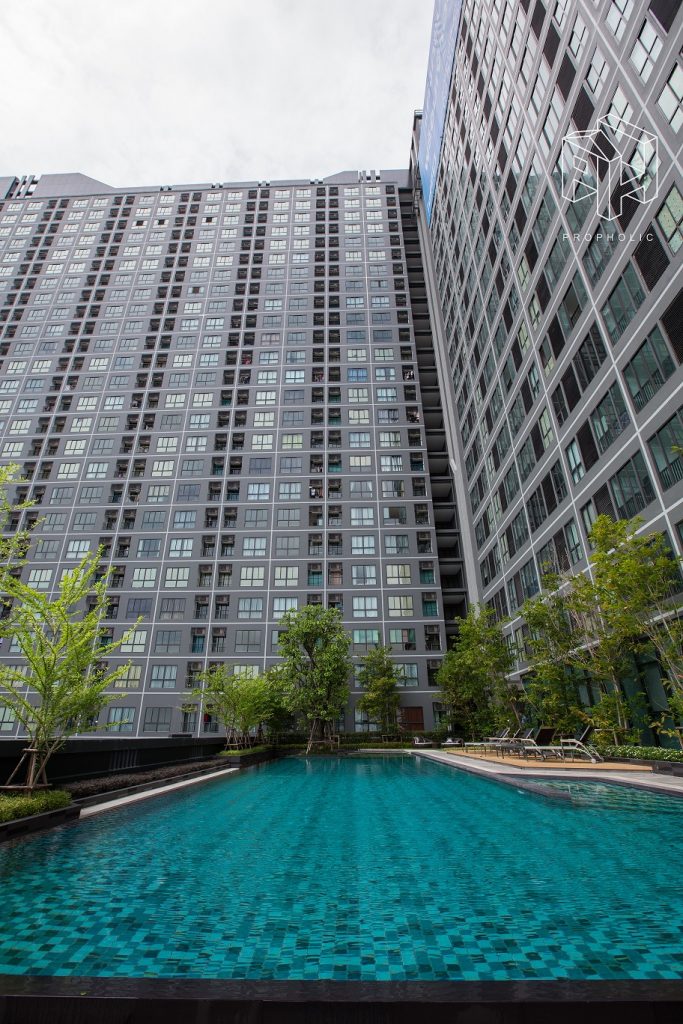 Quite wide.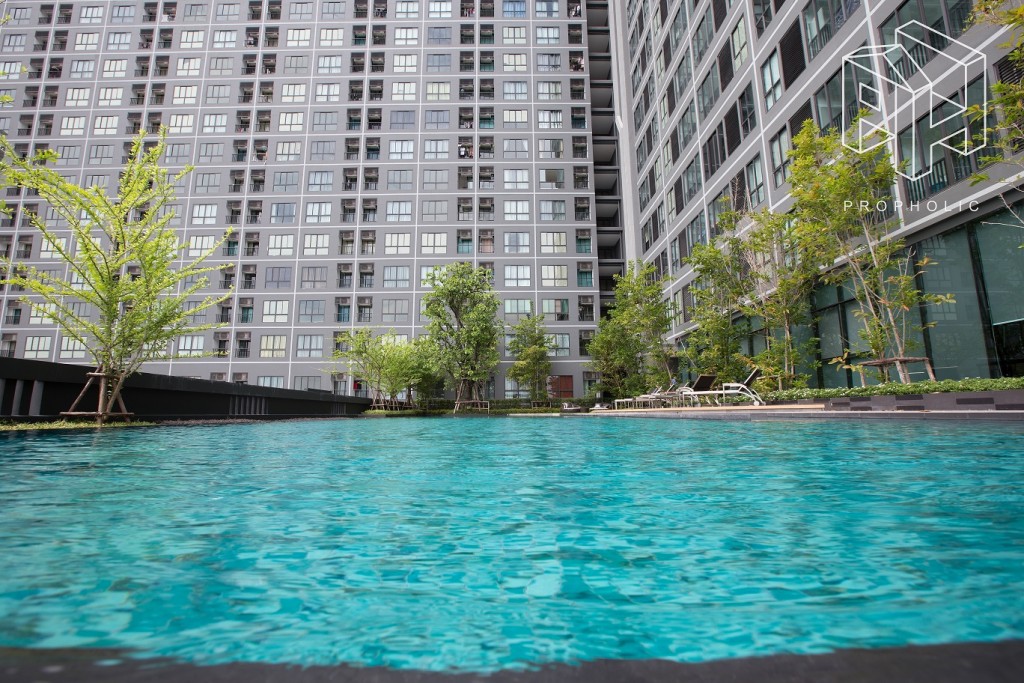 Small multi-level garden at the corner of the pool. There are quite a lot of trees which need to take a few years to be much grown.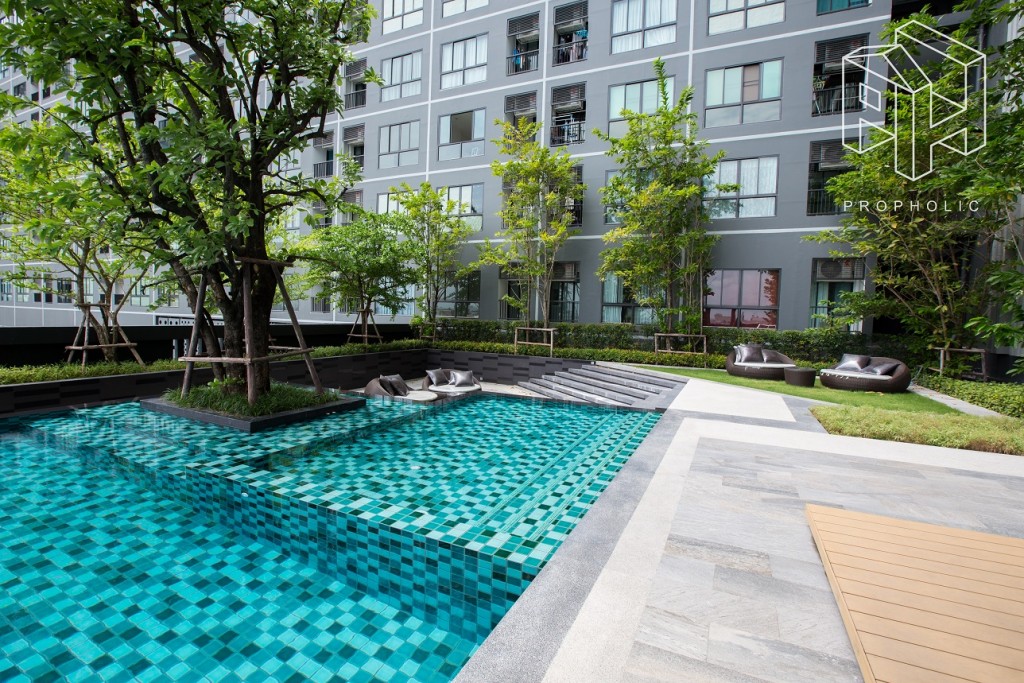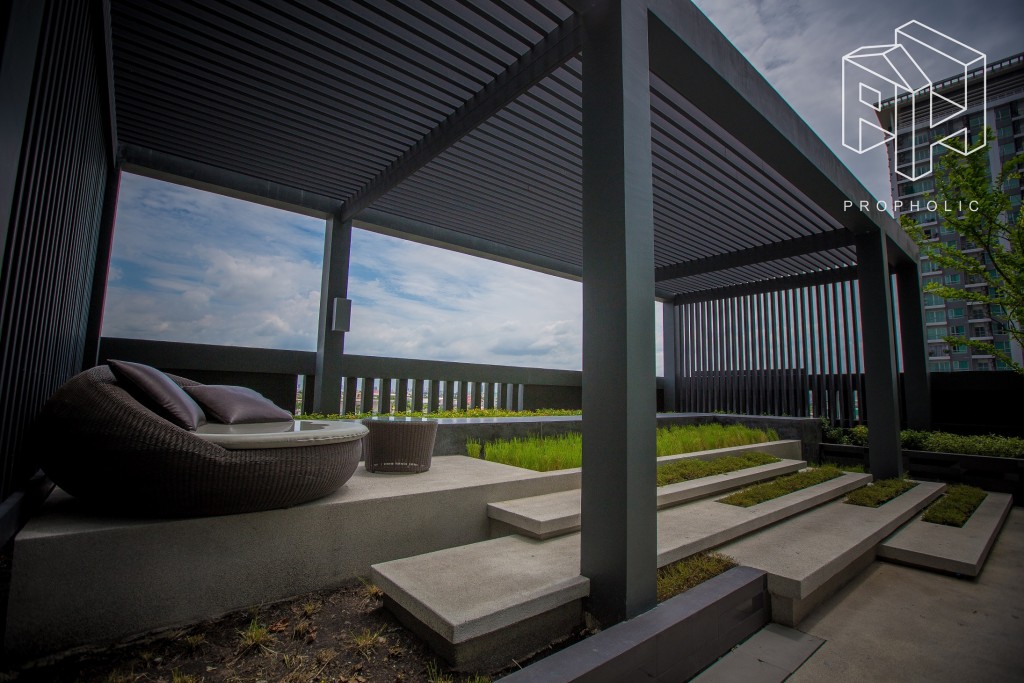 Let's hop by the Social Club with many functions including fitness, laundry room, kitchen with counter bar, common garden and library space with large co-working space area.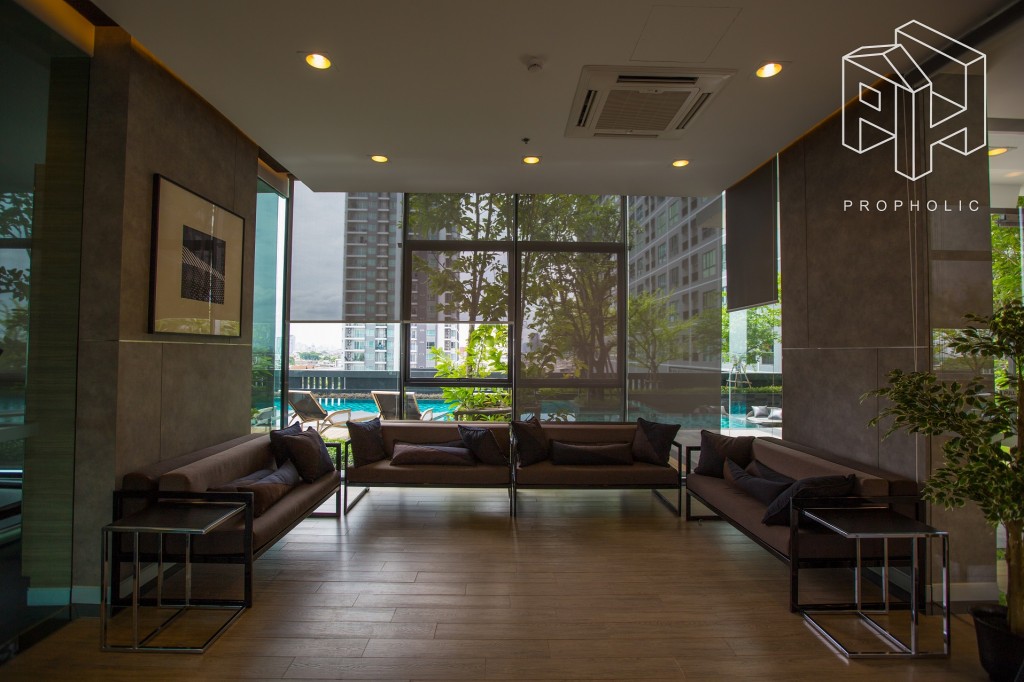 The area for private party has kitchen with counter bar including complete kitchenware available.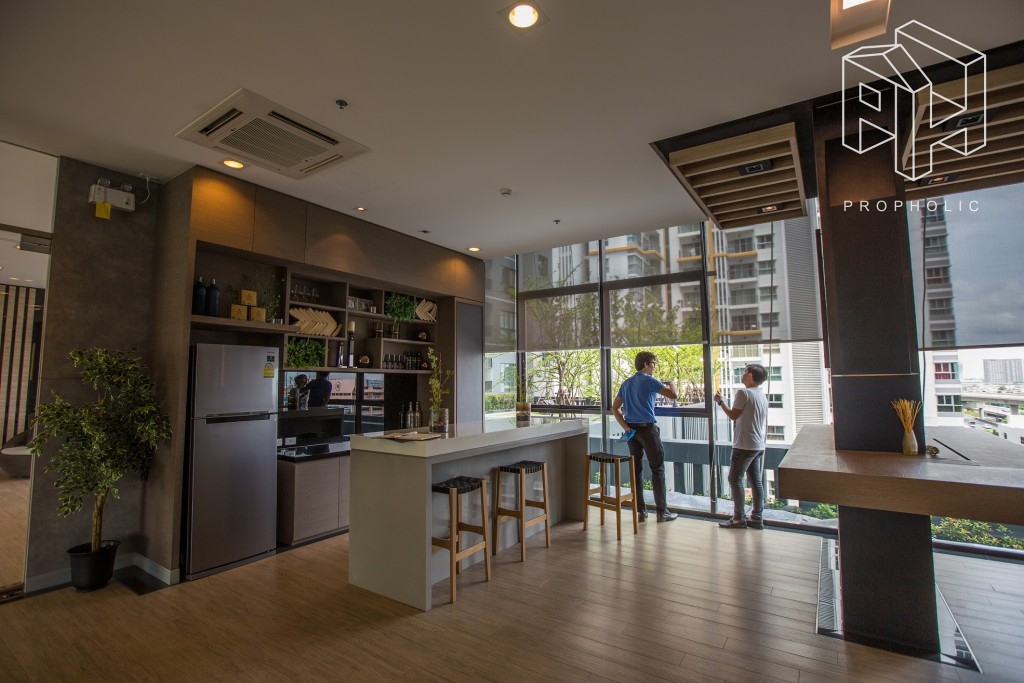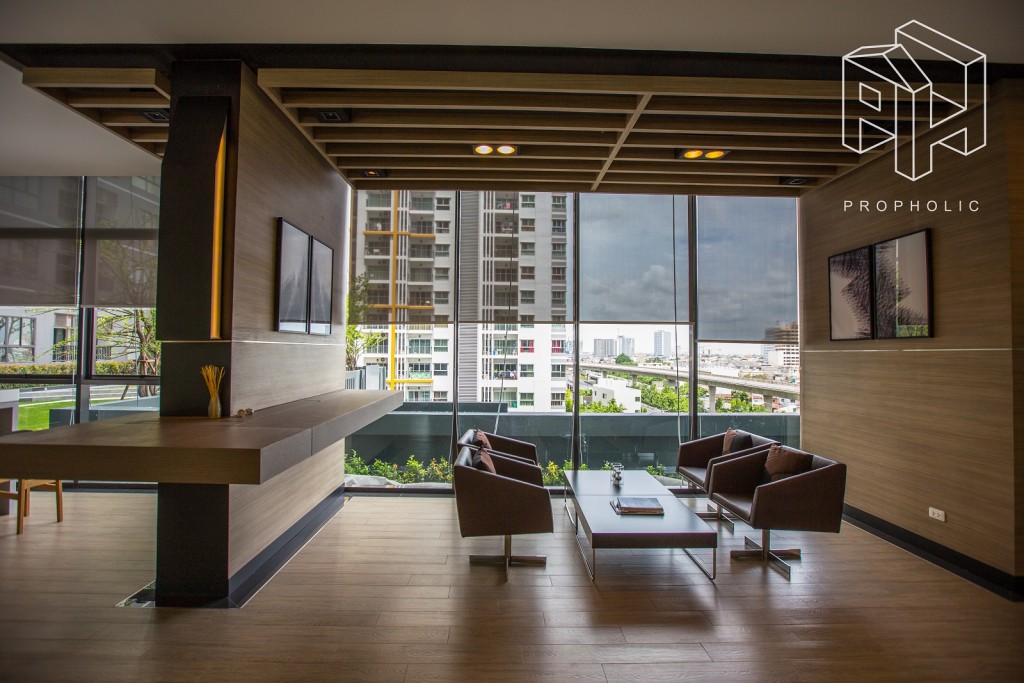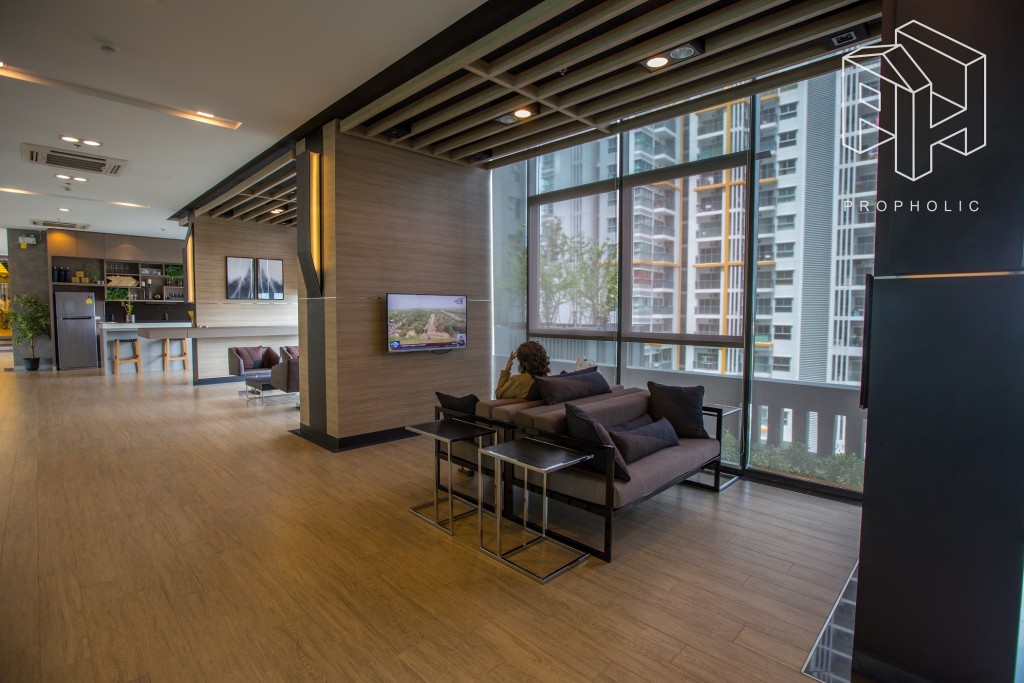 Pool table.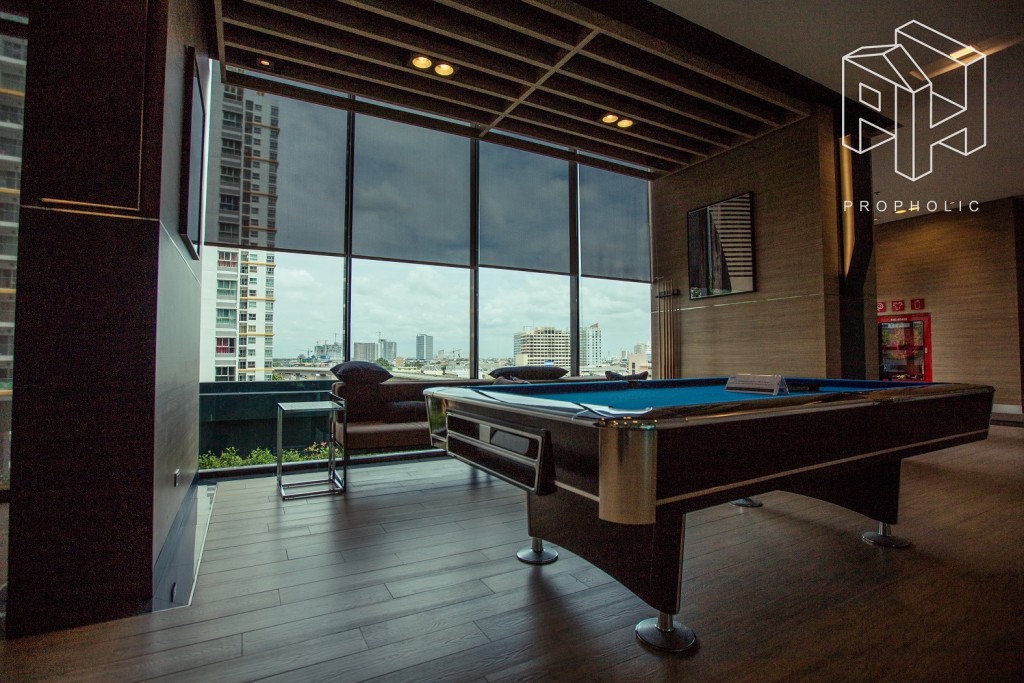 Fitness on the left hand side seems likely too small for 1,399 units.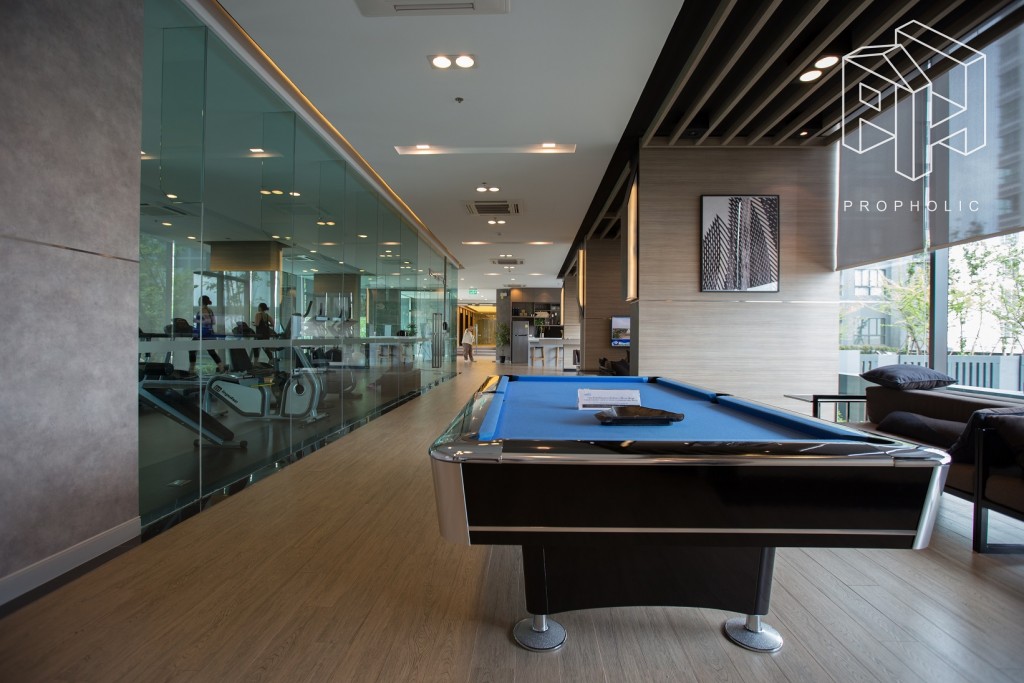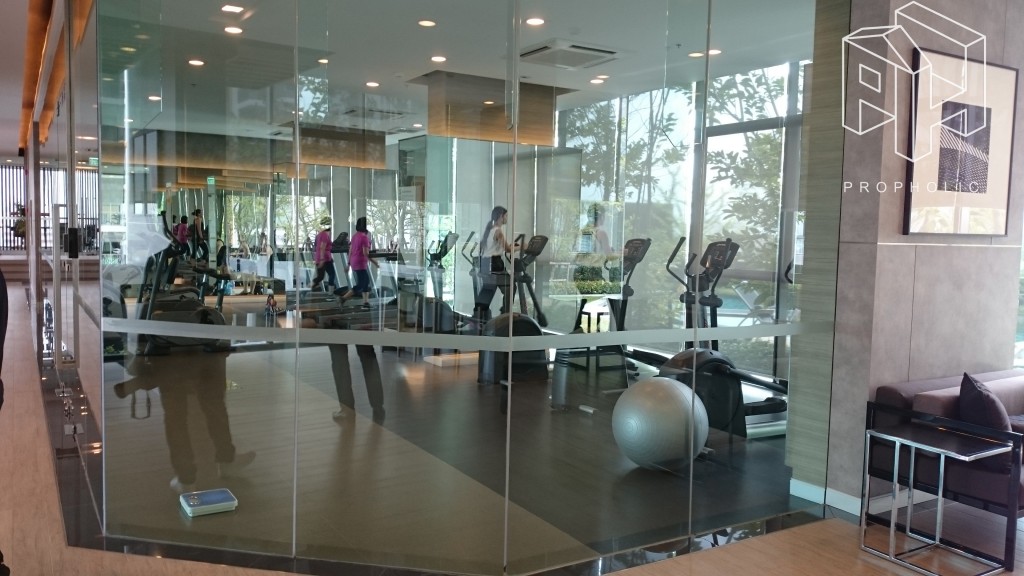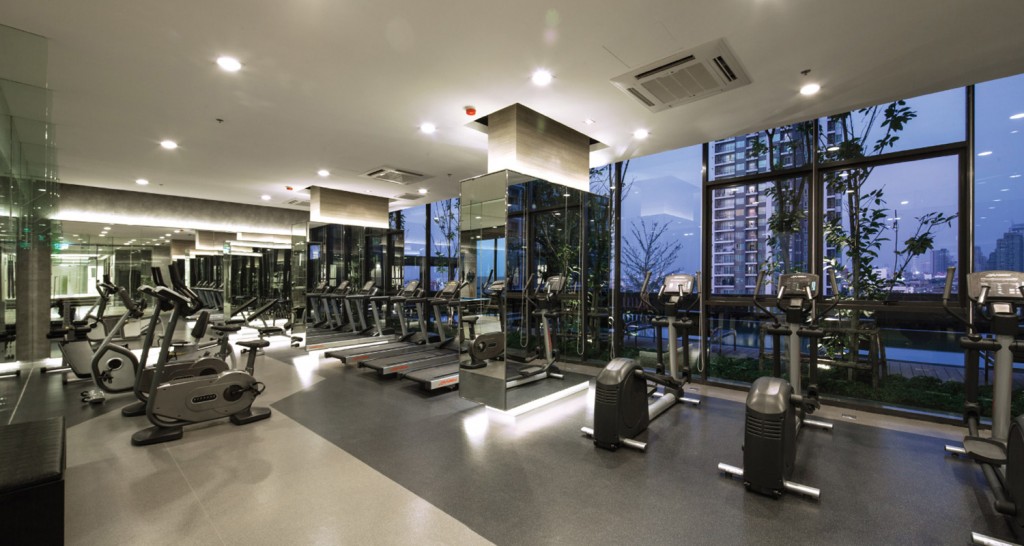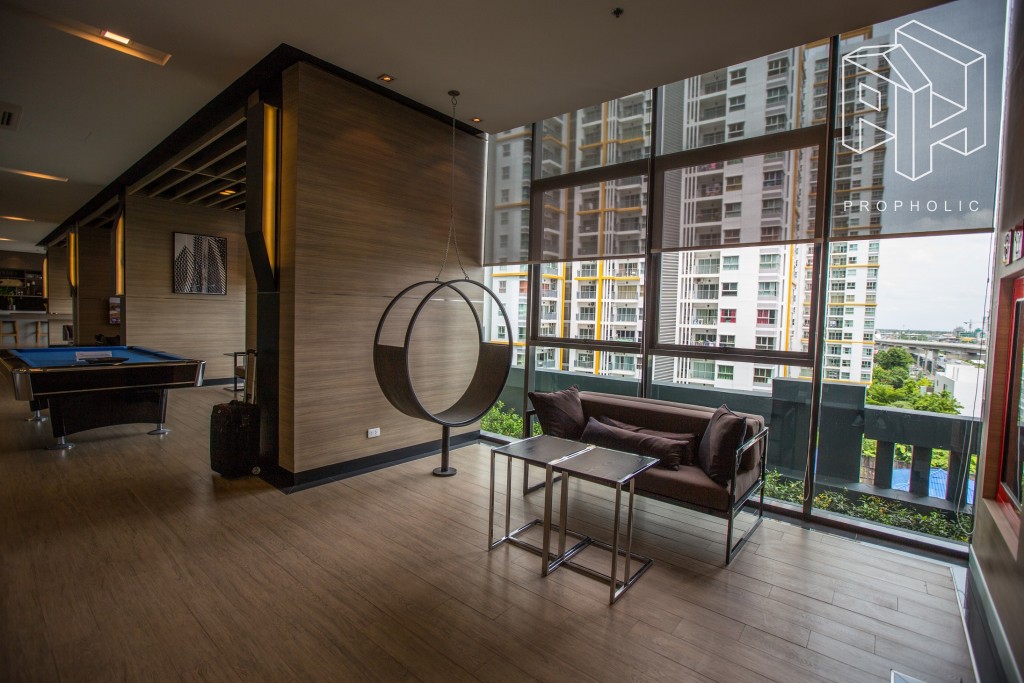 Now it's the highlight of this floor. Library and co-working space.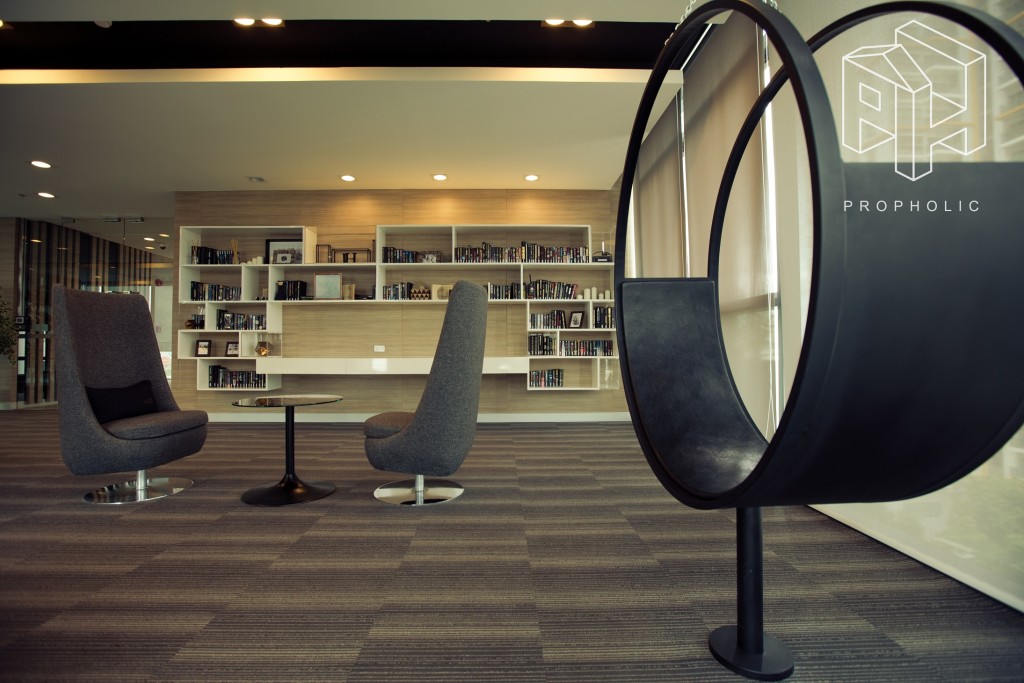 This zone features Hot Desk and private meeting room, very suitable for Bachelor Gen C who needs working space during daytime. Working outside the office is preferable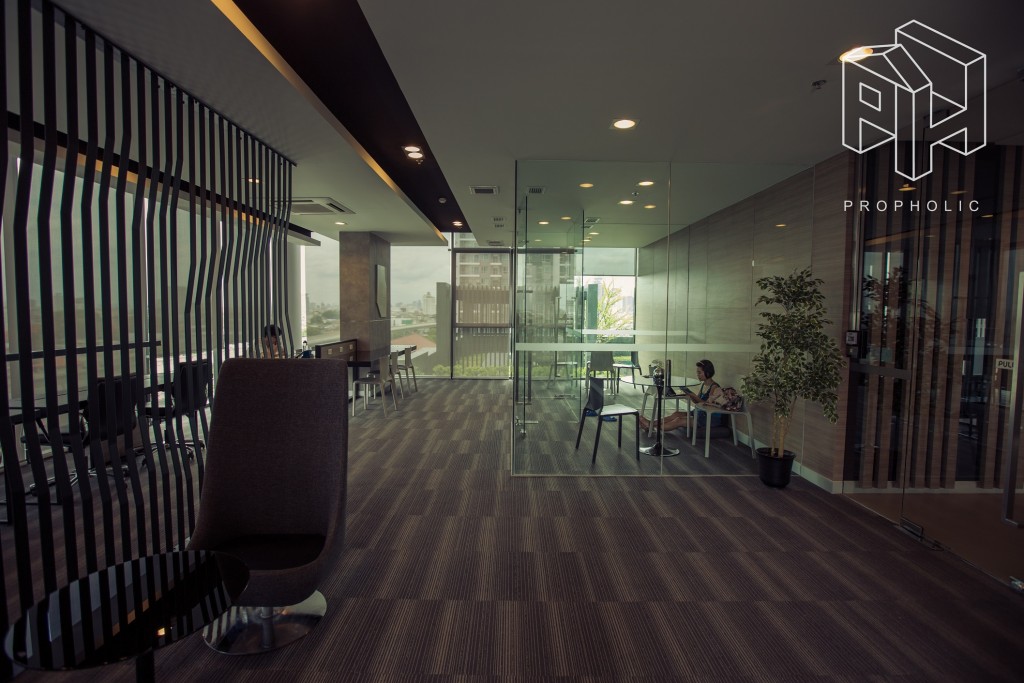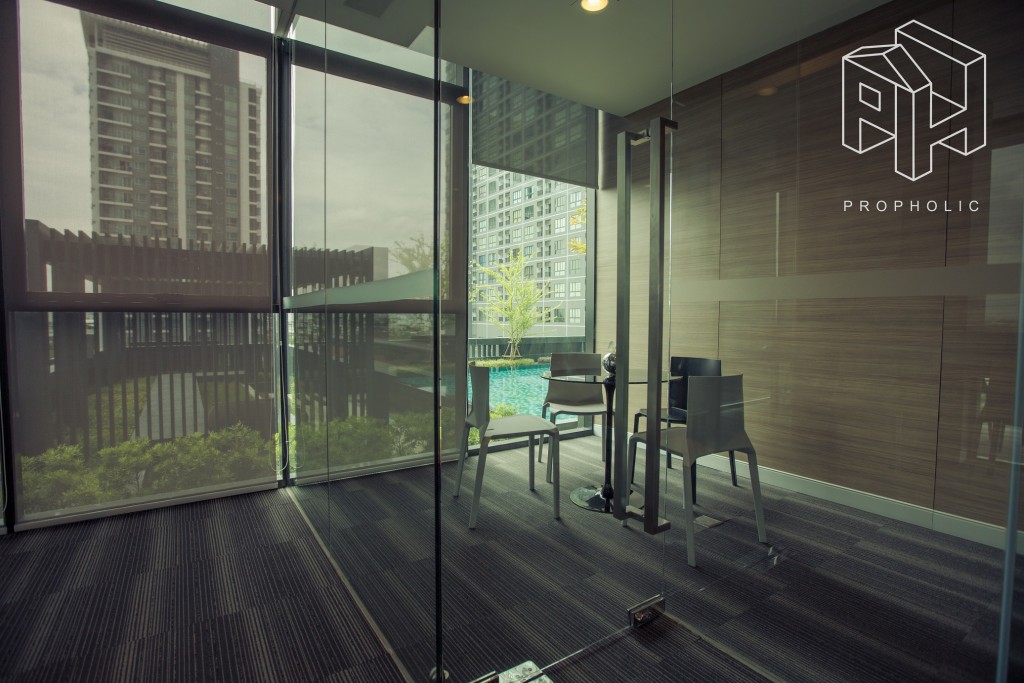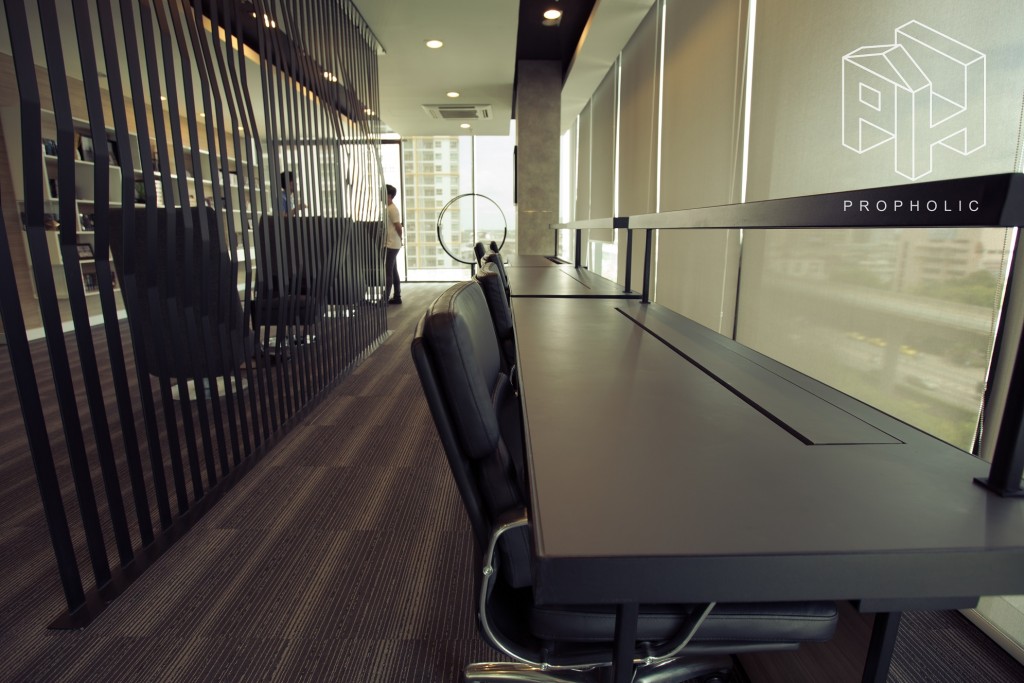 It's very bright if the curtain in this room is opened as the windows at 3 sides are floor-to-ceiling.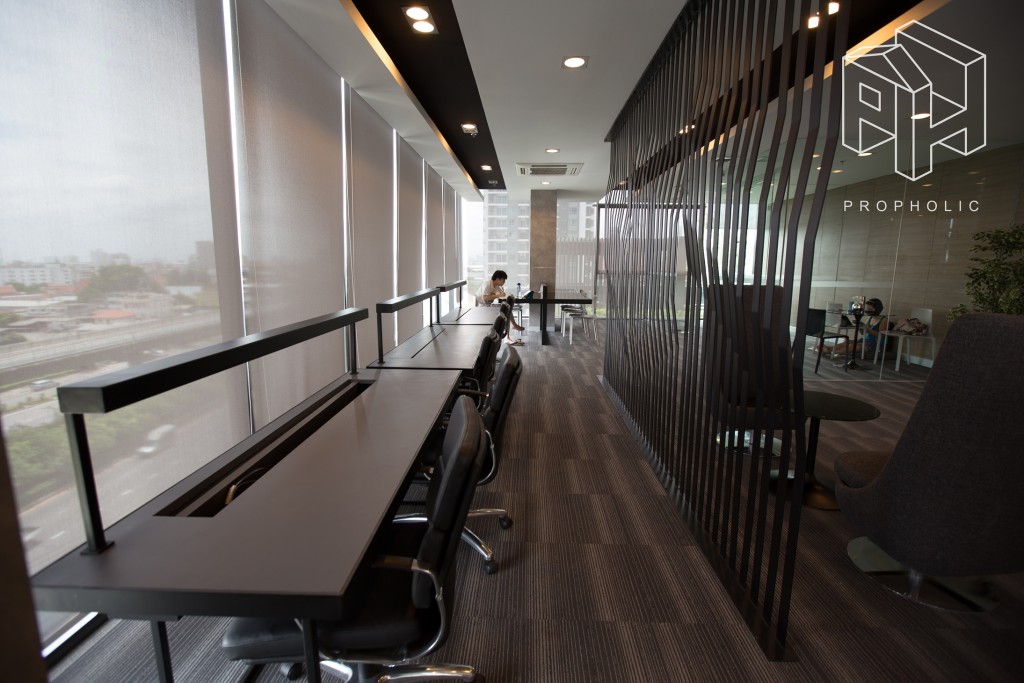 Now move to typical floor plan for floor 8 – 31. If unit is on the east wing, it is closer to use an elevator at Lobby B. Anyone at unit no. 15 and 16 need to walk around 60 meters if they use Lobby A elevator. This can be a condo with the longest corridor in Bangkok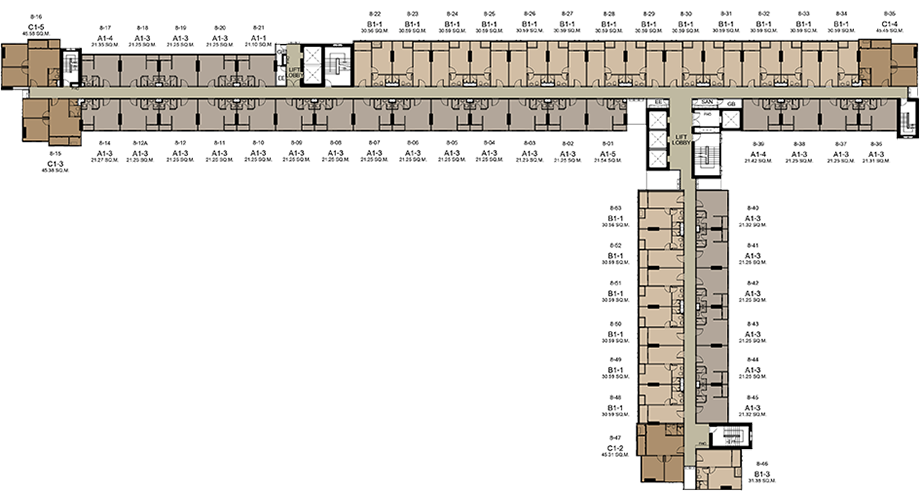 A sales staff told that it is more difficult to sell units on the west side as the view is blocked by The Parkland Condo and this side has no attractive view in the project. But it is very closer to the elevators and there is Sky Garden view at the lower floors. Other developers usually choose the west side for main facilities like swimming pool in order to easily sell units at this side. (No idea why Thai people don't like the west). IDEO SATHORN-THA PHRA, however, has a limitation in its plot so the swimming pool is on the east. Then, the units on the east and the north are easily sold. But if prices of the units on these sides are lower with a higher guarantee rental rate of around 2,000 baht than the market rate, they will be easily sold.
This side get a Sky Garden view also.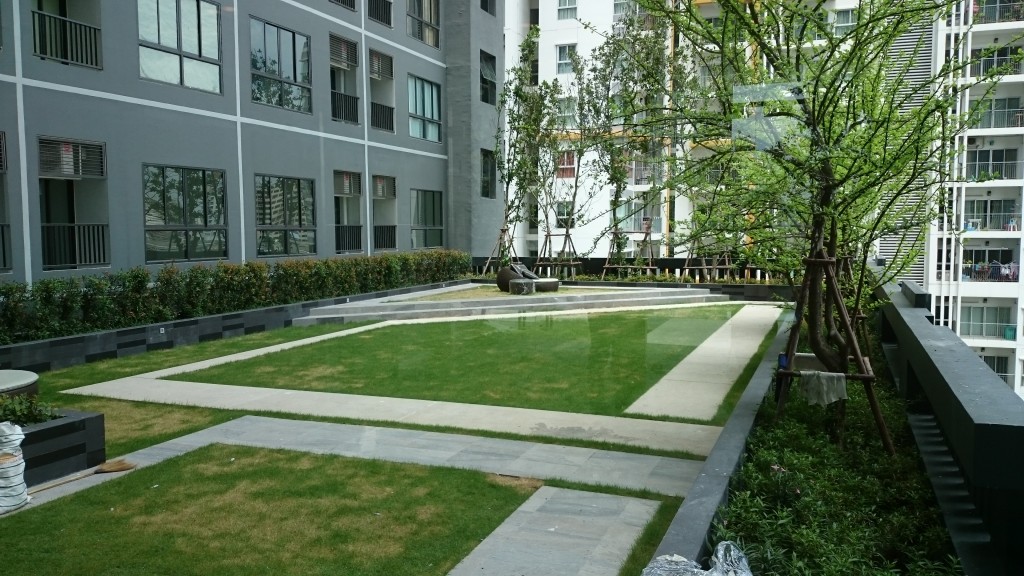 As this article's title is 'Exclusive Floor', I'll take you to the special floors on floor 24 – 25. Features on these floors are more special than those on other floors as they are decorated with premium-grade furniture, Quattro Design, from in front of the elevators, along the corridor until the units inside. They are fully furnished like no other floors with the 'fully-furnished' campaign by SB Furniture.
Elevator lobby is upgraded with Prop from Quattro Design as well with many more mirrors and wallpaper installed along the corridor.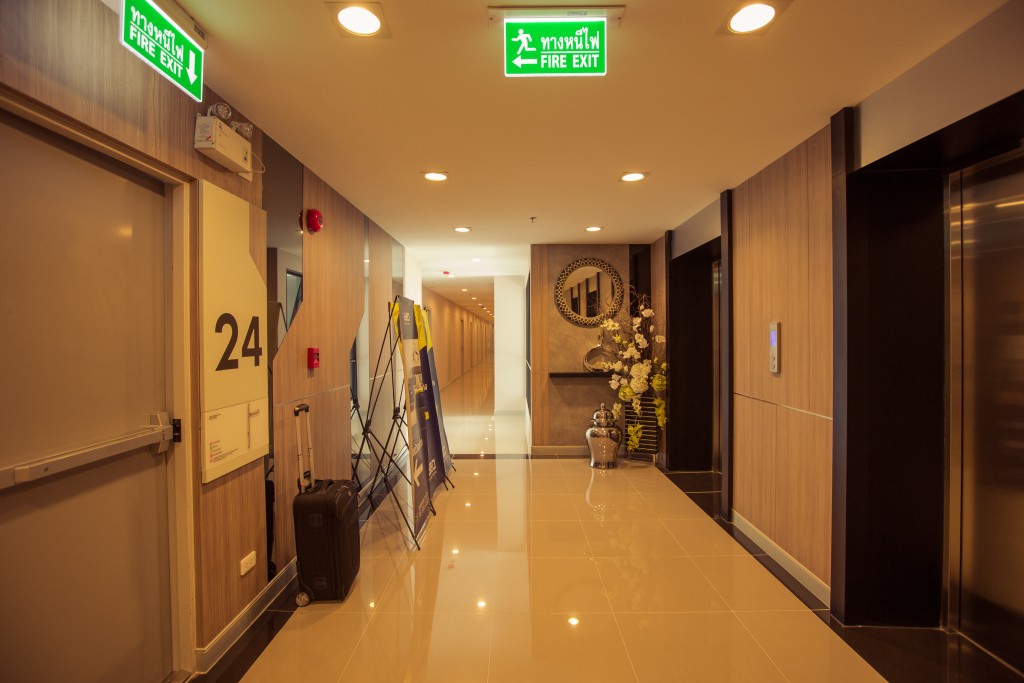 This is Quattro Design furniture for all unit sizes including 21, 30 and 45 square meter.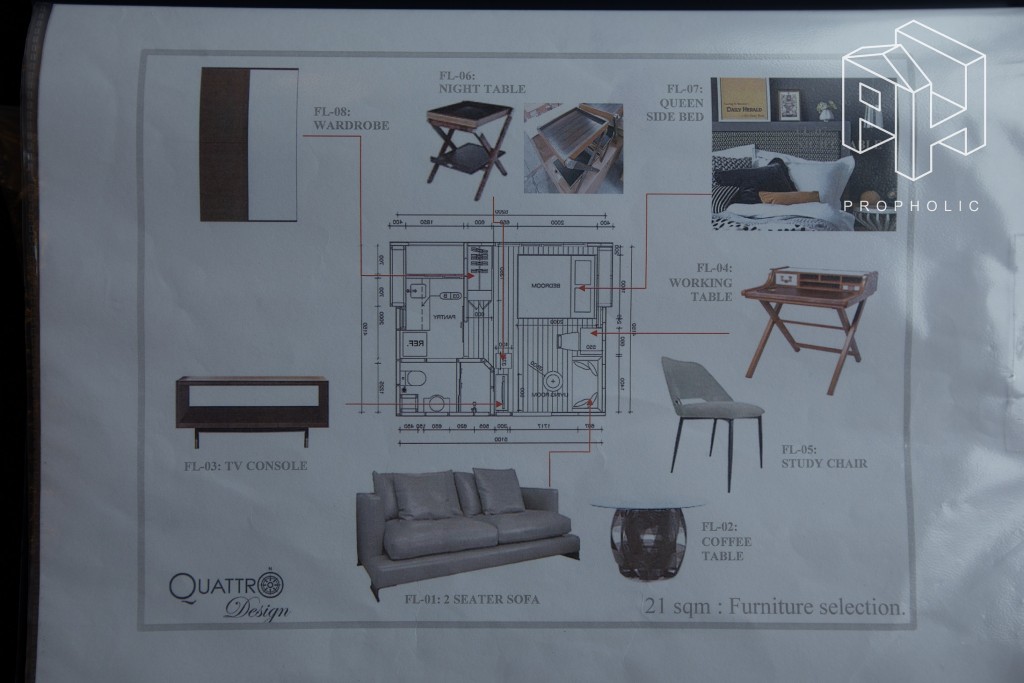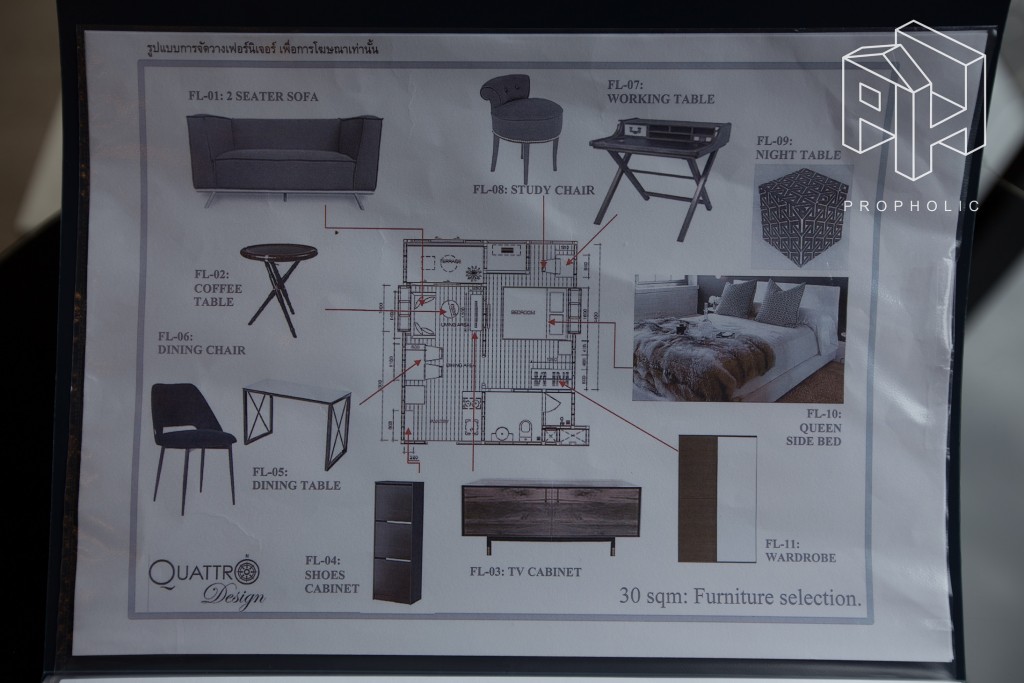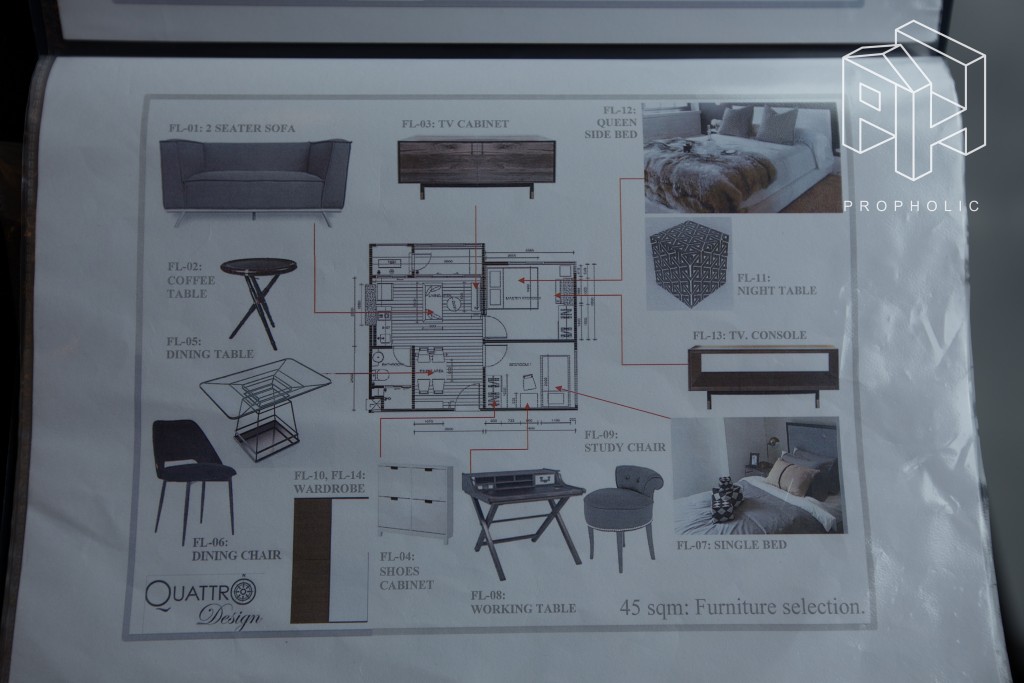 This is SB Furniture. Choose what you like.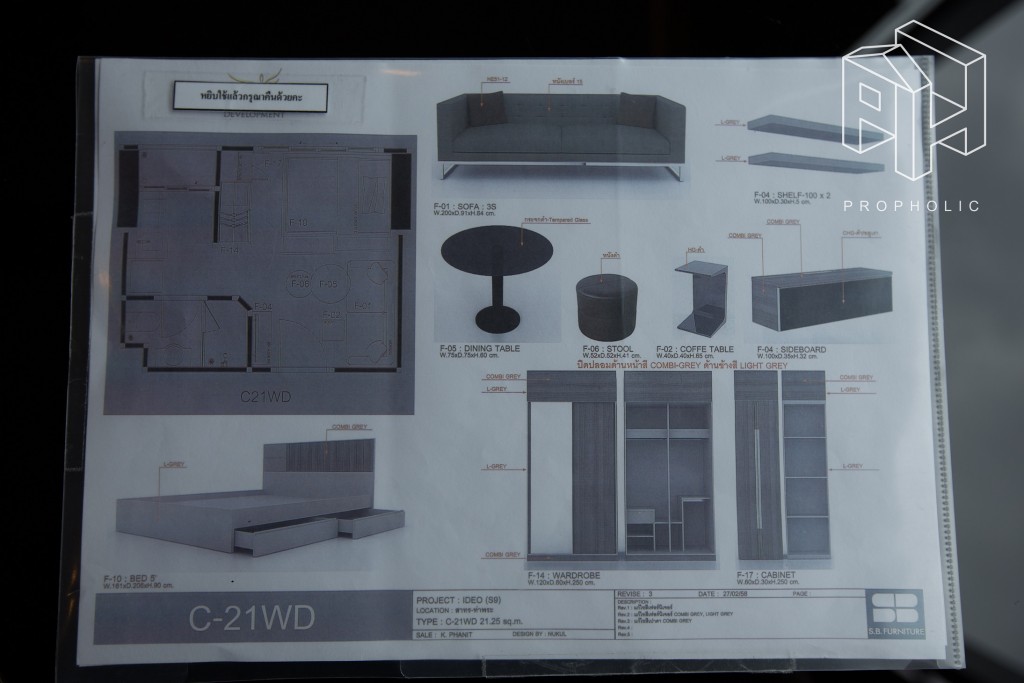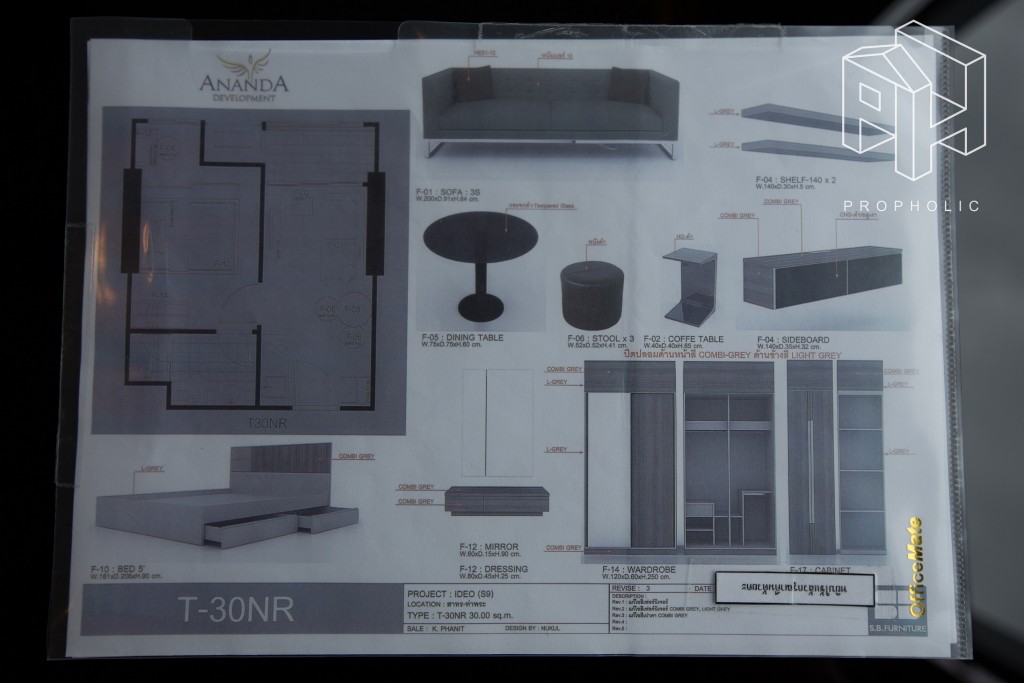 There are 3 sample units in 3 types.
Unit size 21 sq. m. (all units are wide-type.)
Unit plan is familiar.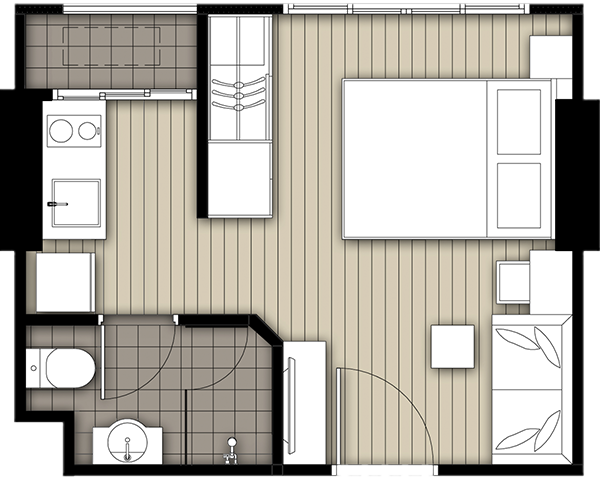 Sofa, desk and bed decorated like Caribbean style behind the door.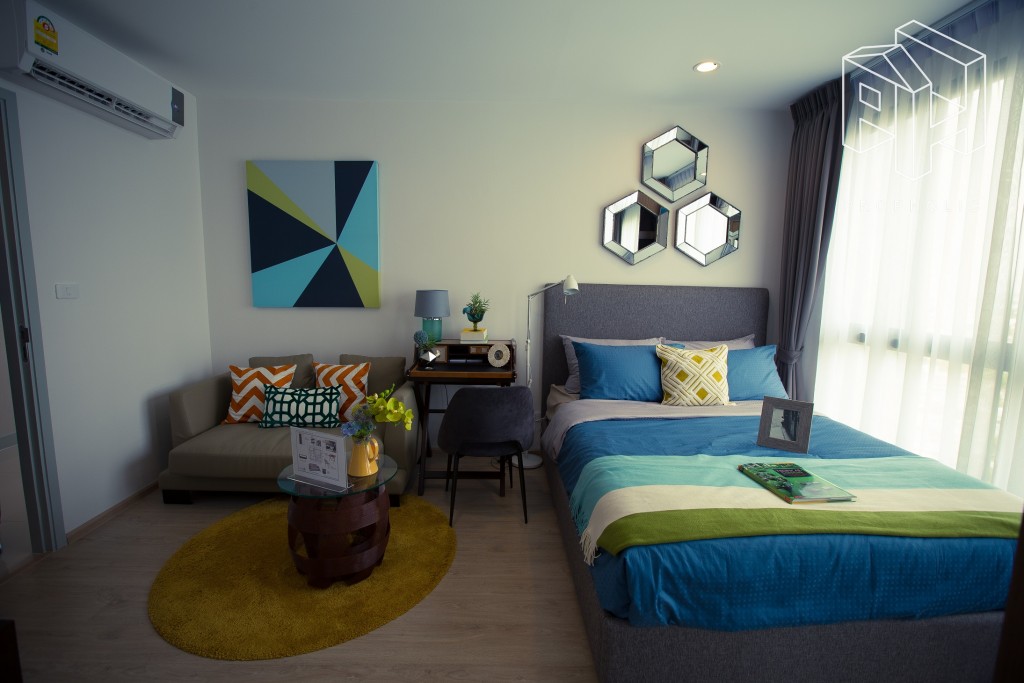 At the end of the bed, there is a cabinet and a night table, coming with two pieces of curtain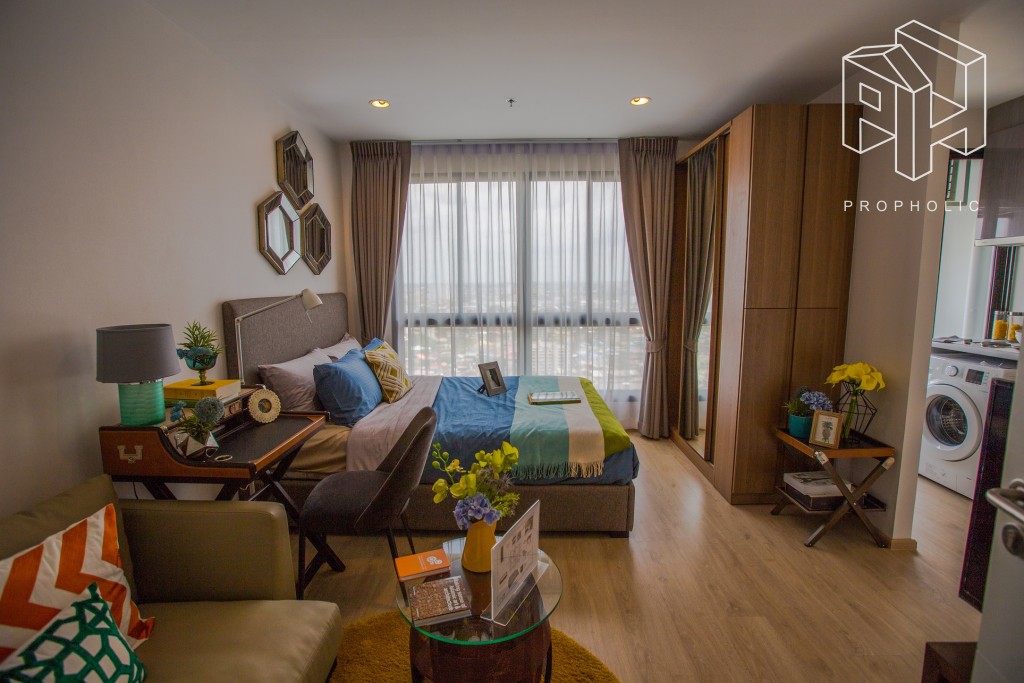 Coffee table with detailed style. Laminate floor in this color is nice.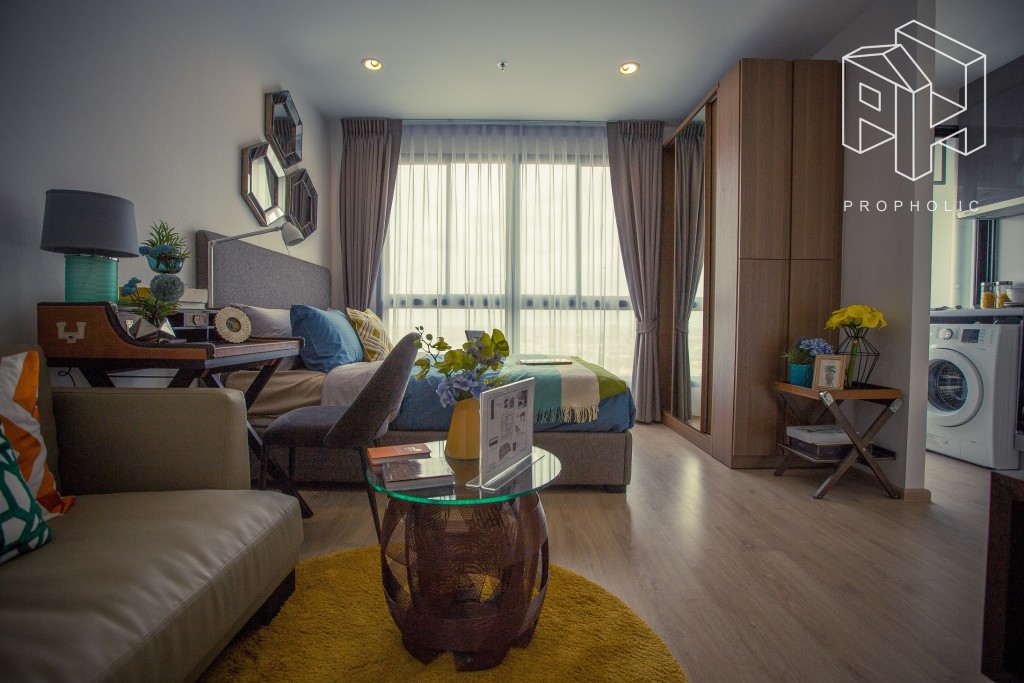 Kitchen with standard function. But no tiles installed at the wall to keep it clean. Electric stove is hot place. Sink and hood is Mex brand.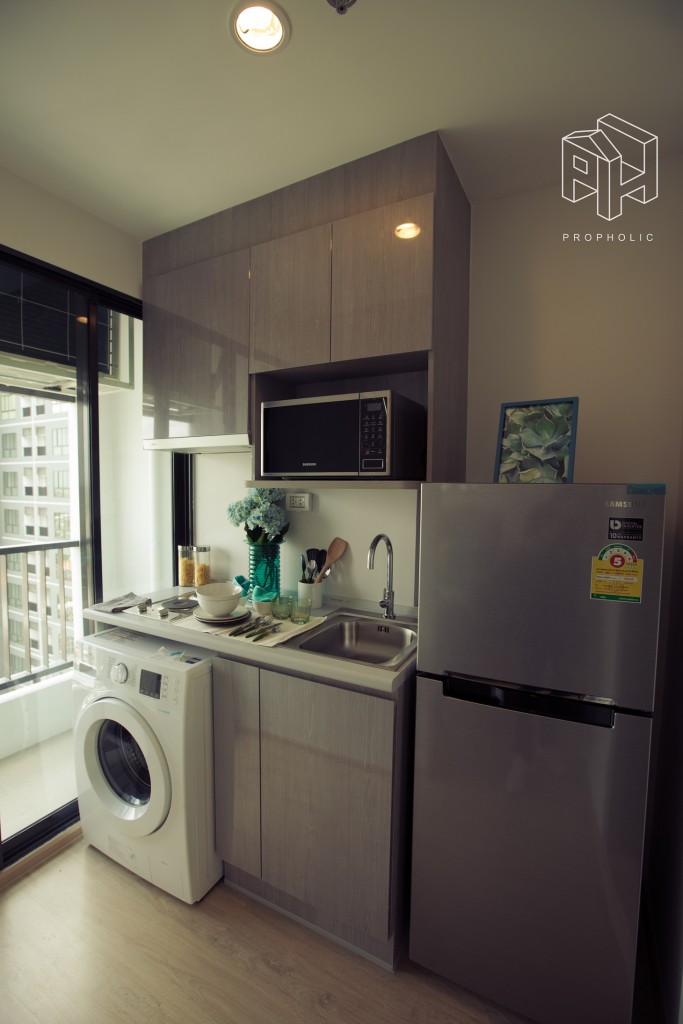 Bathroom is slightly upgraded from typical unit, added only with cabinet under the sink and larger mirror.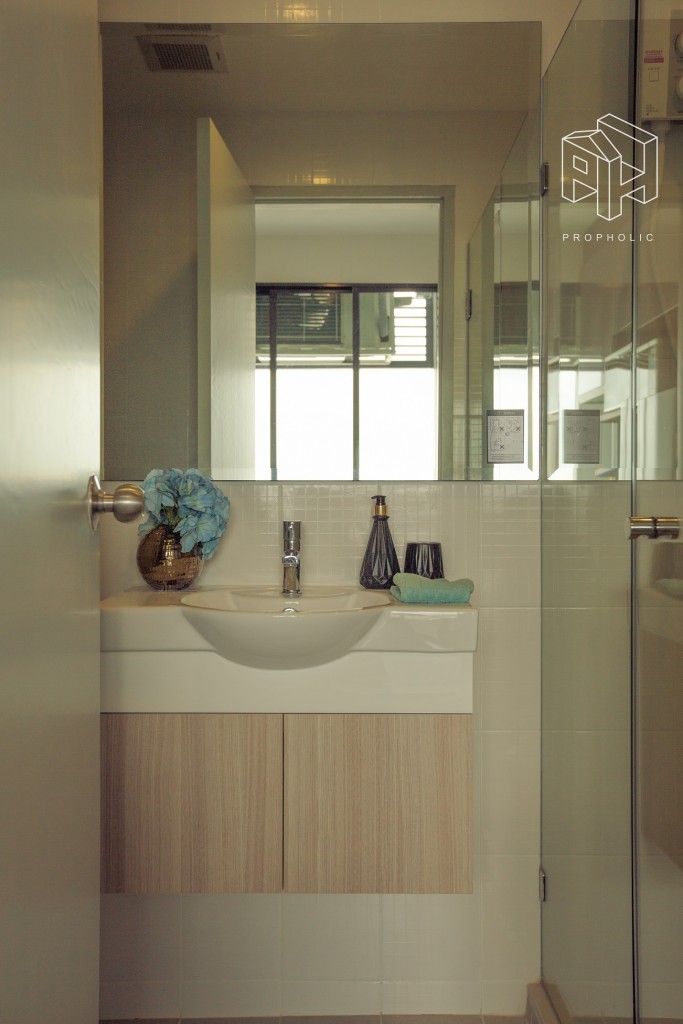 Typical water heater.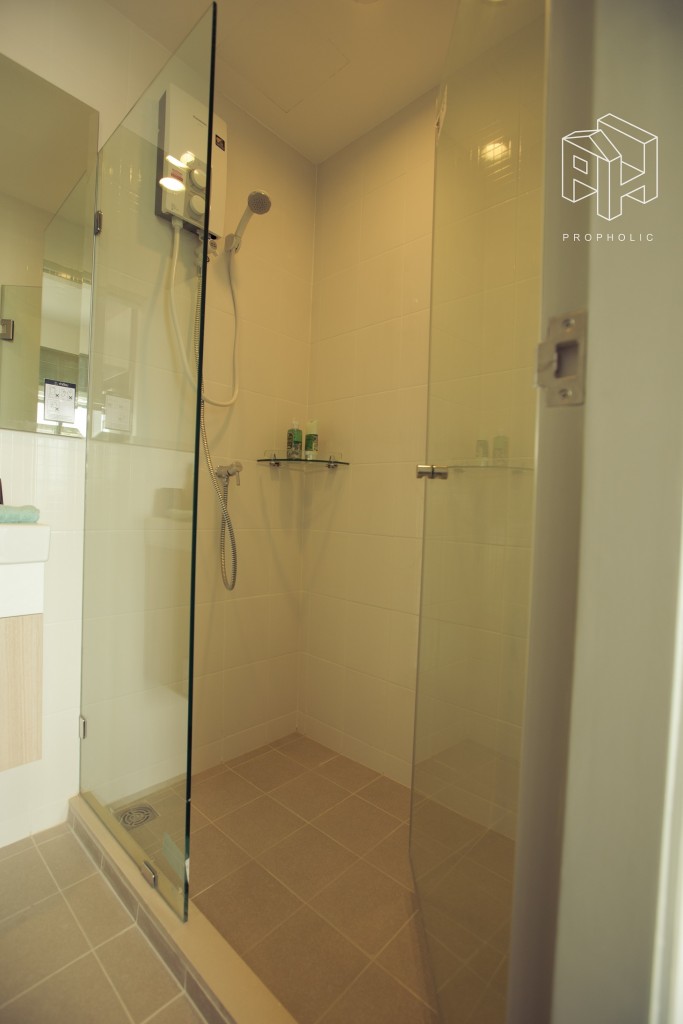 2-bedroom, 1-bathroom type sized 45 sq m. This unit type's layout is not quite functional at its living room. The space between sofa and TV set is quite large but the space for kitchen and opening the refrigerator needs to keep a distance. One more thing, Quattro Design is not seamless in design of dining zone and area in front of the door which makes it too open and odd. Built-in cabinets can be filled up to make it better.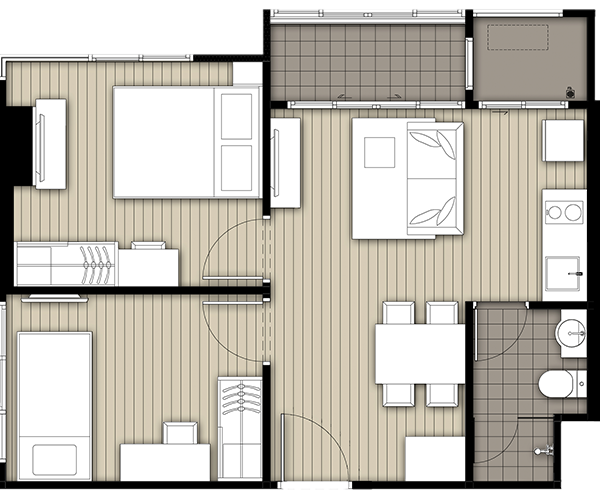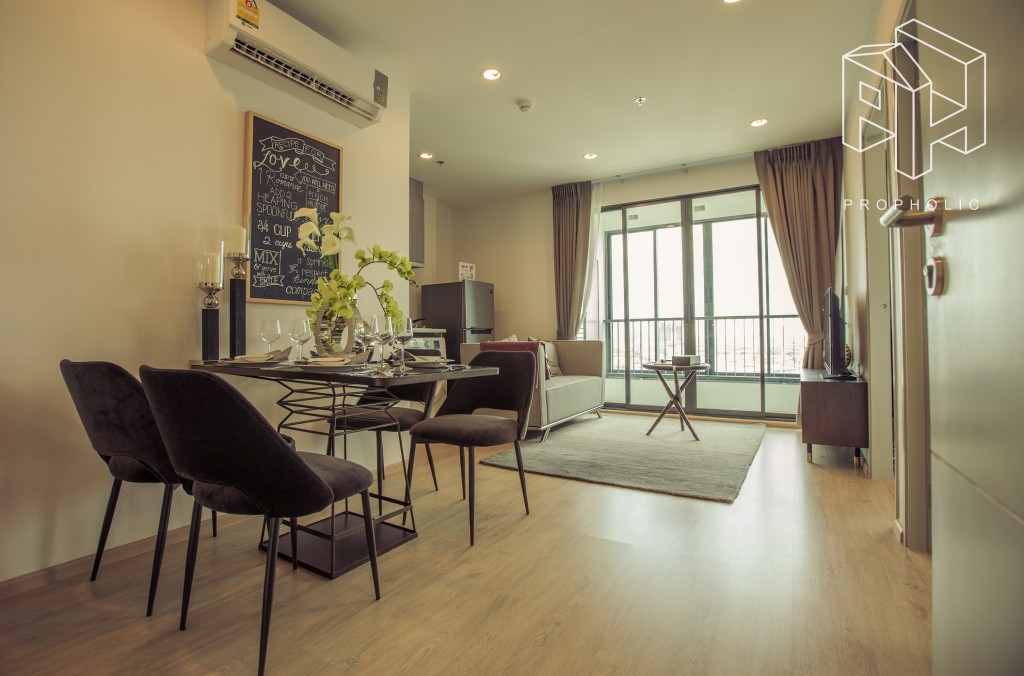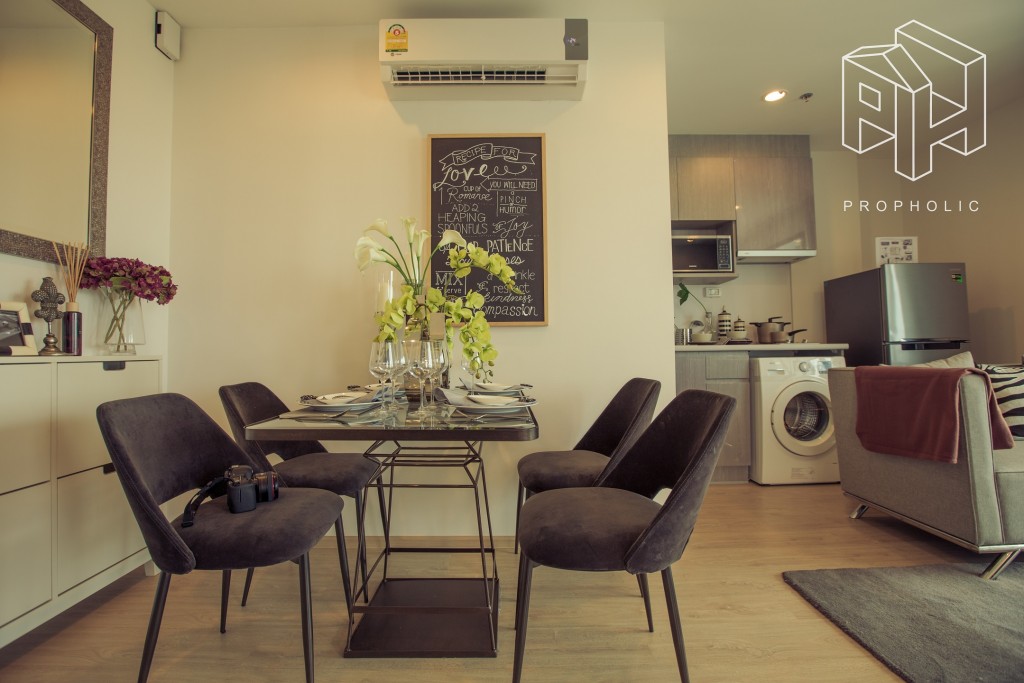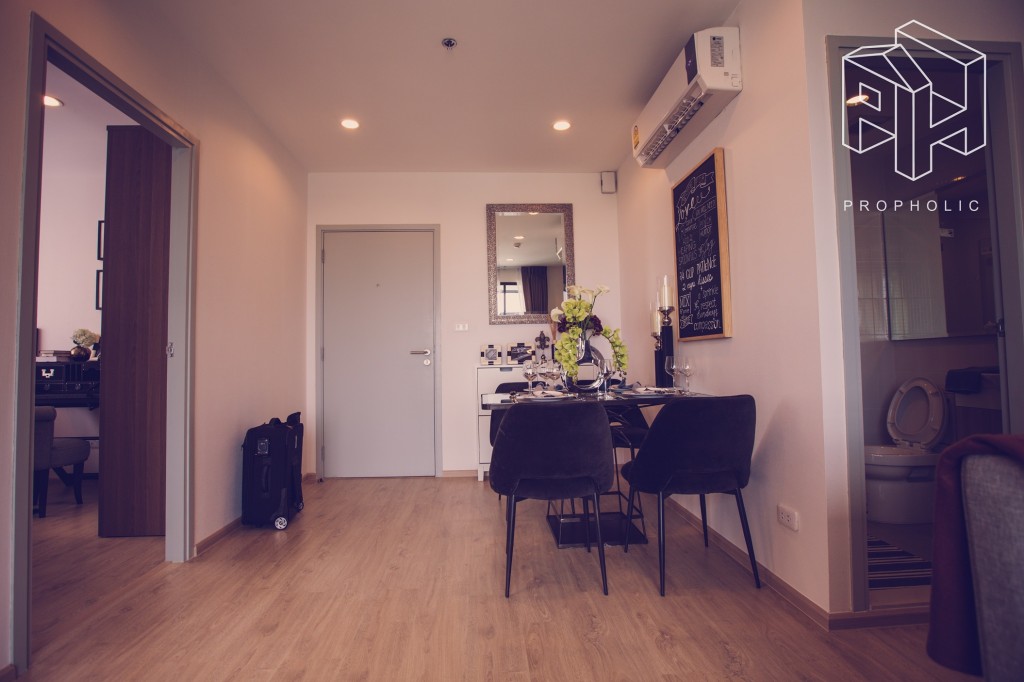 If sofa is moved back, it will get more difficult to open the refrigerator.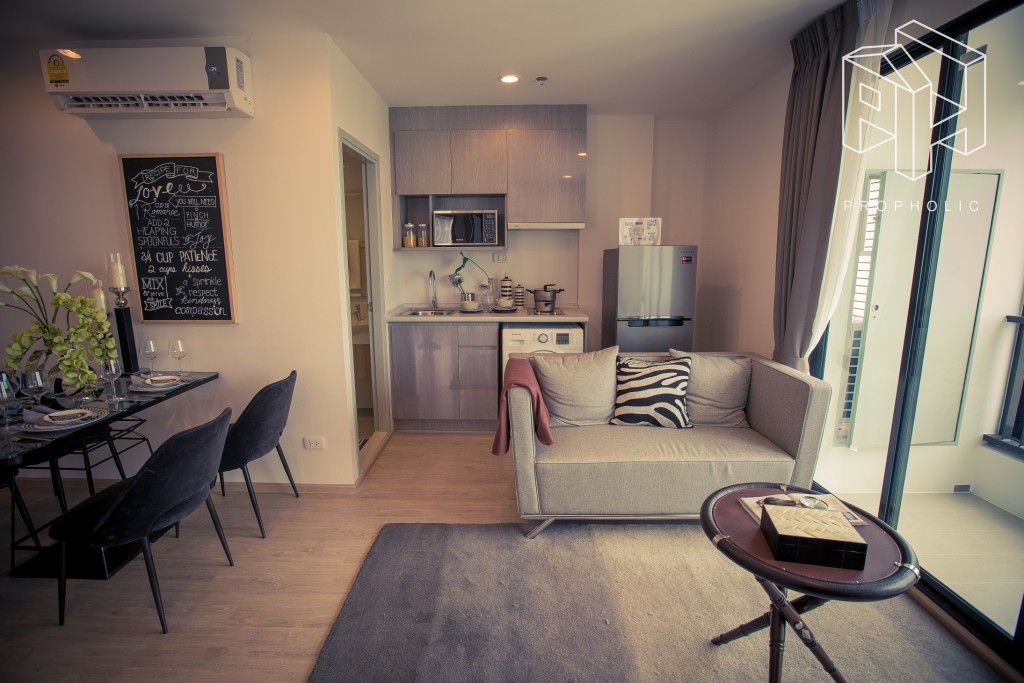 Zoom-in photo for kitchenware, topped with laminate. Others are basic.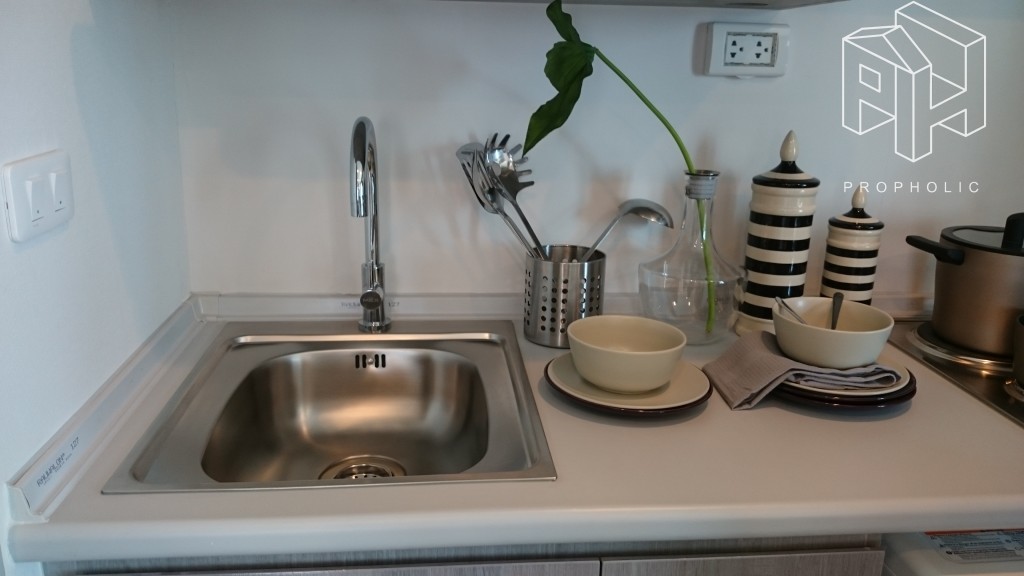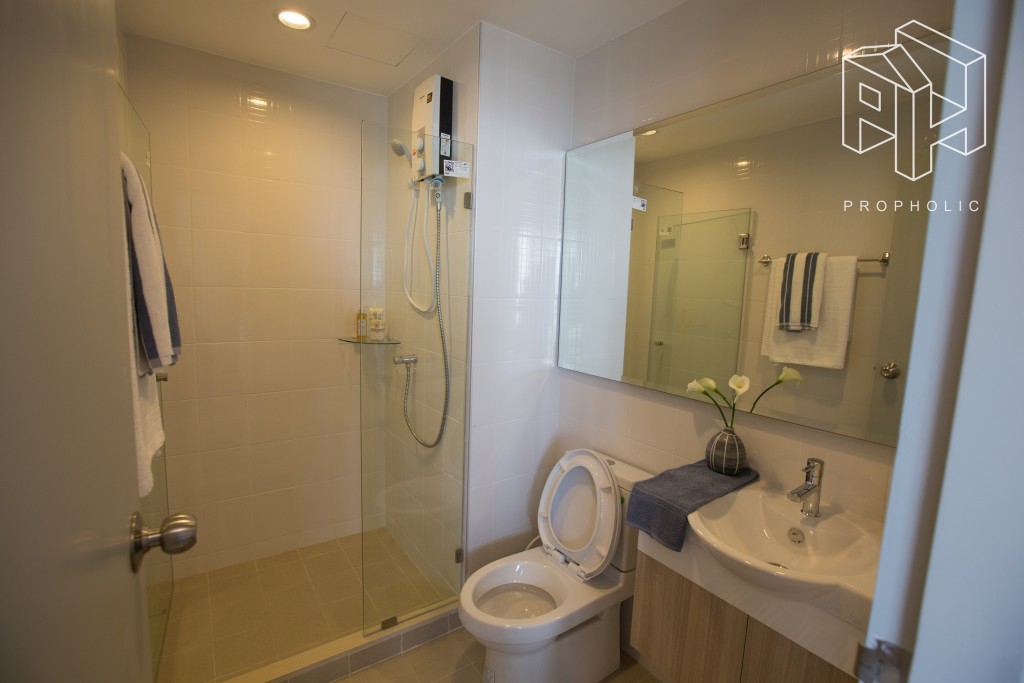 Master bedroom with a nice view.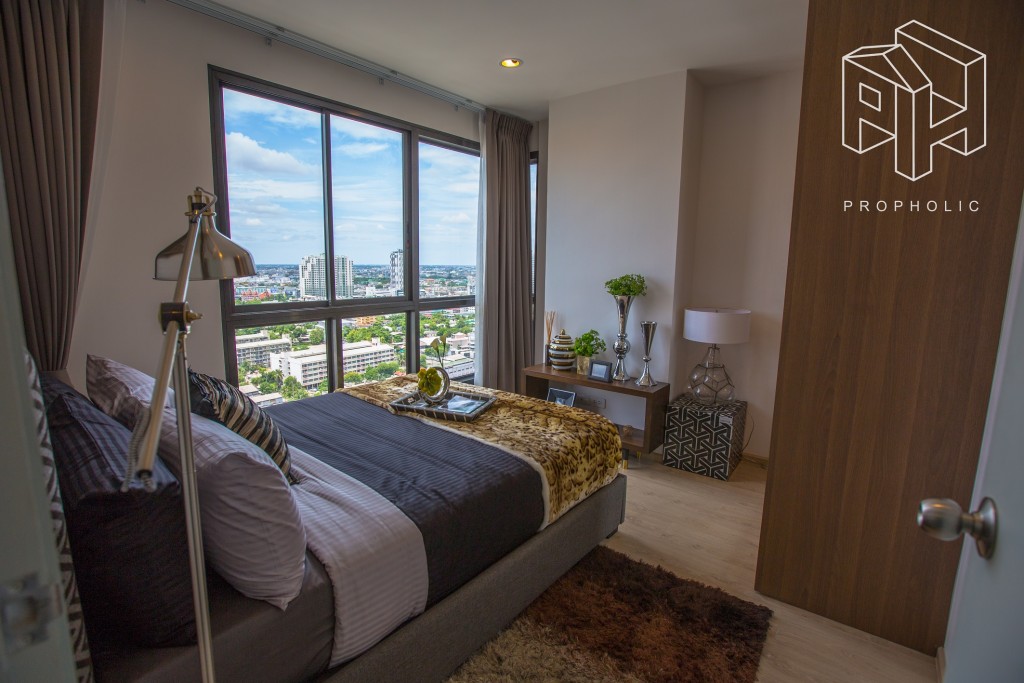 Change bed sheet as wanted. The project gives only a 5-foot bed.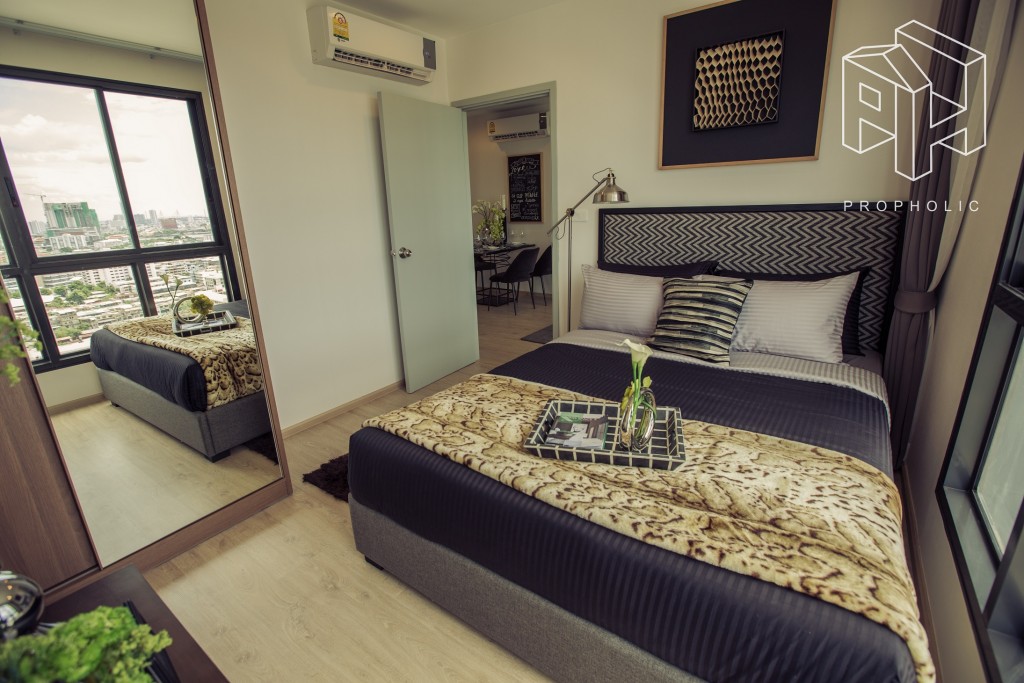 Bedroom.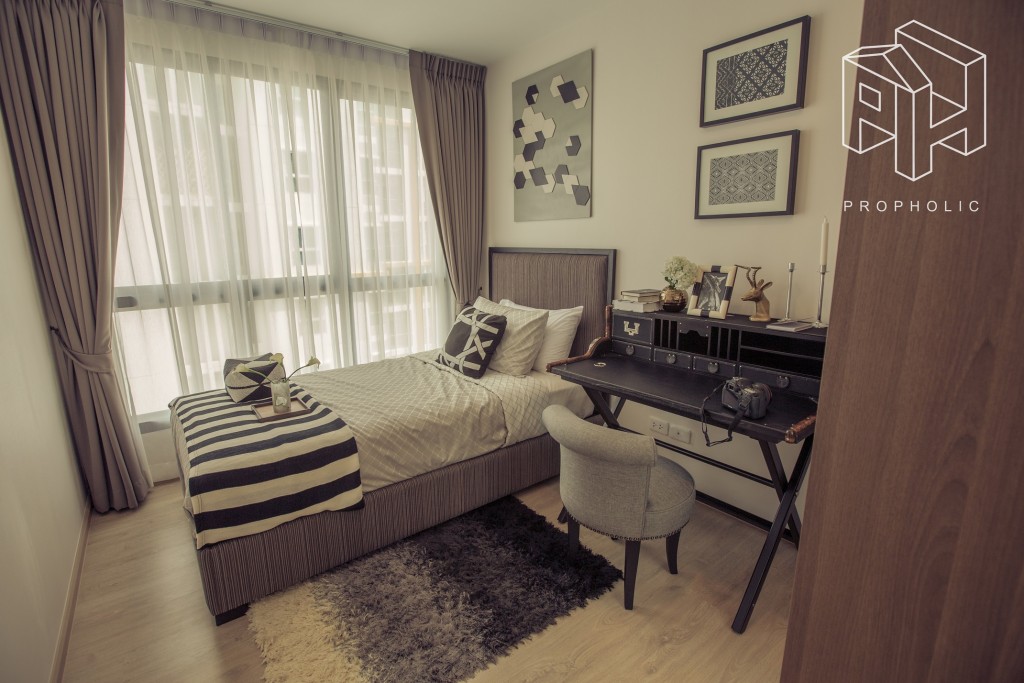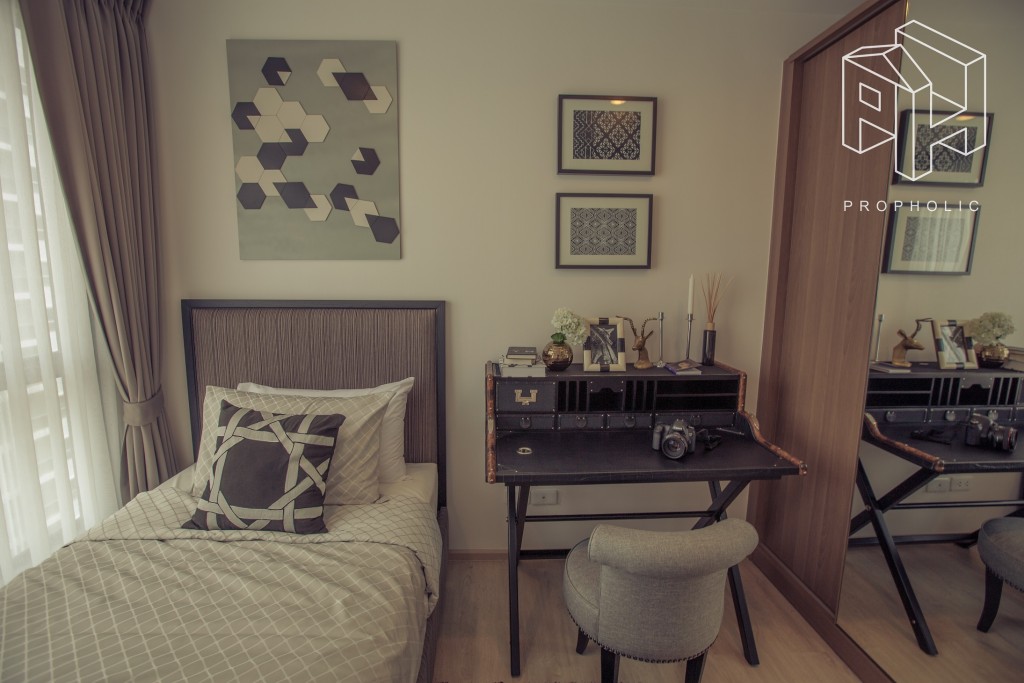 Many slots at the desk.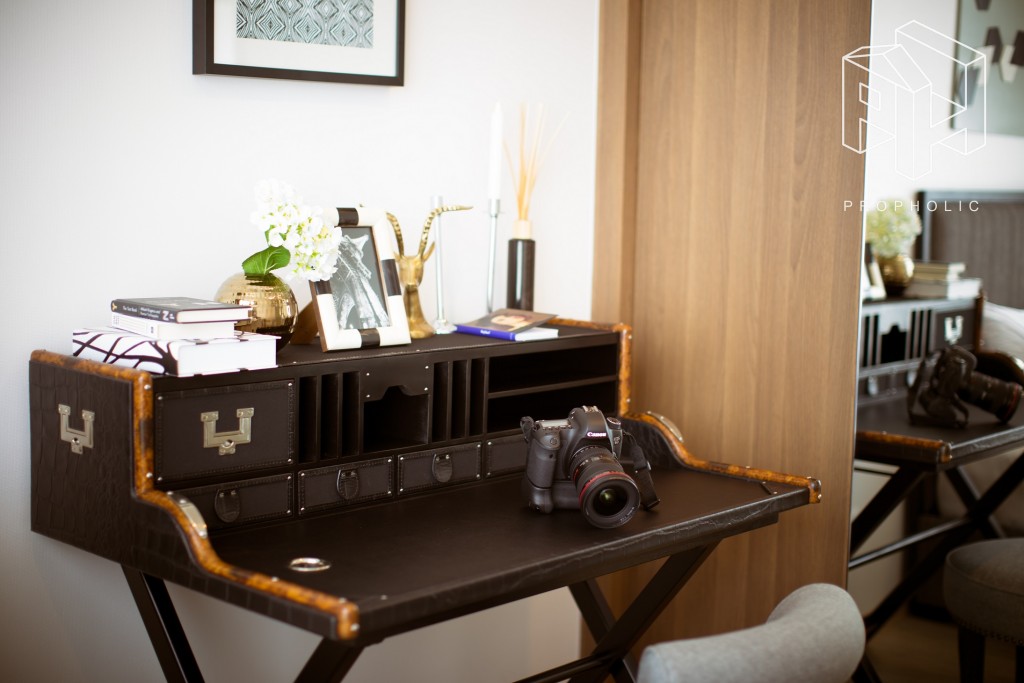 Double windows at the two-bedroom unit's balcony. Let's gardening.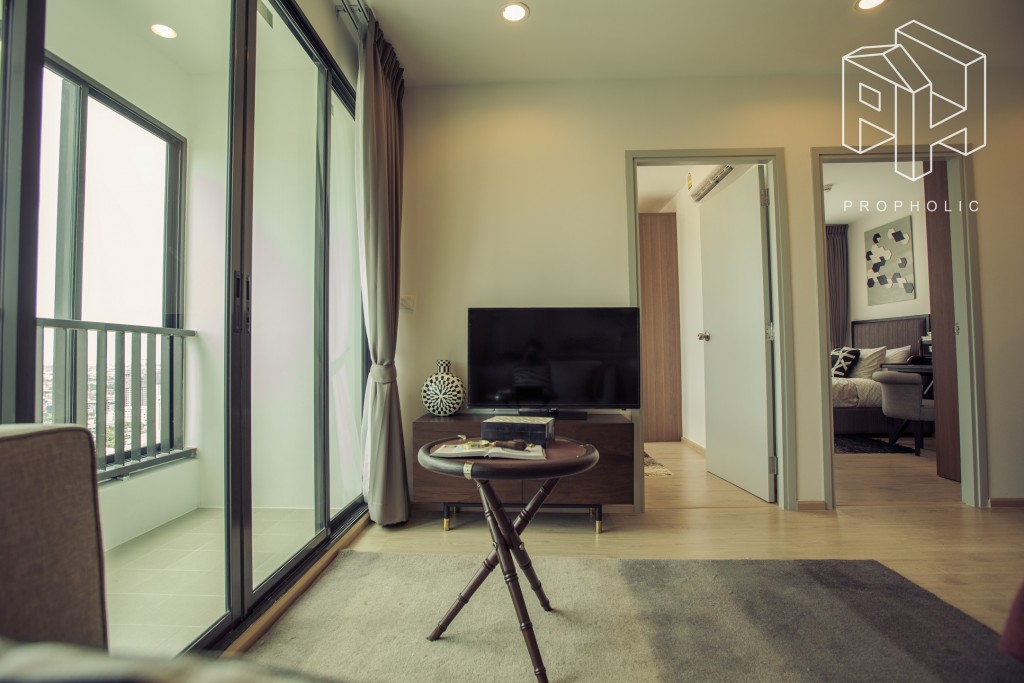 1-bedroom size 30 sq.m.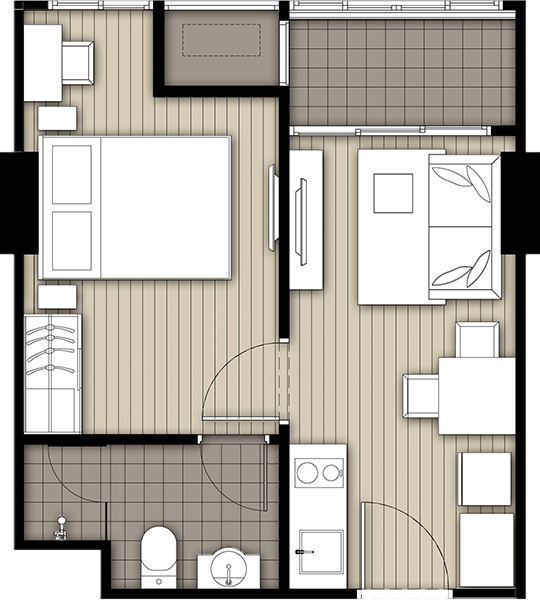 From the door, kitchen is on the right hand side and refrigerator is on the left. Quattro chooses a horizontal dining table so it needs to turn the face to the wall when dining.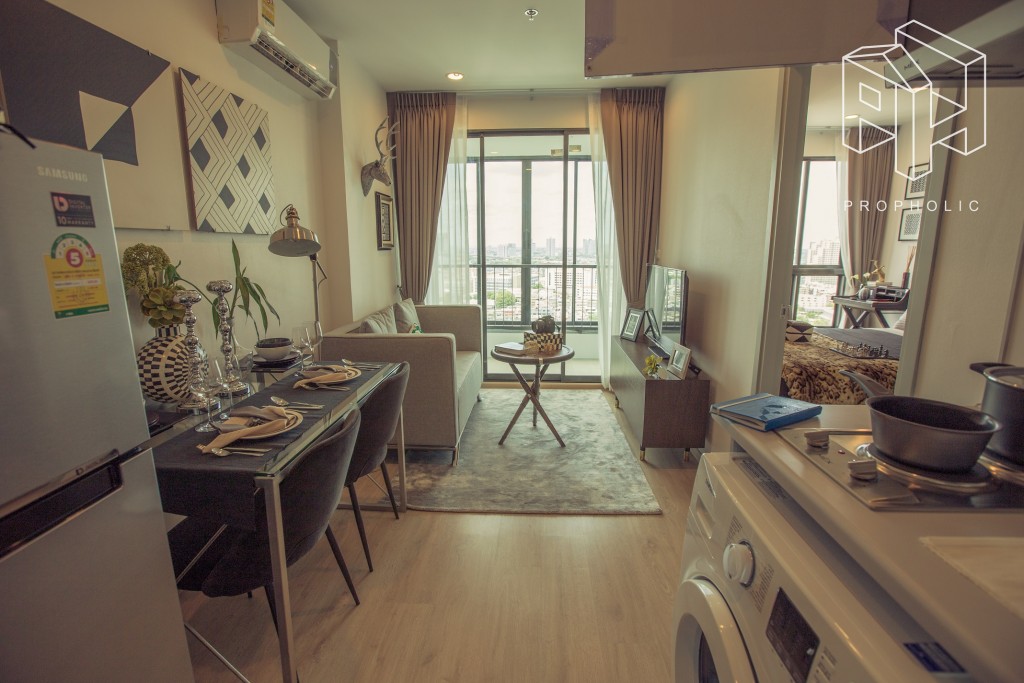 The deer head is stunning.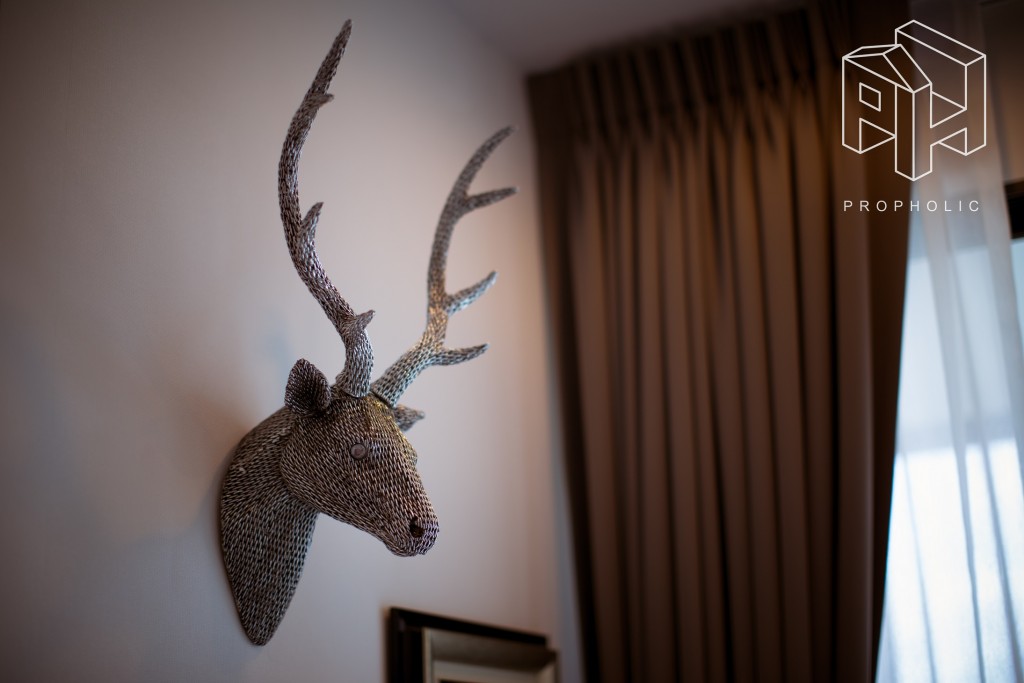 The bedroom loses some area for placing air compressor, reducing the natural light to the unit.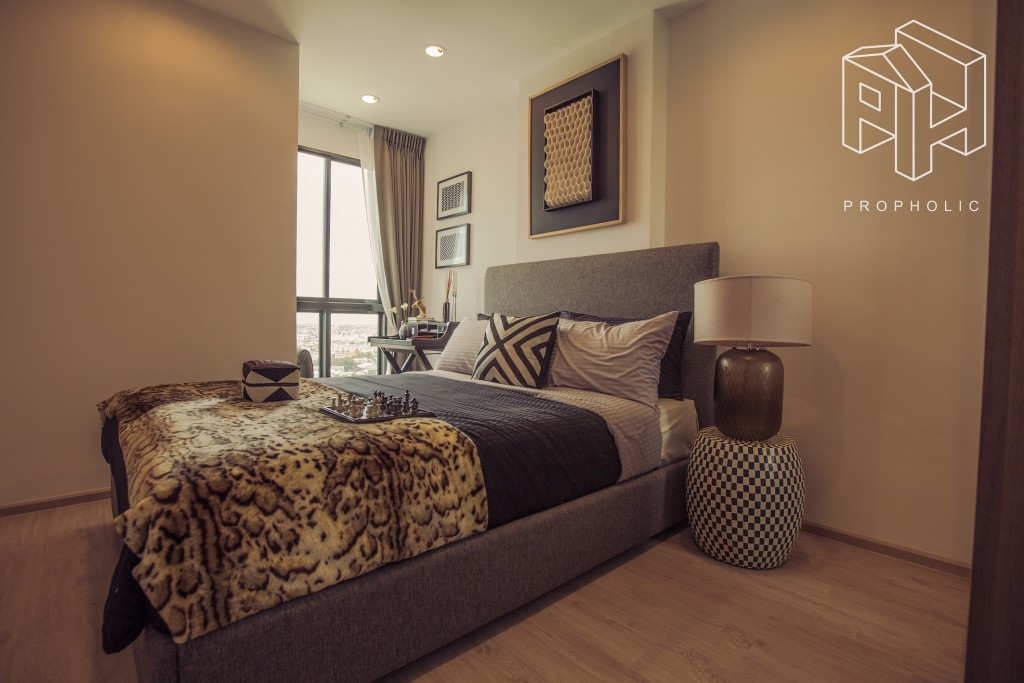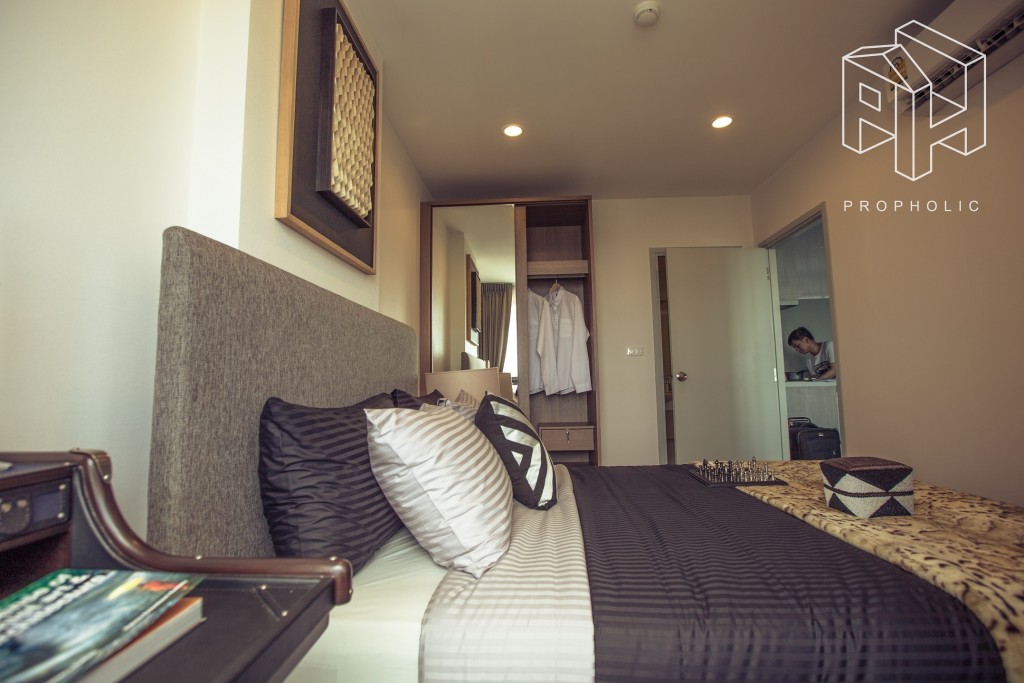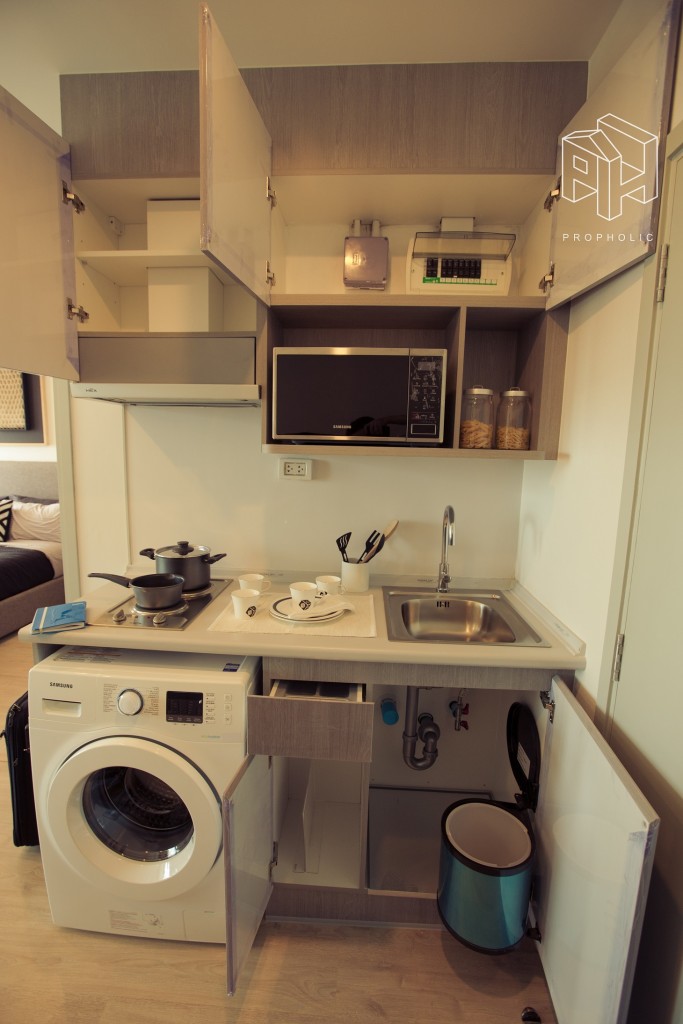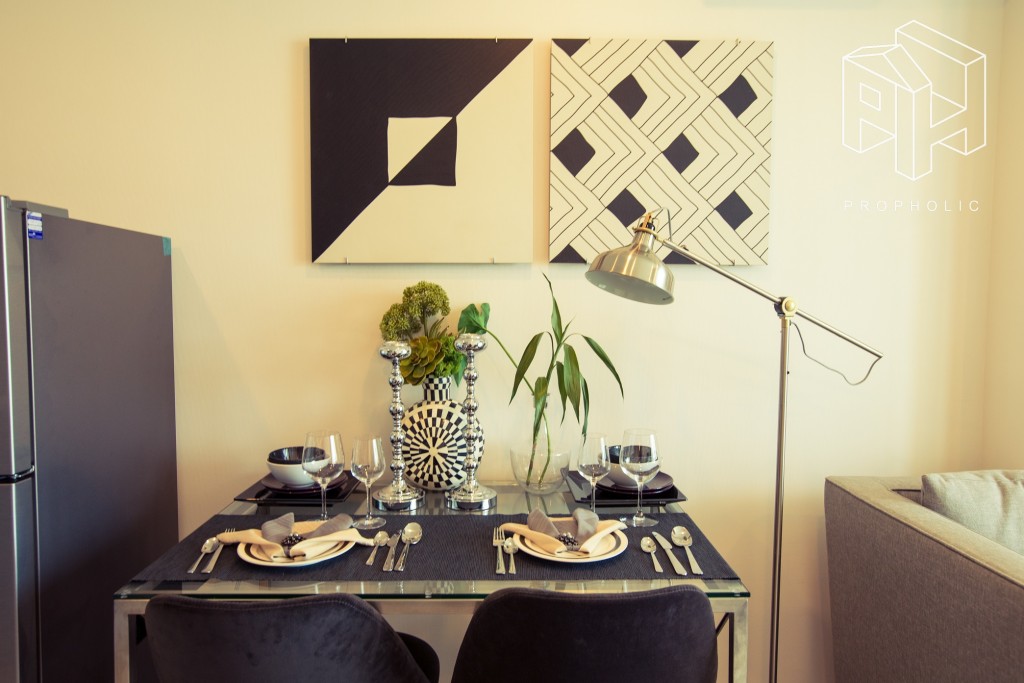 Now, the view.
On the north, BTS is below. On the horizon line, view stretches to the Tha Phra Intersection where Supalai City Home and The Parkland Phetkasem-Thaphra which is under construction are afar.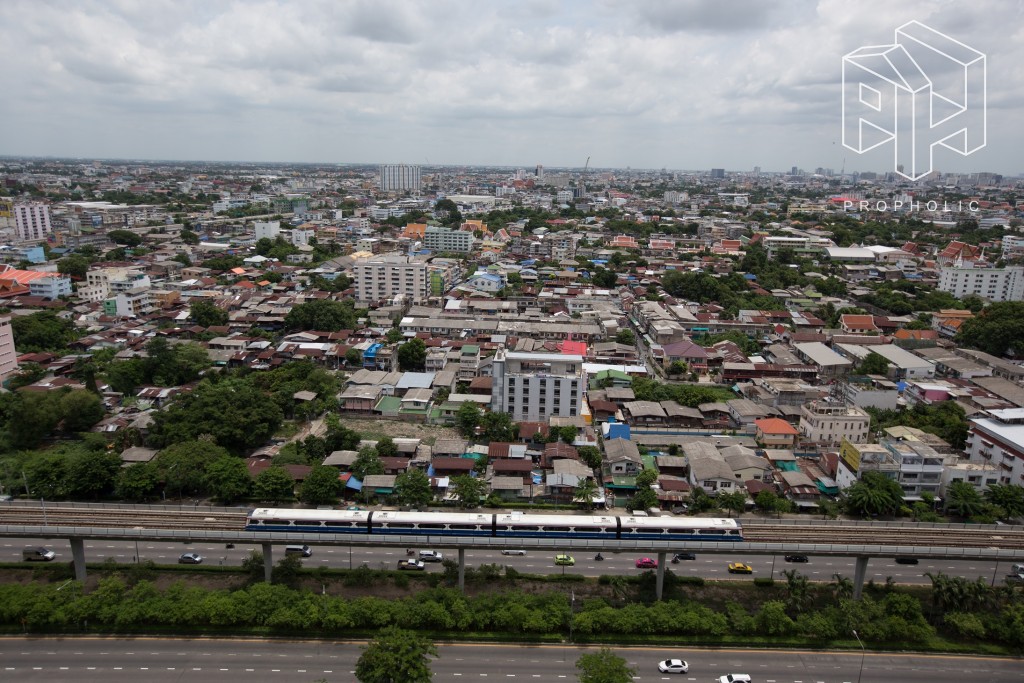 It is wide open on the south where the river and the Krungthep Bridge can be seen. It's hard to have new high-rise building constructed on the plot where these shophouses are located due to no entrance. Condos of LPN and Bangkok Horizon are on the right hand side.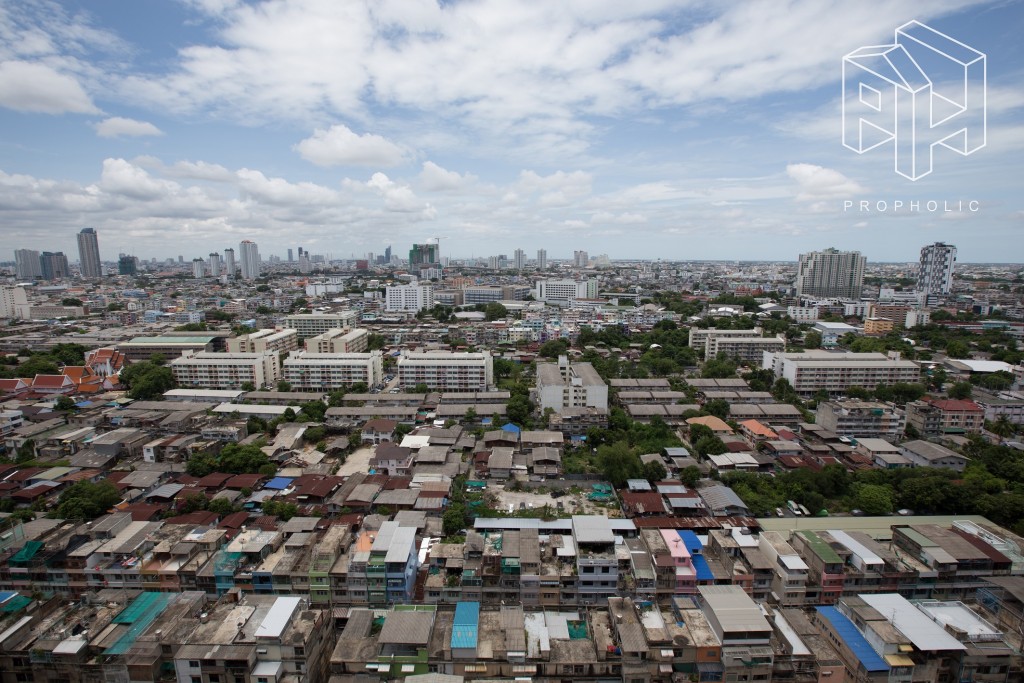 The east. This photo was taken from a two-bedroom unit no. 15.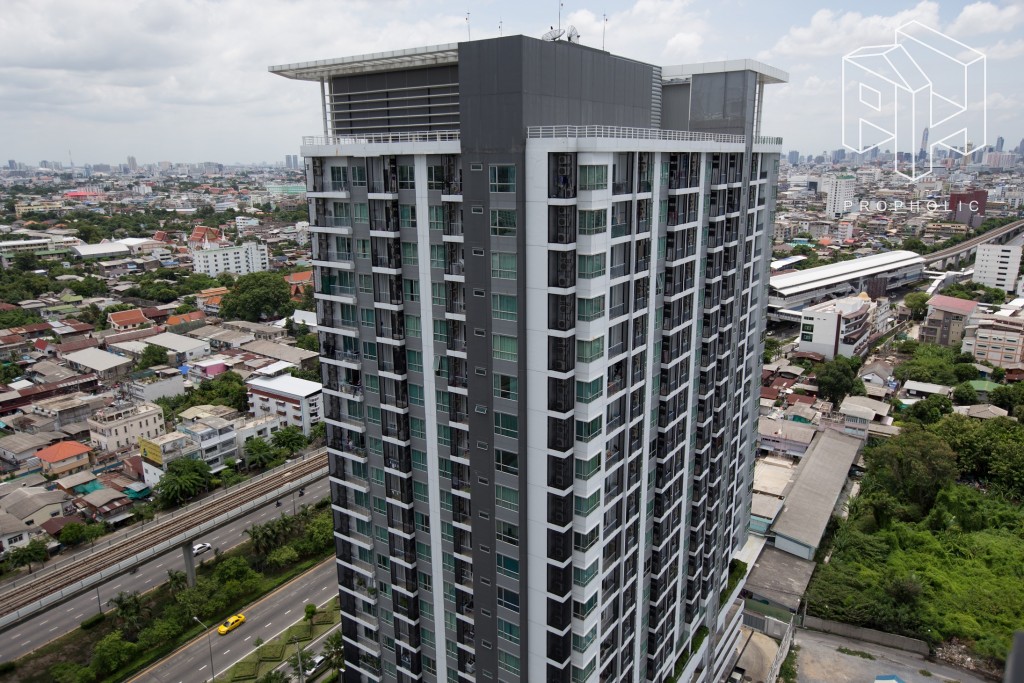 The same unit at another angle.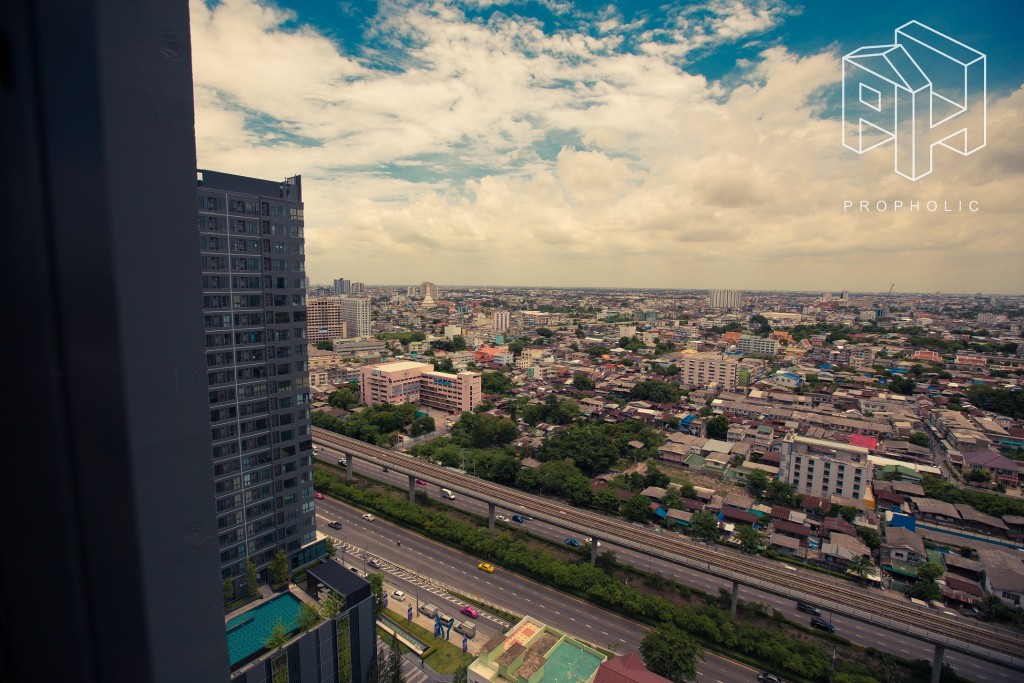 The two-bedroom unit no. 16. This photo was taken from a window at the corridor. City-view can be seen.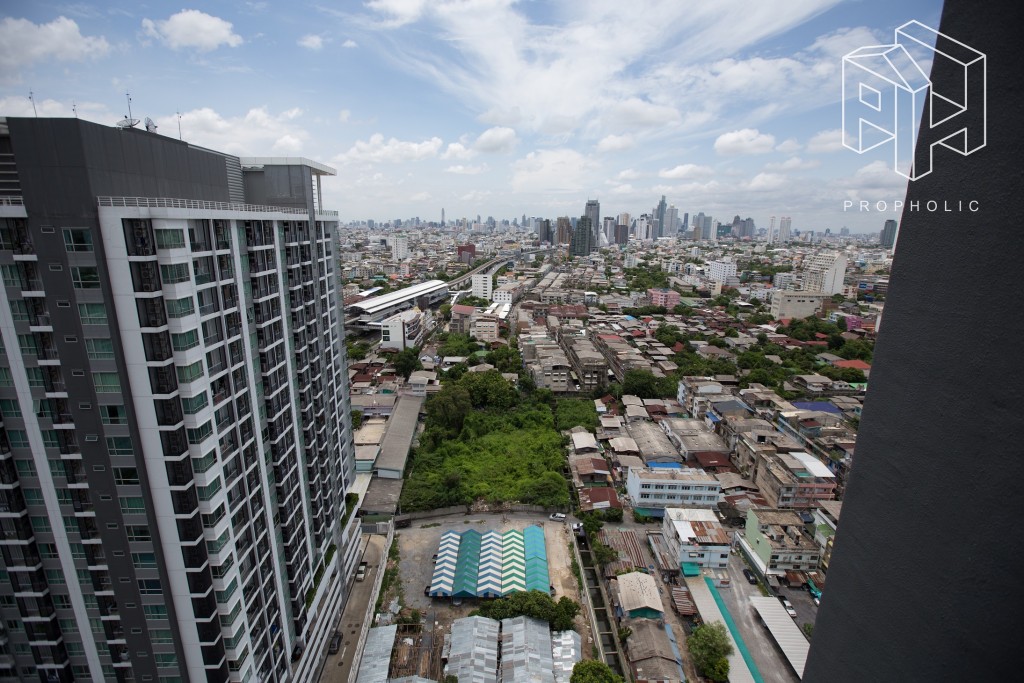 View from inside the unit.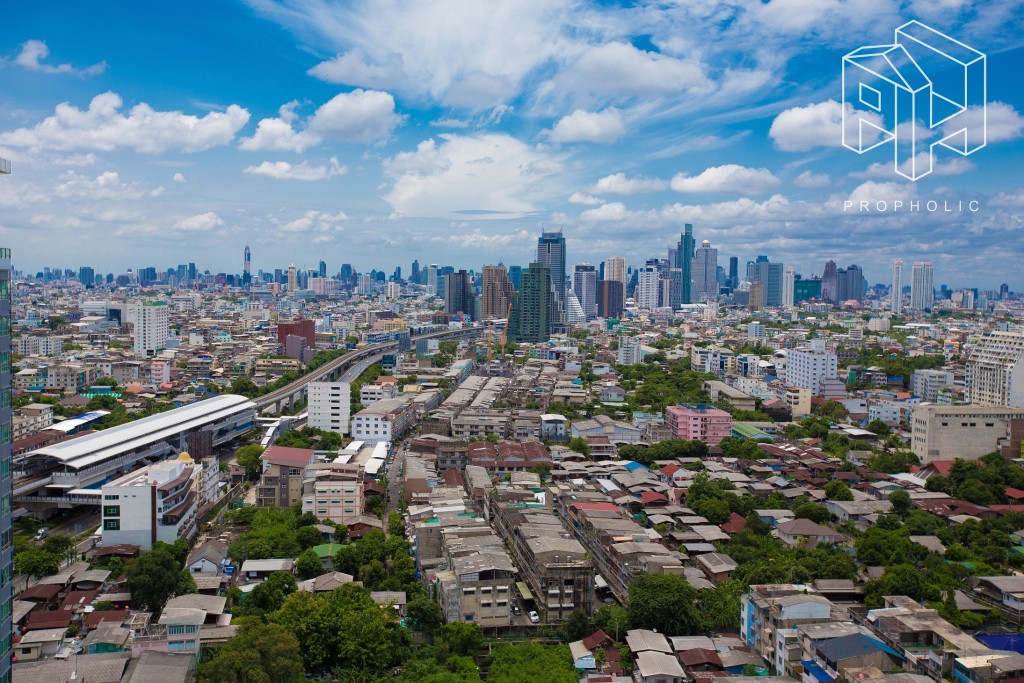 So, who is this project's target?
IDEO SATHORN-THA PHRA was launched two years ago. Many people viewed it expensive as the units were sold with fully fitted. Price per sq.m. is in the range of between 98,000 – 120,000 baht. Materials did not match with the selling prices on the launch period. For example, kitchenware in the same specifications of other developer's lower-end brand, sanitaryware that is quite small for westerners, basic doorknob at both bathroom and bedroom and laminate floor. (But door handle at the entry door.) By the way, when time goes by to a period that condo supply in Sathorn area and along Silom line extension near Krung Thonburi and Wongwian Yai Station had gradually been sold out and selling price at new projects is close to IDEO SATHORN-THA PHRA's today, this project is one of the only 2 choices (another is Nye) for anyone looking for a recently-completed project in locations from Krung Thonburi to Talat Phlu Station. As IDEO SATHORN-THA PHRA sets a pricing package more affordable, starting at 1.99 Million Baht, it is only one choice in the location with the lowest price.
With a windfall of IDEO MOBI's first collection that was completed for 2 years, IDEO SATHORN-THA PHRA gets a huge benefit. A group of people who have stayed in a 21-sq-m unit in IDEO MOBI partly helped build awareness in the market that such unit size is livable. The more scarce the condo supply priced lower than 2 Million Baht is, the more interested the target buyers looking for a condo with a limited budget will be.
Personally, I think Ananda is right that it decided to escape a trend of extravagance with glittering gold style at Nye and did not upgrade its product and price to keep up with it. If so, it cannot compete with Nye as target buyers are different group. Absolutely!!! Those who choose IDEO SATHORN-THA PHRA are new generation bachelor, having a limited budget and not preferring luxury life. More importantly, they choose a unit at this project as a first time before expanding in the future.
These people unlikely prefer Nye and Nye target never likes IDEO SATHORN-THA PHRA.
Ananda is successful in finding its target customers' pains like difficulty in walking from BTS, Baby – Bachelor Gen C's lifestyle preference which they wants a simple life in a community where they can work from home. Or their workplace is in Sathorn or Silom. Ananda is also good at creating value-added with fully-furnished package including electric appliances with 2 styles (prices are so different)
Unit prices are below.
Floor 2 – 10 (SB Furniture) : One-price promotion at 1.99 Million Baht for unit sized 21 sq.m. / 2.99 Million Baht for 30 sq.m. and 4.5 Million Baht for 45 sq.m. Average price is more than 90,000 baht per sqm.
Floor 24 – 25 (Quattro Design) : price starting from 2.85 Million Baht for unit sized 21 sq.m. / from 3.99 Million Baht for 30 sq.m. and from 5.85 Million Baht for 45 sq.m. Average price is 130,000 baht per sqm.
Due to a change in strategy and campaigns matching the right target real buyers, sales at this project was 70%, compared with a silence over a year (sales staff told). This project perfectly suits to those whose lifestyle is like what explained above and those who look for a first unit at a budget of not higher than 2 Million Baht as it is very hard to find a unit at this price.