"YourNextU School of Life" announces the launch of a major rebrand Appointing new management and unveiling the campaign "Behind Every Success Are Essential Life Skills" with the aim to grow 10 times in 3 years as "Life Skills Center" to empower Thai people to excel in real life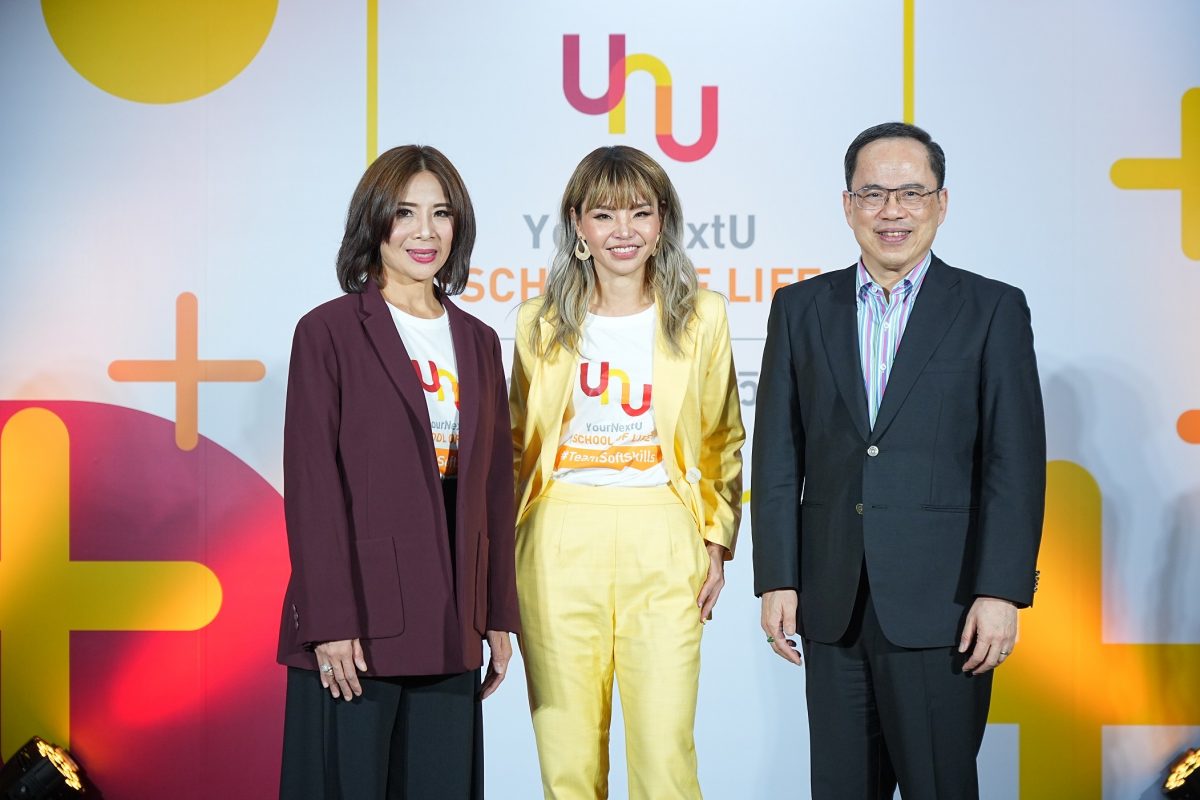 – YourNextU rebranding as YourNextU School of Life, a Life Skills Center that empowers Thai people to have better life opportunities in all aspects through the development of soft skills
– Announcing the appointment of Boom Bunyanuch as Managing Director to help ignite a turning point for the Thai education business, and penetrate the B2C market, aiming to be the number one leader of the learning platform and society in Thailand
– Launching the campaign "Behind Every Success is Soft Skill." to reaffirm the importance of life skills for success in career and personal life through the approach of different thinking and viewpoints that lead to growth and successful results
– Introducing special launch package "5 Life Skills for Success in All Aspects of Life" opening for registration today – 31 August 2022. For more details, visit www.yournextu.com/professional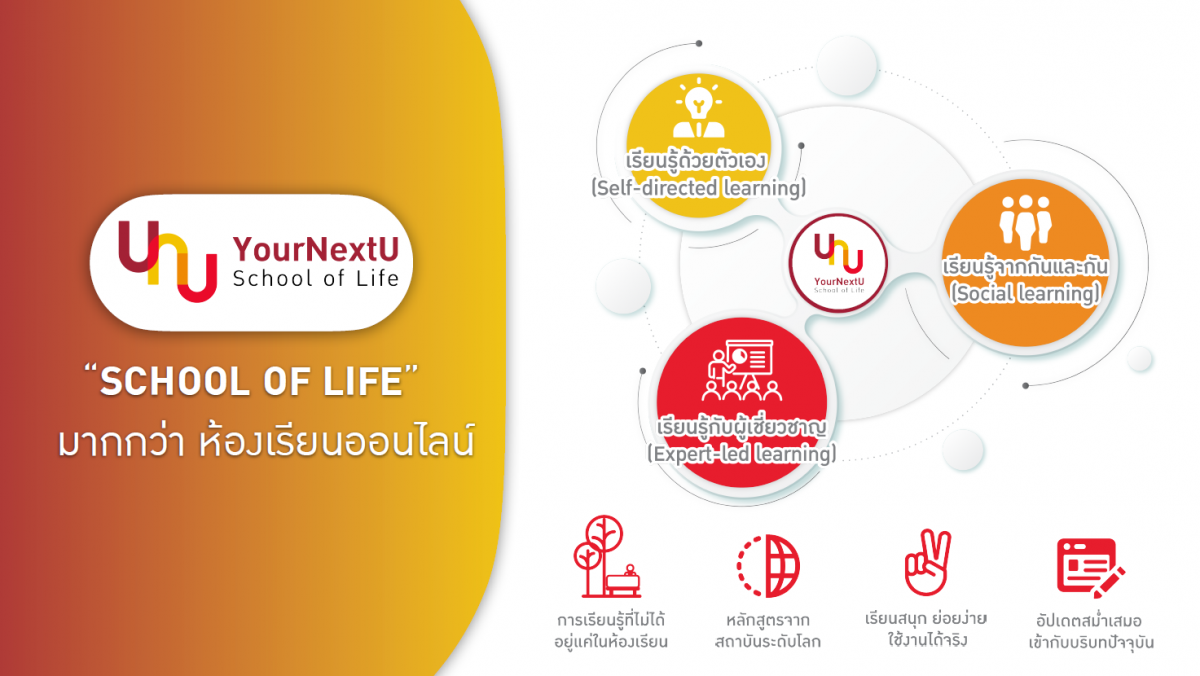 Amid the current changing world where everyone has to adapt, SEAC, the leader in people and organization development that ignites a passion for lifelong learning, recognized the increasing importance of building life skills for Thai people and rebranded YourNextU by SEAC as YourNextU School of Life, a Life Skills Center that empowers Thai people to have a better life in every aspect.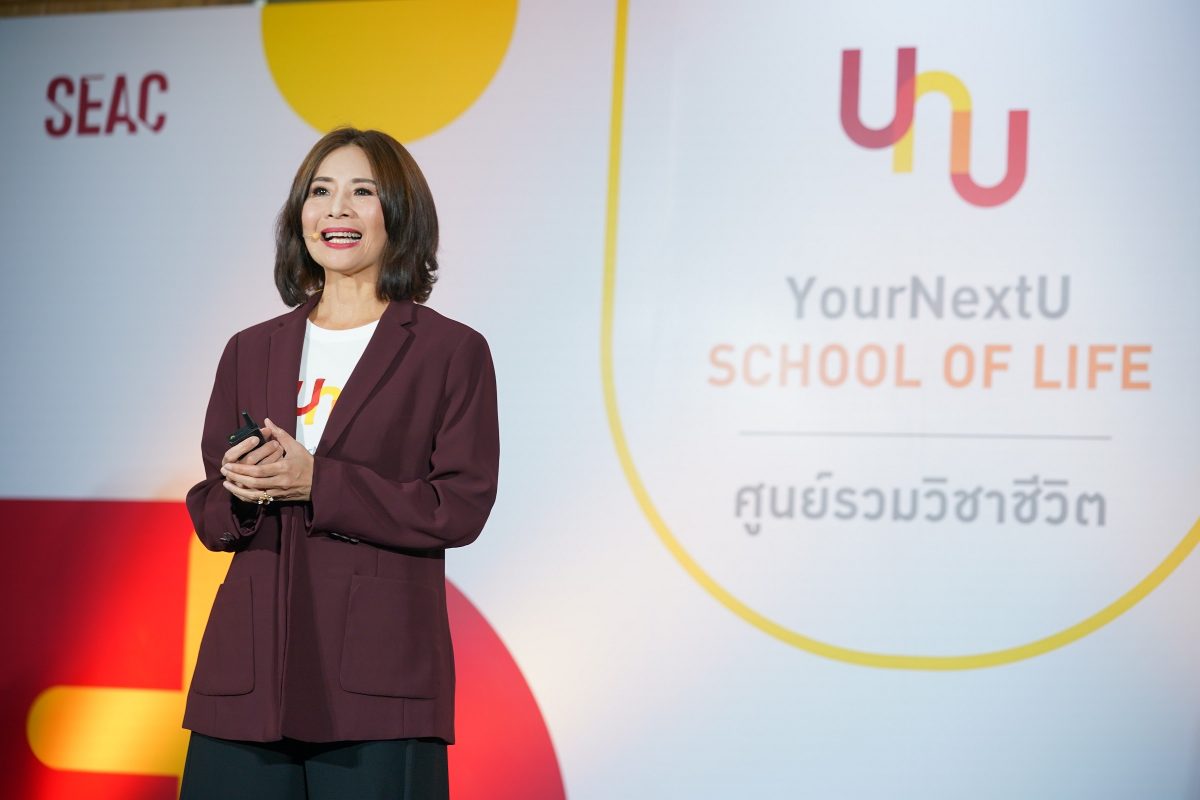 Arinya Talerngsri, Managing Director of SEAC said "In the world of work today one major transition is the sole focus on hard skills alone may not be sufficient for working people to improve their abilities and survive. A recent survey estimated that by 2030, almost two-thirds of all occupations would be based on soft skills to tackle the new working challenges. That's why earning good grades in school no longer guarantees success in life in the modern world but you also need to be well versed in real life as well. SEAC has relentlessly accelerated new product and service development to meet changing market demand and evolving global trends.  As a thought leader and exemplification of design organization offering experiences and courses to suit learners and business organizations in line with the context of Thai society, we have been successful in helping develop work skills, build leadership skills, and strategic thinking skills for more than 1.5 million executives, business leaders, and personnel in more than 1,000 private sector organizations, state enterprises, and government agencies. We believe that the transformation of YourNextU led by Boonyanuch Boonbumrungsub as the new Managing Director will help us develop innovative learning courses and marketing activities to reshape the Thai education business and help more people develop essential soft skills with a new learning experience that is accessible for everyone."
Boonyanuch Boonbumrungsub, Managing Director of YourNextU by SEAC added that "While we all know that what they do teach you at school doesn't make you smart in real life, we are also struggling with how to reach for learning courses of high quality which are limited to 'corporate people as well as the negative stigma of learning as boring tasks.  YourNextU School of Life is devised to help you cross these thresholds and serve as a Life Skills Center that promotes lifelong learning for 'everyone in society to get them well-equipped and reach their personal and career goals.
Our key strengths are being a space that promotes unlimited learning and a learning platform that goes beyond the online classroom, with tools and experiences designed to enable continuous learning and connected to the real-life situation outside the classroom with course content from world-class institutions and easy-to-access, diverse and practical learning environment known as 4Line Learning, which consists of:
– InLine – In-person group class with experts – where participants can interact with each other in state-of-the-art classrooms at our Center, or attend live online via Zoom
– OnLine – Learn by yourself through videos – convenient, anytime, anywhere
– BeeLine – Learn from friends with YourNextU Community where you can share experiences, learn from each other, build connections through the circle of friends, and join fun activities
– FrontLine – Learn by doing from a collection of practical knowledge, tips, and techniques, all ready to download