Somkiat Hongsuppinyo, Executive Vice President of the Low-Rise Project Development Division, Sansiri Public Company Limited said that "Sansiri's project development philosophy is to create a sustainable society, not just build houses. We foresee that the global trend of urban development in leading cities across the world is gearing towards creating a sustainable future of living, as seen in Sharjah Sustainable City in Dubai, which features biodome greenhouses and organic farming; and Liuzhou Forest City and Vermosa in the Philippines, which are built to support active health and lifestyle. As for Bangkok, urban development is currently built around outer living communities and no longer limited to only inner cosmopolitan areas, with help of a more comprehensive transportation network to make commuting in the city easier. Furthermore, the new Bangkok City Plan to be announced soon will support the development of 'compact city' in locations along mass transit lines. Krungthep Kreetha is an upcoming promising residential location, so we plan to transform a 300-rai land plot in the area to be "The Next Best Living District" where we will continue to deliver high quality of living to our residents with several developments in the future."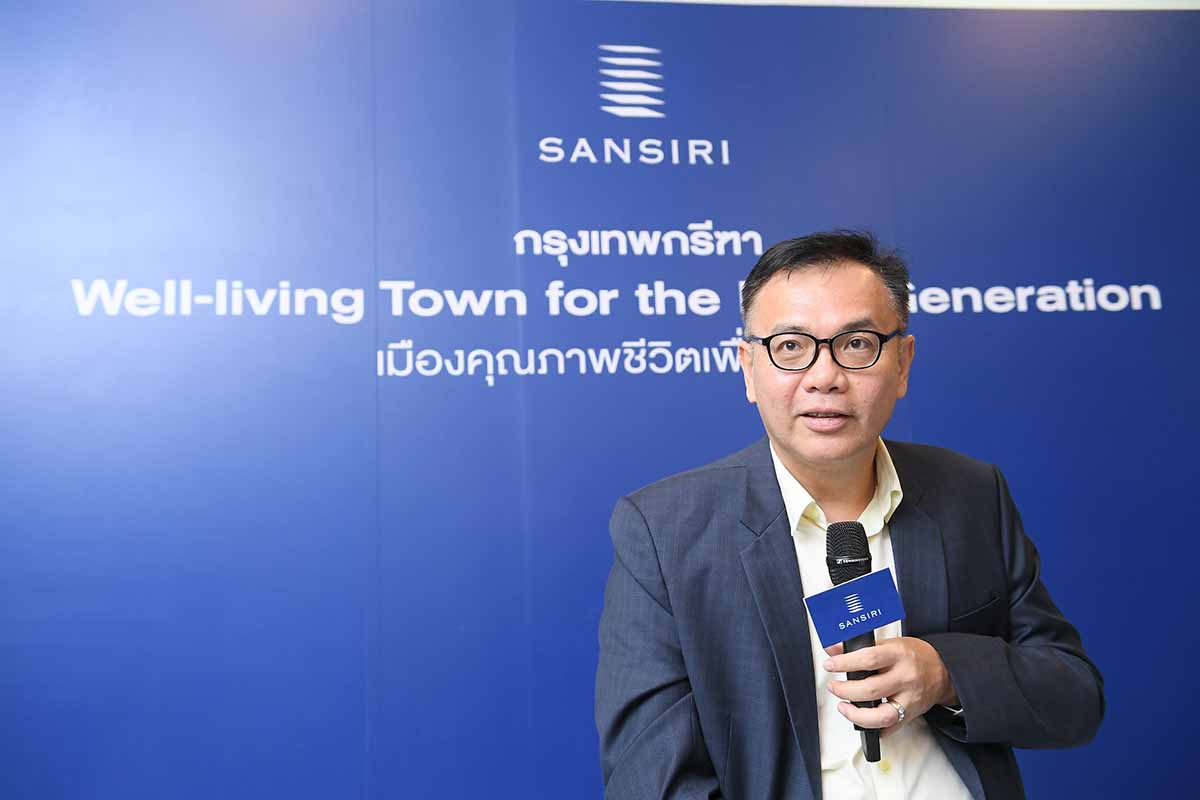 Sansiri previously garnered a huge success in developing T77 under the concept of "A Good Town for A Good Life" in a 50-rai land plot in Sukhumvit 77. The community, touted to set new standards of urban living, comprises condominiums, townhouses, a premium serviced apartment, a community mall and an international school, and is now home to over 10,000 families of Sansiri Family members and neighboring residents. Sansiri's plan to transform Krungthep Kreetha area into "Well-Living Town for the Next Generation" is consisted of three elements:
– Location – at close proximity to transportation systems and road network linking to Bangkok's key CBDs – 2 kms away from Sri Burapa Expressway, 2.3 kms away from the MRT Orange Line to be ready for operation in 2023 and 4 kms away from the MRT Yellow Line to be ready for operation in 2020, as well as major roads like Srinakarin Romklao Road, Krungthep Kreetha Road, Rama 9 – Motorway Road, Pattanakarn Road and Hua Mak Road.
– Community – the high-quality residential community will encompass a number of residences developed to promote wellbeing of dwellers, with Setthasiri Krungthep Kreetha 2 as the first project; surrounded by a host of amenities to live up as the next best living district, including Brighton College Bangkok, a leading international school, in just 900 meters away and Samitivej Hospital including expected community mall in the future.
– Facility – common areas are designed to promote the harmony of human health and environmental protection: including indoor and outdoor Recreation Space that enhance the development of children's EQ and IQ to be completed in 2021; the 1.7-km The Greenery Line, running along the 300-rai land plot and connecting Srinakarin Romklao Road and Ramkamhaeng Road in just 2-minute ride, surrounded with lush trees and bicycle lane and solar electric pole with underground wiring, to be ready for use in 2021.
Adinan Kittiratanapaibool, M.D., Director of Samitivej Srinakarin Hospital revealed that "To create elements that promote the health of city dwellers is an essential factor in urban development of world-class standard. As a healthcare partner of Sansiri, we provide residents with a range of preventive healthcare services including Samitivej Virtual Hospital, offering real-time consultations with doctors via video calling, available 24 hours a day, as well as home delivery of medicines; and Smart Emergency service. We are keen to be part of creating a the well-living town of the future here at Krungthep Kreetha neighborhood."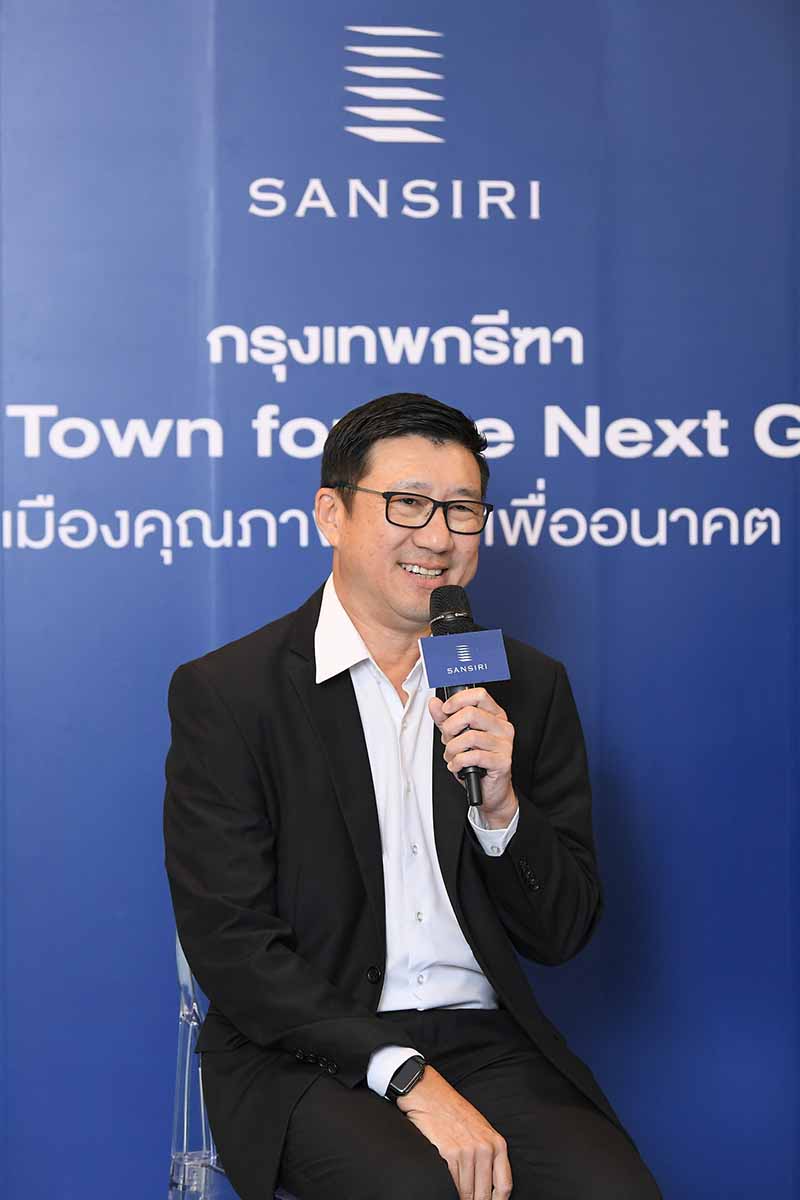 According to Varissara Assakul, Business Development Executive and owner of Brighton College Bangkok, "As a partner of Sansiri in the field of education, we intend to develop curriculum that promotes wellbeing of students through in-school activities like meditation that helps them cleanse their mind, which is essential step in creating a safe environment that enhances learning capability among children and help them explore their interest in life and grow up with a happy mind in today's society."
"Taking the first concrete step in creating the Well-Living Town for the Next Generation here, we introduce Setthasiri Krungthep Kreetha 2, a single house project of 169 units set on a 54-rai land plot with project value of 3,500 million Baht.  Creating with 'Dynamic Architecture' design concept, the project comprises four variations – Cachet, Luminary, Elite and Regal, with floor spaces of between 223 and 404 square meters. Setthasiri Krungthep Kreetha 2 is developed under Sansiri's 2019 key strategy known as 'Sansiri For Greater Well-Being' which optimally promotes physical and mental health as well as social wellbeing of all residents. Physical aspect includes the design that brings the various generations into harmonious living together, promotes living in unison with natural environment and energy efficiency, and adopts advanced innovations for living like home automation and dust-free house. Mental aspect involves the design that brings living comfort and peace of mind to residents like intelligent security system within the house and the whole project area. Social well-being is achieved through a range of facilities e.g., club house, fitness, salt system – swimming pool with track for elderlies and common areas in form of Co-working space that embrace universal design to fit users of all ages with Wi-Fi connection," added Somkiat.
"Sansiri For Greater Well-Being" strategy is not limited to the building houses, but strives to offer an ideal lifestyle for residents that is created based on in-depth customer insights gained through customer-centric thinking and behavioral study of consumers in diversified segments. Sansiri is confident in developing the next best living district on a 300-rai land plot in Krungthep Kreetha district will successfully capture comprehensive lifestyle of consumers today as did the company in the development of T77.   Setthasiri Krungthep Kreetha 2 is ready for presale launch on 1 – 2 June 2019, with special promotion – "5 units on offer at special price + lucky draw to win special reward worth up to 150,000 Baht", available on presale days only. For more information or to arrange a visit, call 1685 or go to www.sansiri.com.