Central Pattana, Thailand's leading real estate developer, launches PHYLL PHUKET, a high-end condominium in the heart of Phuket, with project investment value of 1.5 billion baht.
ประกาศที่เกี่ยวข้องกับเนื้อหา
---
– Experience 'Living Solution' – a fusion of relaxation and urban living, following the concept of 'A Beach Life In The City,' boasting Phuket's largest common area spanning 2 rai of land.
– Highlighting 3 strengths: 1) Best in Town, with a prime location in the heart of the city, 2) Beyond Quality, with quality, lifestyle and safety beyond expectations, and 3) Strong Synergy in Central Group to ensure a 'Seamless Journey' for people in Phuket.
– The average price is 100,000 baht per m2, experiencing continued good feedback, prepare to sell phase 2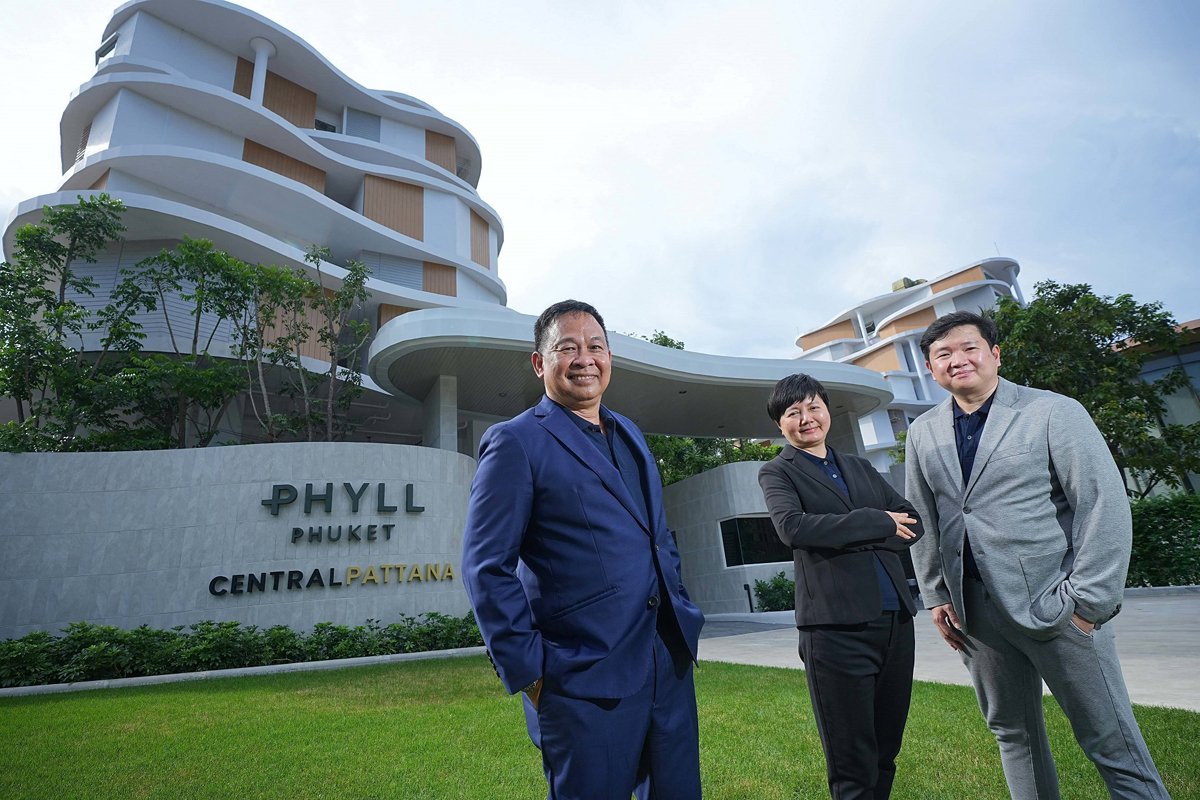 Central Pattana plc, Thailand's no. 1 real estate developer for sustainability, which develops Central shopping centers, residential projects, office buildings and hotels nationwide, expands its portfolio into Phuket's upscale condominium market due to rising urban demand. 'Phyll Phuket,' a high-end condominium project, embodies the 'A Beach Life in the City' concept and represents a 1.5 billion baht investment. It offers a 'Beach City Condo Resort Style ' experience, merging relaxation with contemporary living and 'Smart Living Solutions.' Phyll Phuket has common areas and parking for more than 270 cars through the 'Central Pattana Residence' program. The presales of the project have reached 70% of phase one units already sold, and Ready to open phase 2
Kree Dejchai, President, Residential Business, Central Pattana plc, said: "Central Pattana, a leader in retail-led mixed-use development, emphasizes shopping centers as the core business, seamlessly integrating with residences, offices, and hotels to meet diverse lifestyle needs. Drawing on over a decade of residential market expertise, we confidently enter Phuket's housing market.
Introducing 'Phyll Phuket,' a high-end city-center condominium just 300 meters from Central Phuket. With a 1.5 billion baht investment, it's Central Pattana's second 'Phyll' project after the successful 'Phyll Phahol 34.' This marks our debut in Phuket's residential market, complementing the Central Phuket shopping center. Our deep market understanding is bolstered by 'Customer Behavior and Domestic Demand' data.."
Phuket has the potential for strong growth and to become an attractive global destination in the heart of Phuket, world class seaside tourist destination.
The condominium market in Phuket has opportunities to grow further thanks to the potential of becoming an 'attractive global destination'. Phuket was recently ranked in the World's Greatest Places 2023 by Time Magazine and the island is located in the zone included in the government's tourism development plans, ensuring that Phuket becomes a global seaside tourist city as well as a government Mega Project. Future transportation systems to cover land, water, air and rail to support further urban expansion will be developed. These projects include Phuket Airport Phase 2, the Kathu-Patong Expressway, Mueang Mai-Koh Kaew Highway, and Phuket Light Rail Transit, etc. There are also positive signs in tourism and purchasing power both from domestic and international markets. Domestic: The hotels and tourism industry in Phuket has received strong support from government campaigns and housing market sales have gradually recovered. International: Tourism is recovering as Phuket welcomed 2.3 million foreign tourists visited in the first half of 2023. It is expected that in 2024, the number will increase to 4-5 million people/year. Top tourist arrivals visiting Phuket are from Russia, followed by China. There is also increasing demand among European customers who want to purchase their retirement home, in particular Russian customers.