Central Pattana joins hands with LINE FRIENDS to create World phenomenon, with total investment of 500 million baht to launch 'Embracing Happiness 2023' campaign, connecting happy moments nationwide, spurring Q4 economy and welcoming peak tourist season to highlight Thailand as world's festival landmark
– Partnership of two global players, bringing adorable characters to 37 Central shopping center branches nationwide creating a global impact on an area of over 7,000 m2 from 9 Nov 2022 to 6 Jan 2023.
– Three strategies: 1) Emotional & Omni-channel Marketing 2) Cross-region Platform to drive 'Scalable Impact' and 3) Multi-Brands Partnership, focusing on creating happy moments for customers at every touchpoint.
– Highlighting happiness in the O2O format, which includes On-ground experiences with LINE FRIENDS World for the first time at centralwOrld, BROWN House: discover LINE FRIENDS rooms and characters at Central shopping centers nationwide, the first time in Thailand with super cute Cafe minini by LINE FRIENDS and online experience where you can enjoy seamless digital activities such as LINE stickers and wallpaper with free downloads @centrallife from 29 Nov 2022, LINE FRIENDS AR and LINE FRIENDS Happiness Hunting (E-Stamp).
– Leading celebration landmark with Christmas tree lighting event, gift festival with a million gift items and an amazing countdown event to highlight Thailand as the 'Times Square of Asia'.
Central Pattana plc, Thailand's leading retail-led mixed-use real estate developer and operator of Central shopping centers, residential and office buildings, and hotels nationwide, is joining hands with LINE FRIENDS to create a world sensation to celebrate Central Pattana's 40th anniversary, investing 500 million baht to launch the 'Embracing Happiness 2023' campaign – a major partnership of two global players to connect happy moments for Thai people nationwide, to help spur the economy in Q4, and move forward the tourism ecosystem both domestic and International, welcoming the return of tourists from around the world. The campaign focuses on three strategies to offer a happy experience at 37 Central branches nationwide by bringing widely-loved global characters for a close-up experience in a space to spark creativity and inspiration, with a 'Scalable Impact', on a total space of 7,000 m2 – emphasizing Thailand as a global, happy festival landmark.  The 'Embracing Happiness 2023' campaign runs from 9 Nov 2022 to 6 Jan 2023 and is expected to generate over 30% additional customer traffic nationwide.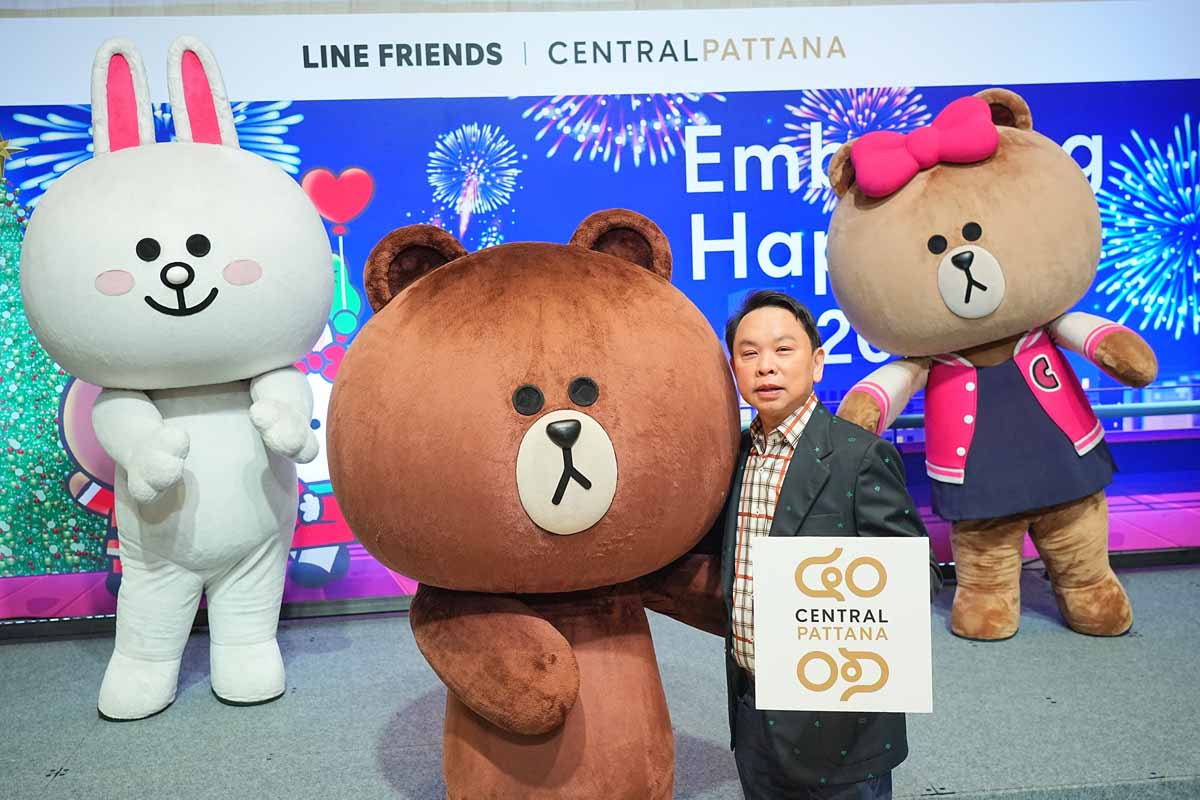 Dr. Nattakit Tangpoonsinthana, Executive Vice President of Marketing for Central Pattana plc, said: "We would like to create a global impact by collaborating with global partner LINE FRIENDS, which is a popular character of people around the world to create happy moments for everyone for our year-end campaign. This makes Central Pattana a truly global destination for happiness during the festival for people to celebrate at Central shopping centers across the country."
"Customer traffic at our Central shopping centers nationwide has almost returned to 100%  in line with the latest Agoda survey reveals that Bangkok is the world's most popular tourist destination that people want to visit. Central Pattana is fully equipped to promote and reinforce Thailand as a global landmark, with branches nationwide. Global trends also show that people are now ready to travel again and have started to plan their end-of-year trips, while domestic tourism is likely to increase – with 90% of Thai people planning domestic travel for their holidays and choosing a tourist destination primarily based on convenient We aim to create celebration spaces for the festival of happiness for Thai people nationwide, and throughout Q4 this year, we plan to invest more than 500 million baht in marketing to help drive forward the Thai economy through the 'Embracing Happiness 2023' campaign, welcoming Thai and foreign tourists and helping boost the country's economy. We will continue organizing events to create a 'tourism ecosystem' for both domestic and international travel that helps move the economy forward as we are confident that Thai tourism and the Thai retail sector will recover in Q4 and attract 10 million foreign tourists or more according TAT's goal."