Areeya Property PLC., Thailand's leading real estate developer, is pleased to announce that in 2018, the Company is aiming for 30% growth with revenue from both horizontal and vertical real estate development. Customers are currently looking for both function and emotional engagement; thus we have presented through the concept "Aesthetic of Living" and four main strategies, which are Areeya's features.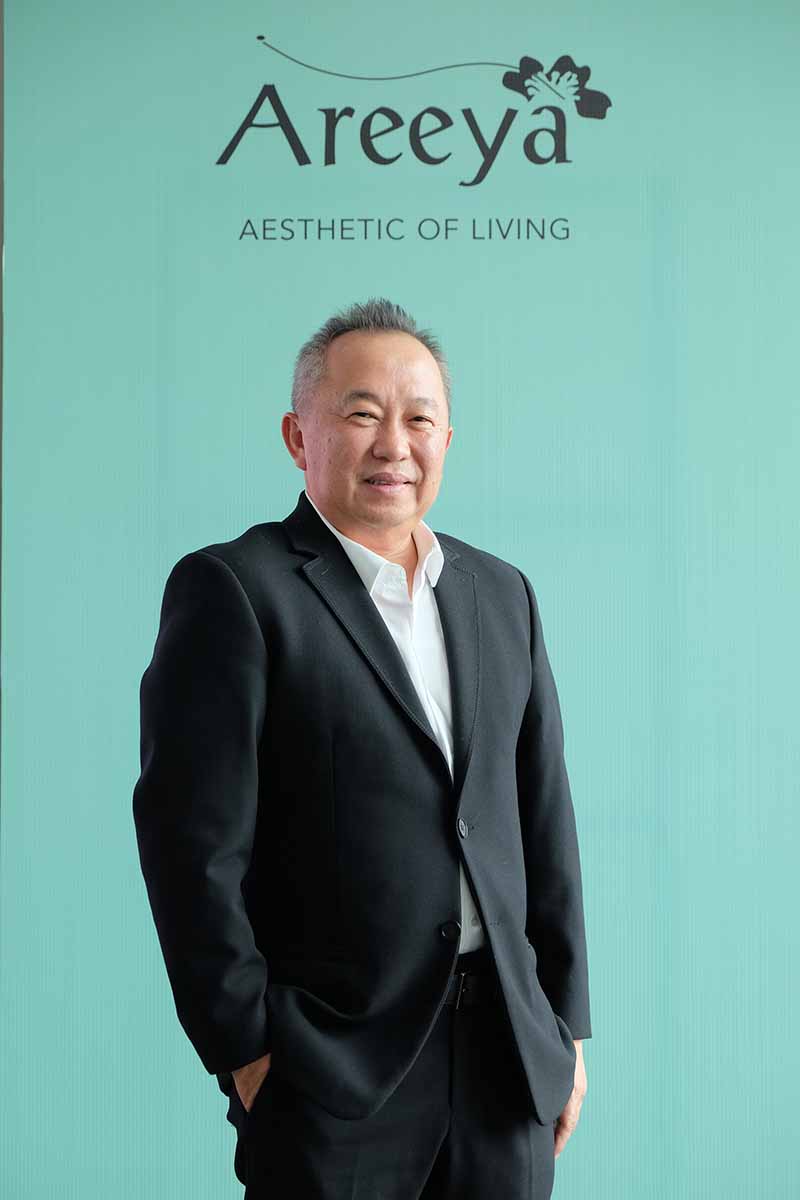 Mr.Viwat Lauhapoonrungsi, Senior Chairman of The Board, Areeya Property Public Company Limited, mentioned that year 2017 was the year that Areeya had implemented adaptation in various aspects to pave way for business before proceeding to develop potential products and services. The example of adapted aspects was human resource investment, after-sales service, development of construction and landscape design for efficiency and quality, marketing communication development in accordance with consumer behavior, focus on social responsibility and the customers and investment in Digital Technology, Data Analysis and CRM system. "We do not provide only housing, but we also design the society, life and living condition." added Mr.Viwat
In 2018, Areeya has set a growth target of 30% with the total sales value of 14,370 million baht, consisting of horizontal property projects of 8,366 million baht and vertical property projects of 6,004 million baht. The plan is to launch 11 new projects:10 horizontals and 1 verticals, worth a total of approximately 7,920 million baht and reduce cancellation Rate by 5%. Key goal is to build Areeya's customers confidence and create awareness once they have decided to become part of the Areeya family with four major strategies in 2018, as well as the ongoing promotional campaign.
For 2017 performance, Areeya closed sales of 11,125 million baht, up 39% with a cancellation rate of 29%. Sales with the complete conveyancing was 4,958 million baht, while unfinished condo sales and incomplete conveyancing was 3,096 million baht. In addition, there were 7 new projects launched in 2017 worth 11,000 million baht.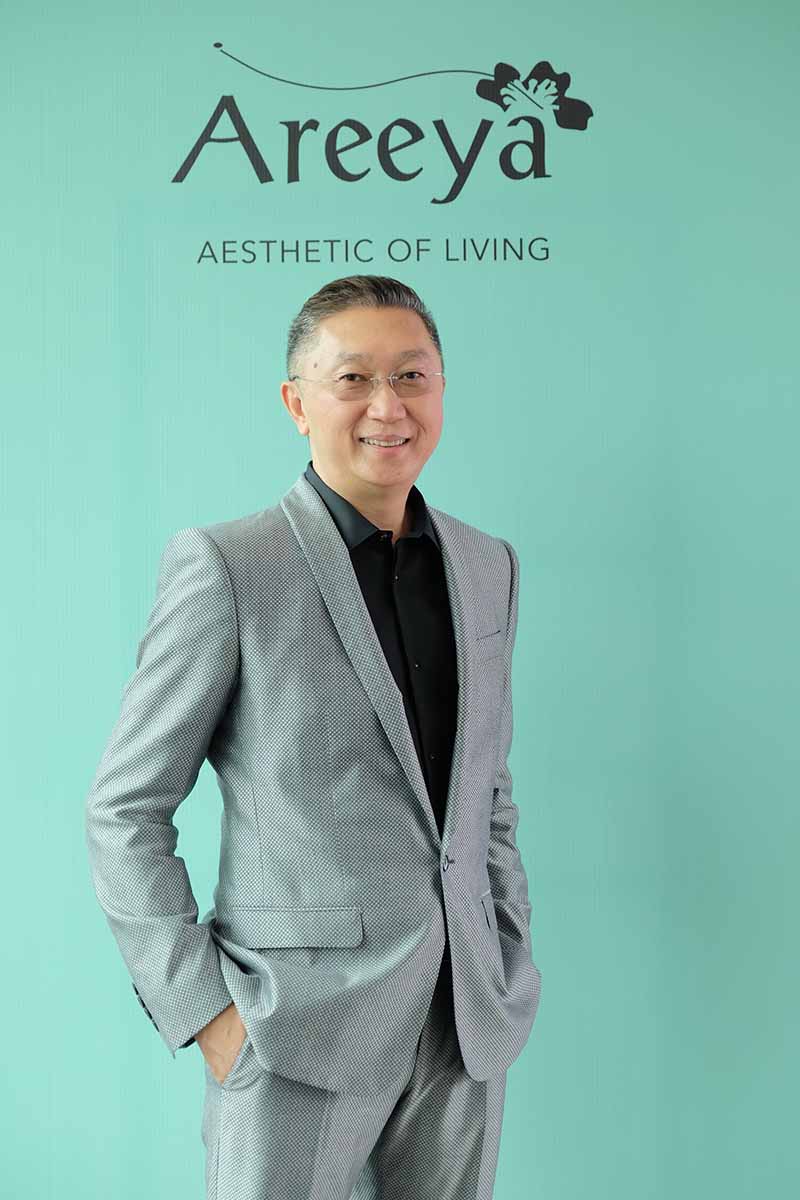 Mr.Wisit Laohapoonrungsee, Chairman of The Board & CEO,  Areeya Property PLC., mentioned that the overview of real estate sales in the country are likely to increase by 10% due to the growth in tourism, foreign investment under the Eastern Economic Corridor (EEC) which is a popular trend among Thai and foreign investors, as well as the housing trend which has evidently shown the smaller size of condominiums due to higher land prices.
Areeya Property has been operated under the vision of becoming a leader in real estate development in Thailand. We aim to create sustainable happiness and distinctive quality through our unique design, quality of construction and excellent services. Our residents, communities and societies will then live a better life and gain sustainable happiness.
"Mr. Viwat and I have always believed that in order to live well, we need to create several strong fundamentals. This has been Areeya's strength point for over 18 years. We both believe in Inside-Out for housing. Consumers do not just need a good function, but also need Emotional Engagement to design each person's life in the house, especially under today's competitive and fast-paced society. Thus, we have to take care of all work elements in order to understand consumers and be able to design home and life that can communicate, incite your spirit, which is what Areeya called the Aesthetic of Living" added Mr.Wisit.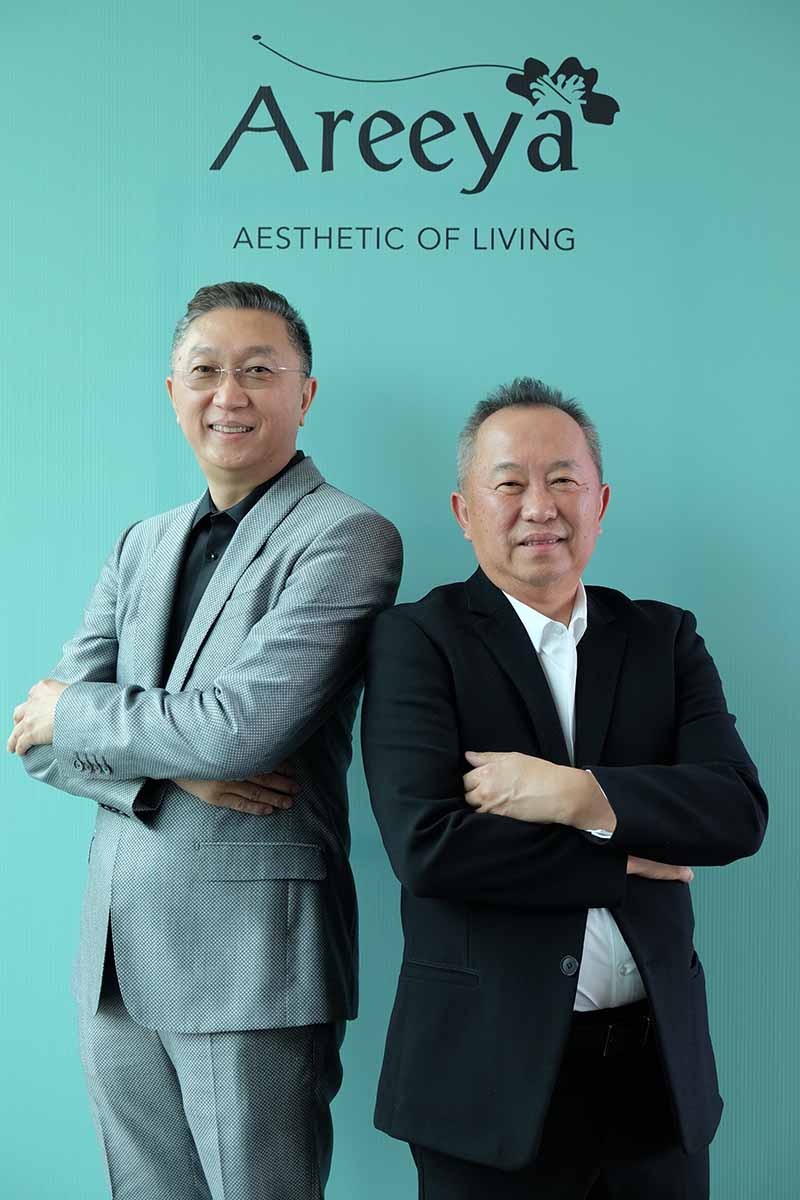 Four Strategic Goals to maintain Areeya's Competitive Advantages are
Number 1, Aesthetic Design & Premium Quality reinforces the leader in innovation and construction to offer the best for customers. We can see from quality work in the past year such as Chalermnit Art de Maison project, The AVA Residences, as well as The Color, which have adopted the Aluminum Framework. Areeya has been a leader in using the mechanical parking system by being the first company to bring in the system of IHI Asia Pacific (Thailand) Co., Ltd., a leading company in Japan who has excellent after-sales service in accordance with Japan's international standards.
Number 2, Sustainable Happiness Areeya adheres to six happiness which are     1. Happiness of the builder 2. Happiness of the property owner 3. Residential Happiness     4. Neighborhood Happiness 5. Environmental Happiness 6. Social Happiness
For Sustainable Residential Happiness, there are five main topics as follows.
Water Treatment System: We have provided the proper treatment of the wastewater quality.
Solar Cell: There is a solar cell, an electrical device that converts light energy or photons into electrical energy. This will provide the light to all area in the projects, as well as the common areas.
Bicycle Lane: There is dedicated bicycle lane to facilitate residents in all dimension.
Growing Vegetables, Growing Love: The goal is to provide residents with non-toxic vegetables consumption. It will also build good relationships, bonding and collaboration among neighborhood.
Waste Project: The goal of waste management is to reduce waste by recycling wet waste. This can help to reduce overall problem of rotten waste and it is one of the ways to reduce impact on the world.
Number 3, Innovative Living
Areeya plans to launch AREEYA Family Application Version 2 for the residents in order to facilitate after sales service during the warranty.  With this new application, residents can report the problem right away by taking pictures of the problem spots, uploading, choosing a date and time for repair and waiting for repair confirmation which residents will be able to know the name and see appearance of the maintenance staff immediately. Moreover, Areeya has implementing the road map of this application for two years, with the goal of using technology to help strengthen and increase efficiency of the residential lives.
– In 2018, Company will add Privileged services to Areeya residents by integrating Areeya & You Card (CRM system) services such as stores discount, additional services such as maid, gardening etc.
– In 2019, It will be a one stop application for the residents.  We will add other functions such as Point Redemption, booking classes at Areeya Club House, home shopping and facilitate the payment of home mortgages etc.
Number 4: Best in class after sales service
In the year 2018, Company has targeted residential satisfaction rate of 95% which include
1. Fast and on time services
2. Provide quality services.
3. Provide services which comply with standard and training
4. Accessing the service from the fingertips through the AREEYA Family application
In addition, Areeya considers service quality by bringing technology to help control the quality of work inspection such as.
Foreman Headset GPS Real Time Monitoring System
Security management plan in the project such as basic security monitoring system with CCTV at the guardhouse and around the property, as well as there are follow-up plan step by step.
Sheriff Program: There will be a monthly visit to each of the residents' home to meet, listen
and discuss any issues for a better service and highest satisfaction.
Property visit plan before the insurance period is over: This is to check every step to ensure Areeya will deliver the products and services as per customers' satisfaction.
With its strategic goals and Areeya's four strengths for the past 18 years, these will be Areeya's approach to build and maintain a competitive advantage, as well as the source of Areeya's concept of Aesthetic of living of the beloved residents.