Mr. Wanthana Jaroennawarat, Managing Director of Vanachai Group Plc., said "In the past 4-5 years, our performance has swung quite a lot. We saw the highest profit in one year and then experienced significant loss in another year as a result of the changing global commodity market. The global economic fluctuation can be even more volatile in the future. We find it necessary to remodel our business to lessen impact from the global commodity market on our business. We have therefore shifted our focus more to domestic market to create a more balanced sales profile. We will create new downstream market like contractors and DIY consumer segment, retail and enter the finished product market. Once the business remodeling process completes in 2022, VNG will be able to secure constant profitability and sustainable growth. We expect to achieve 20 billion baht income in 2022."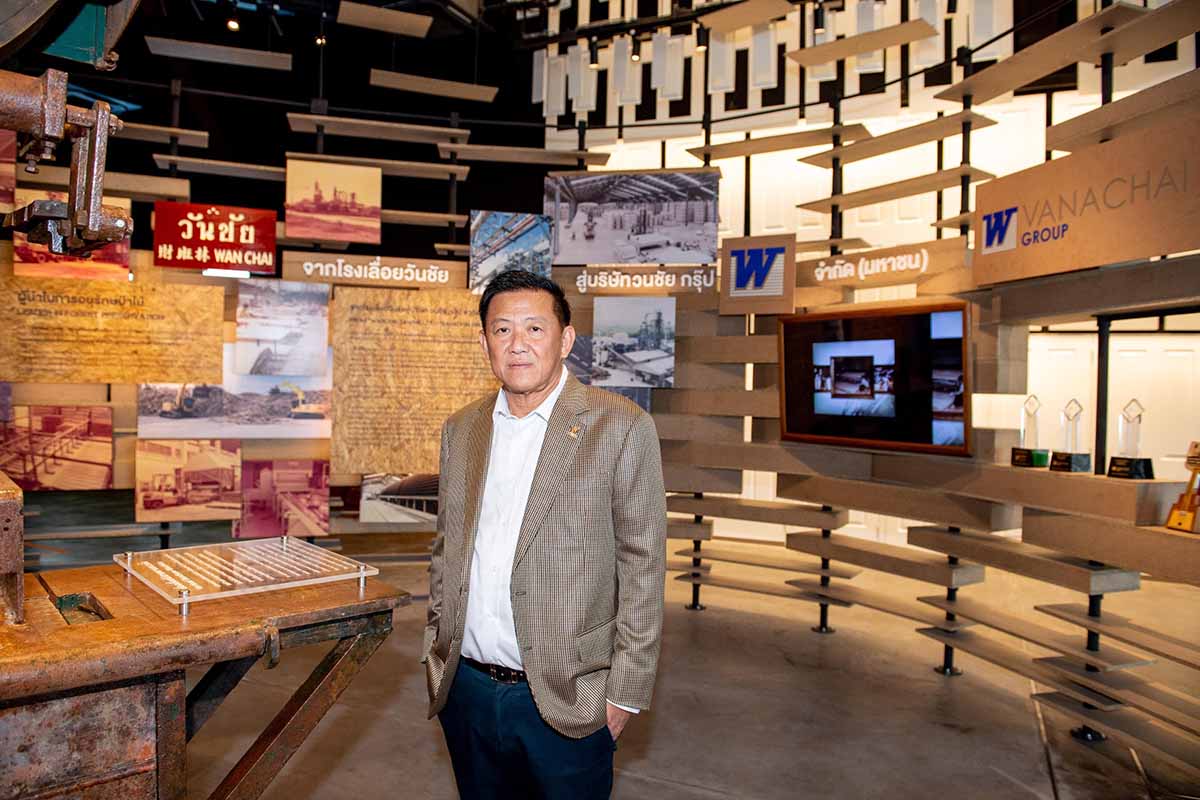 As part of the remodel, VNG will reduce its dependence on export to strengthen business performance. At present, over 80% of its income is from exports. However, the recent trade conflict between the US and China has affected the global trade. Coupled with strong baht, VNG has lost its profit margin. China has also slowed down its wood processing industry and reduced purchase of rubberwood from Thailand. As a result, sawmills in Thailand have to reduce production of rubberwood which harvests old rubber trees. Raw material supply for Wood-based Panel production has also been reduced.
To counter such situation, VNG has spun off a subsidiary, Vanachai Woodsmith Co., Ltd., to strengthen on domestic sales. The new subsidiary's task is to boost domestic sales to 50% of the group's total sales from currently 20%.
"Downstream market and Wood-based Panel retail market in Thailand remains young when compared to those in global markets. VNG sees great opportunity and intends to grow this market because Wood-based Panels are great substitutes to natural wood and more environmentally friendly compared to steel, cement and plastic.
To boost productivity and sustain growth involve four key strategies: 1) wholesome plantation management; 2) new product development, including OSB and wood veneer; 3) diversification to alternative energy, including biomass power plant and solar roof; and 4) logistics business.
Adopting wholesome plantation management plays an important role in cost reduction. The company can reduce its dependence on slabs from saw mills which has inconsistent supply. In addition, there are a lot of rubber trees that are too old for tapping and remain uncut. VNG uses twig to produce medium density fiber board (MDF) and OSB. The trunk is used to make wood veneer and wastes from this process are used for particleboard production. Roots can be used as biomass power production
Wanthana said that VNG would be the first to produce new products, OSB and wood veneers using modern production. This strategy has enabled Thailand to optimize rubber plantations wholesomely. Both OSB and wood veneers are the most expensive products among VNG's Wood-based Panel products. Its new 2.3-billion-baht OSB production facility in Surat Thani will be completed within this year.
"The construction of the biomass power plant in Surat Thani has already begun. This 9.9MW power plant uses wood dust from the production line and roots from old rubber tree cutting to generate heat. We also plan to open a biomass power plant in Chonburi and Saraburi. We have also started producing solar power using solar roof at our Saraburi facility. This 3.5 MW solar roof power generation system can substantially reduce energy cost. Based on this success, we will later install solar roof at our facilities in Chon Buri and Surat Thani provinces."
VNG has also set up a new subsidiary dedicated to logistic service management. "Vanachai Logistics Co., Ltd.", will handle all logistics services to support domestic sales increase, enhancing customers' access to Vanachai's products while reducing production costs for the company.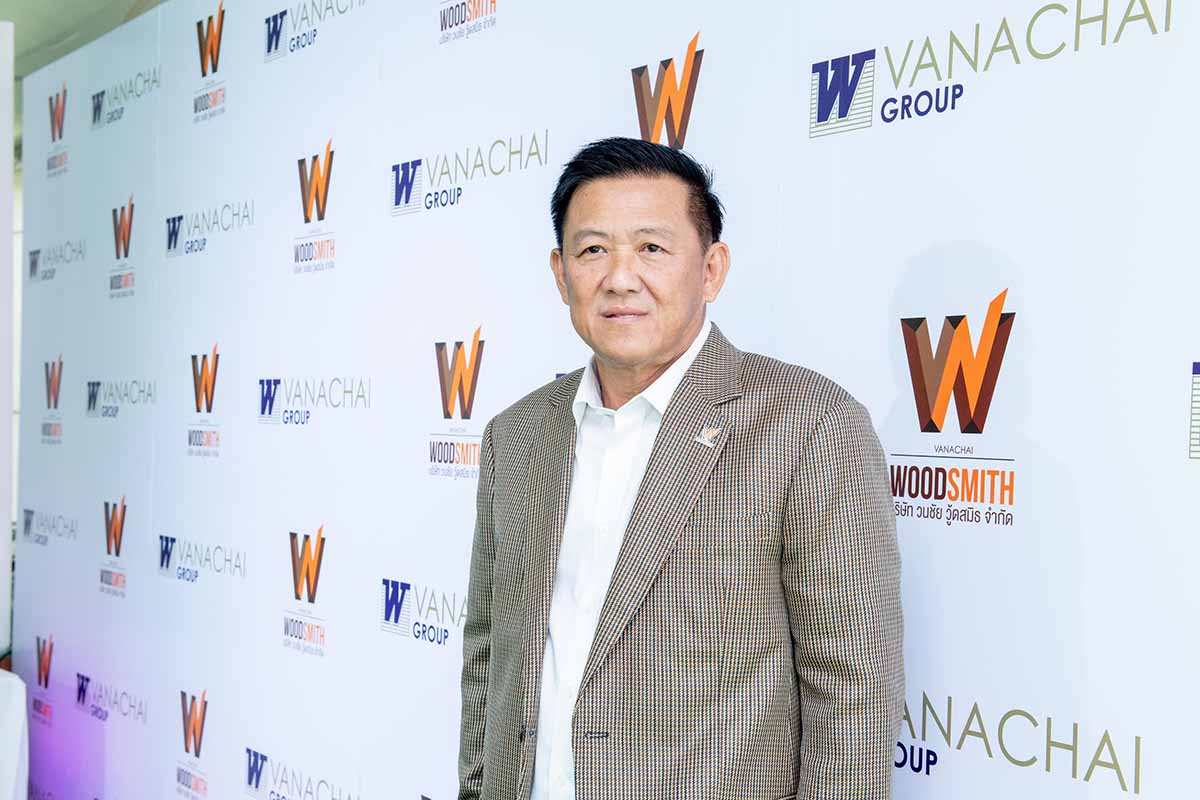 Ms. Phattra Sahawat, Director, Vanachai Woodsmith Co., Ltd., said that the company has a plan to further develop its retail and finished product markets. The company's headquarters near the Rama VII Bridge serves as a learning center where general public and business operators can learn and test finished products. Vanachai Woodsmith will also open a flagship store in major cities later, both as standalone stores and partner stores which will begin with those under partnership with Dynastic Ceramic.
"Our goal is to have 100 outlets nationwide by 2023 and online sales by 2021. These new channels will boost our sales to 9 billion baht. For this year, we will work with Dynasty to open 20 outlets nationwide. We hope to achieve 300 million baht sales at the end of 2019. We will open another 60 branches by 2021 and hope to see 4 billion baht and 9 billion baht sales in 2021 and 2023 respectively." said Phattra.
Woodsmith aims to offer opportunity for the market to experience new and innovative products. Once the market is familiar with these products, Vanachai-branded products will enhance consumers' living and directly address modern consumers' lifestyle at affordable price. The company will also continue to supply our modern trade stores customers under "Vanachai" brand as well as OEM products.
Vanachai Group Plc. (VNG) was established in 1943 as a saw mill business operator. Then Vanachai has championed the plywood industry. In order to be environmentally friendly, the company has later produced Wood-based Panels and became the leader in regional market. Its product portfolio ranges from particleboard to MDF board, OSB, laminated flooring, wooden door panels, high density fiber board (HDF), decorative items, wooden flooring, wooden stairs and handrails. Advanced production technology are used to produce high quality products that are efficient and environmentally friendly, which also meets international standards.